Everything You Need to Know About Facebook M
Facebook, which is having more than 1.44 billion monthly active users, has been working on a virtual assistant since past couple of months. And finally it is launched for few people as a beta version, which will be running for next few days among trusted testers. One of the senior team members of Facebook Messenger, David Marcus has published a Facebook post to let us know about the new development, which they are working on. As of now, Facebook M is working fine without having any real issue.
What is Facebook M?
Actually, this is only M. But, to recognize it faster, people have started calling it Facebook M. In simple line, Facebook M is nothing but a virtual assistant, which will be working inside Facebook Messenger app that is readily available for Android, iOS etc.
Although, this is not cleared, yet, it seems Facebook M is going to work like am plugin of Facebook Messenger. All the images related to Facebook M are indicating that Facebook M is working under Messenger app.
What Does it Do?
Facebook M does all the things what a regular virtual assistant does. That means, you can ask this tool to do anything, perform any task and do whatever you want.
However, apart from those simple jobs, Facebook M can perform more difficult tasks for any user. Facebook has implemented a real artificial intelligence into their new development and the result seems hopeful.
What is the difference between Facebook M and other virtual assistant?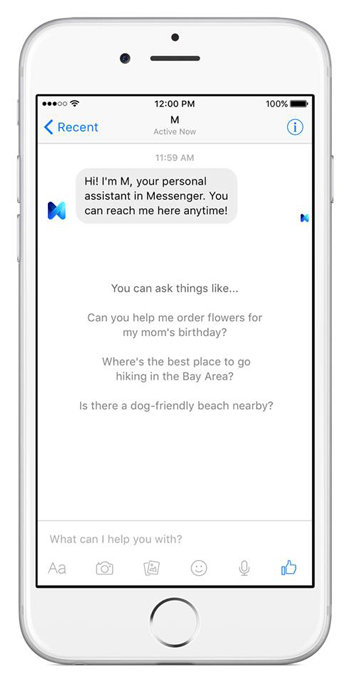 There are several virtual assistants like Cortana, Google Now, Siri etc. are available on the market but Facebook M is much different from them. Facebook M can perform some unique tasks those cannot be performed by any other third party virtual assistants like Cortana, Google Now etc. Apart from providing weather reports, latest news, flights information, sports update etc. there are so many other tasks that Facebook M would be able to perform inside Facebook Messenger.
For example, suppose, you have to call the cable company for a reason. Obviously, you will be put on hold before reaching to the customer representative of that cable company. At such moment, Facebook M can hold the line on behalf of you. You would be able to do other tasks and at the same time, your call will be on hold by Facebook M.
Google Now generally shows weather reports, flight details, restaurants information etc. if someone makes search for that. But, users need to book that manually. Nevertheless, Facebook M can even book the hotel, flight ticket etc. on behalf of you within seconds.
Suppose, you are going to congratulate your friend on having a baby. You need to buy something for the baby. At this moment, you can ask Facebook M for any suggestion for any gift for the baby and actually get a real suggestion like below,
It simply means, if you can provide some information or instruction, Facebook M will do the rest of the things on behalf of you. You would not have to be accurate to get any suggestion or advice from this next generation virtual assistant.
On the other hand, you can ask this tool for a good or interesting place of some unknown area. It will definitely show you suggestion based on your requirements. Like this,
Availability of Facebook M
Certainly, it will take time for Facebook to gather all the details about any place, hotel, restaurant etc. Although, Facebook M has already available for few people in San Francisco Bay Area but, it is not available for all the Facebook Messenger users from across the globe. However, this is expected to get it very soon since Facebook do not take much time to release anything.
On the other hand, it seems Facebook M will be available for all platforms' Facebook Messenger. The screenshot shows Facebook M is working on iOS but some people have talked about other platforms too.
What do you think?
If Facebook can launch Facebook M with all the things what are mentioned here, a real bad time is coming soon for Google Now and other virtual assistants. A real competitor is coming soon. Facebook M's features seem handy and very interesting.
Source: Facebook