KeeWiFi Router – One Tap Setup with Maximum Security
WiFi router is not a new thing at all. Everyone, who uses internet, knows about this. A WiFi router is something that lets you connect your mobile and multiple gadgets with single internet connection. It can turn an Ethernet cable into a WiFi hotspot. All you need is a WiFi router that provides a good data transfer speed. That's it!
But, do you know that WiFi router is one that helps hackers to spy on you. There are hundred and one tutorial on the web that will teach you how to be secure while using WiFi router. Obviously, some of them are really beneficial but most of the tutorials would waste your entire day and at the end of the day, you will have to pay more bill.
Generally, a regular WiFi router user can use MAC Filtering (Don't mess it up with Apple Mac) to restrict unrecognized users to be connected and use your router. But, this so-called highly helpful trick is nothing but another barrier for a hacker since anybody can easily scan for local area connection, change the MAC address and use your internet connection right away. This is as simple as said.
That is where KEEWIFI steps in. This gadget has no such option to setup as per your requirements. Hence, the security won't be compromised while using KEEWIFI. In simple words, KEEWIFI is a simple router for using at home or anywhere you wish. This router doesn't need any complex set up. All you need to do is jut connect your actual internet connection cable with KEEWIFI and plugin the KEEWIFI to the power support. That all!
Generally, you need to have an authentication password for get connected to respective WiFi router before using. This is a common thing you know. However, you don't have any password for KEEWIFI. So, how do you connect?
To connect to the WiFi connection, you just have to put your mobile, tablet or laptop infront of the router. The router will automatically detect your device and authenticate your device right away. After that, you can use WiFi connection on your mobile or other WiFi enable gadgets. As it uses proximity technology to serve WiFi connection, this would be very secure. Any third party individual cannot be connected to your WiFi router without being presented around the router.
Let's assume that your router is confronting some internet connection issues. Generally, regular WiFi user need to reset everything to know whether the problem comes from the router or not. That is much time consuming. However, if you use KEEWIFI, you can easily reset all the settings by press ZEN button – the only button of this gadget.
I have already mentioned some security features of this router. You can also have some other options to set it up as per your requirements. On mobile, you can have some options to manage connected devices. You will get full details of connected device. This is also possible to block any particular device right from the app. This option does what it says. You can get the KEEWIFI app on Android and iOS. Unfortunately, there is no confirmation if this is available on other platforms or not.
The connection speed or data transfer speed is also much better than other regular routers, you will get up to 867 Mbps speed using this router, which is much higher than Apple Airport Express and Securifi Almond. It has proximity authentication, which is just unavailable in most of the other routers such as Apple Airport Extreme, Apple Airport Express etc.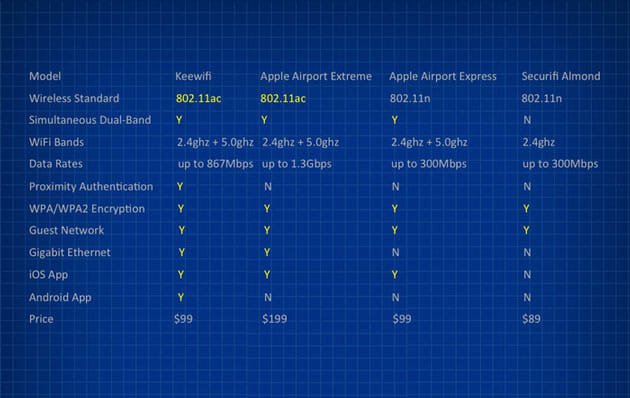 Conclusion
After considering all the features and price ($99), this is confirmed that KEEWIFI is much better than other router. On the other hand, it is more secure than others.
What do you think about this? Do you want to have one router?