LonelyScreen: Mirror and Record iPhone Screen on Windows
iOS is undoubtedly the best mobile platform, which comes with stability, better performance, and a great user interface. It doesn't matter whether you want to use this OS for official purpose or just for fun, you can indeed opt for it. If you have Mac computer, this is quite easy to mirror the iOS screen. However, this is quite difficult when you have Windows computer. Although iTunes allows users to manage media files, this is possible to mirror the iOS screen on Windows. Therefore, to solve this problem, you can make use of LonelyScreen, which is a free tool for mirroring and recording iOS screen.
Sometimes, we need to record the screen of iPhone and iPad. Although there are several apps available for these two gadgets most of them need JailBreak to work on. As most of the regular iPhone users do not want to jailbreak their devices, this is quite difficult to remove the iPhone or iPad screen. To solve it, you can mirror and record iPhone screen on Windows using LonelyScreen software, which is available for Windows Vista and all the later versions including Windows 10. This is also available for Windows Server 2003.
LonelyScreen: Mirror and Record iPhone Screen on Windows
You can use the AirPlay Mirroring feature on iPhone to mirror the iPhone screen on any Windows computer. This is an inbuilt feature of any iOS device. You can get it on the latest version of iOS as well. It doesn't matter whether you have iPhone or iPad, you can certainly get it on your gadget.
Talking about the functionality of LonelyScreen, this is intended for only one feature called mirroring. Therefore, you can record the screen accordingly. The user interface is pretty good, and there is clutter at all. The only requirement is you need to connect your PC as well as an iOS device to the same network. In simple words, you need to connect two devices to the same WiFi network.
To gets started with LonelyScreen, at first download the installer or .exe file. Therefore, open it and connect your computer to the internet to download the full file. Following the download, you need to install it. After installing, you can find a screen something like this,
If you want to change the name of your mirror, you can click on the default name, and enter your desired name accordingly. After that, click on the little arrow button visible bottom-right corner. You should get a red button. Click on that to start mirroring.
On your iPhone or iPad, open the Control Center. To do so, swipe from bottom to top and tap on the AirPlay Mirroring. You should find the Windows computer. Tap on that to connect your iOS device to Windows computer.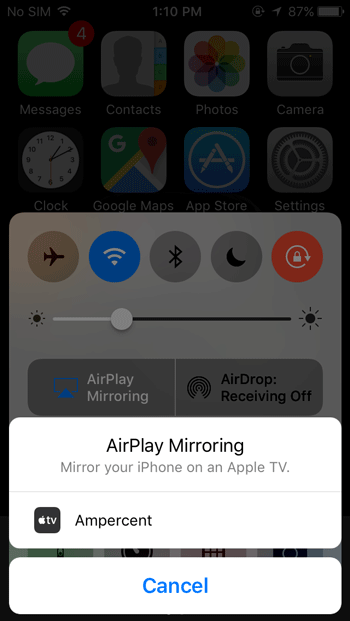 Right after that, you can find your iPhone or iPad screen on your Windows computer.
You can record, or do anything on your iPhone. This is also possible to use your old iPhone as a surveillance camera.
That's it! Hope this little tutorial would be helpful for you.