OxygenOS By OnePlus:New Features You Should Know About
The Chinese smartphone manufacturer, OnePlus attracted the eyes of people worldwide by introducing a smartphone with average price and high end specs last year. OnePlus one came out with CyanogenMod OS inside which turned out to be a great performer and received applause worldwide with it's specs and features. CyanogenMod OS gave users variety of options to customize their device with neat performance.
For whatever reasons, this year the company had moved from Cyanogenmod and built their own customization software upon Android and called it as Oxygen OS. The company announced two devices this year, namely OnePlus 2 as a successor of OnePlue One, and OnePlus X, which a compact version in the series. Both devices came out with Oxygen OS v2 upon Android Lollipop, v5.1.1. Again, both devices are budget friendly, and of course, with differences in specs. If you are planning to buy one between the two, then you may want to know about the features of New OS by OnePlus.
Why late? Let's get started then.
Key Features of OxygenOS
Look and Feel
One of the assets of this OS is it feel like stock Android in many ways. If you are fan of Pure android without any customization, then you will like this device for sure. The OS is lite and powerful. You won't get any lag in performance and get fresh Lollipop experience. The OS got added with enhancements without disturbing the core experience in the device.
The Dark Mode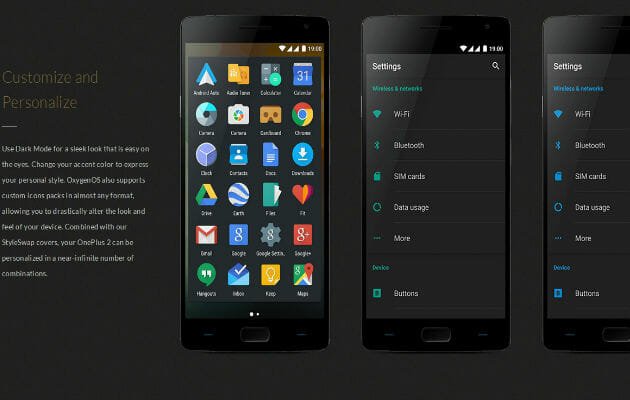 This is very nice feature of the OS and becomes a great asset for the device also, if you like it. Oxygen OS allows you to change the background of the device to dark using dark theme in settings which will save you lot of battery while running the device. If you want you can change it to Light mode whenever you need it. This saves you some time when your phone battery is draining.
Configurable capacitive buttons
OxygenOS lets you to do lot of things using capacitive keys. If you take a look at OnePlus 2, the device comes with three capacitive buttons on bottom of your homescreen. The middle un-clickable one which is fingerprint sensor and two buttons(multi tasking and back key) around it. If you are not a physical key fan, OxygenOS allows you to disable them and add navigation keys on your screen.
If you like to use physical buttons, you can change their functionalities also. You can assign custom options to those keys such as Opening camera, Voice search, Recent, Opening or closing menu, Turning off the screen, Opening shelf, Opening lastly used app etc.
The shelf
This is a home panel that you can customize the way you want, like HTC blink feed and Fastlane in Nokia Asha mobiles. To open this, you have to swipe right from your home screen. In this section, you can add widgets, use frequently used apps, change background etc. This is still developing, so expect to see some cool features in the future.
Fingerprint Sensor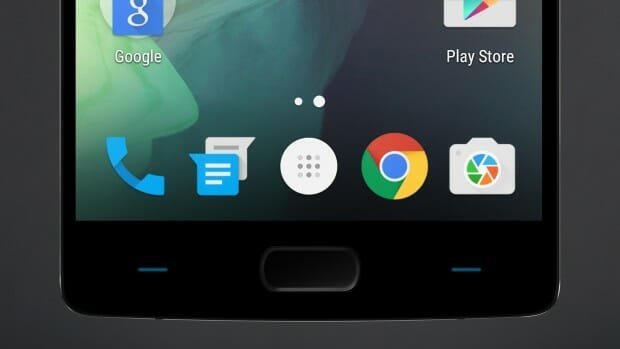 This is one of the features that got attention when OnePlus 2 came out. The company claimed the finger print sensor on the OnePlus 2 is super fast, even faster than iPhone 6. It will unlock your phone even without waking it up. To do so, you just have to touch your finger on the middle button on the front. Being this much fast, this feature brings a down side of it – you have to be careful while holding it or you may accidentally unlock the device.
Gesture Support
OxygenOS supports various gestures on your phone too. Like Motorola allows you to turn on flash light by chopping the device and open the camera by twisting the device, OnePlus allows special gestures such as double tap to wake up, Open camera by drawing O on the screen, Toggle flashlight by drawing V on the screen. You can turn on / off these special gestures on settings.
Other features
You can customize the color and accents (text of icons and menus) the way you want. You have red, pink and green etc. options to choose.
You can customize LED notification light colors as well. You can set a specific color for specific purpose such as green for messages, blue for calls etc.
You can change icon packs too. Oneplus 2 comes with three kinds of icon packs pre installed. You can choose one depending on your like and change the way the icons look on your phone.
One the hardware side, both OnePlus 2 and X devices got a dedicated key to toggle notification settings. You can change it to mute it, or to receive important ones (you can customize them), or to receive full notifications.
You can change app permissions in settings. OxygenOS provides various options on each and every app and allows you you to customize how they behave.
What is your experience of using Oxygen OS? Do let us know in comments.