How To Read and Reply To WhatsApp Messages Without Going Online
Almost all of us who own a smartphone rely on Whatsapp as our primary mode of messaging. We chat throughout the day and feel the necessity to be available online on Whatsapp at all times! This translates to constantly checking and visiting the app to see if our messages have been read or if there is any response. This whole thing is easier if you don't have a security lock on your phone and you have to merely swipe to open your phone to reply to Whatsapp messages.
However, in case you have a security lock, you would have to unlock your phone every time you get a new message. But that need not be the case anymore. Whatsapp has a solution for this problem and you can actually reply to your Whatsapp messages without having to go through the tedious process of unlocking your phone every time.
Though this popup notification feature has been there for a while, many people are still not aware of this feature due to lack of exploration. Let's take a look at how Whatsapp popup notification works and other methods through which you can reply to Whatsapp messages without going online!
1. Enabling the Popup Notification
Step 1: Start by launching the Whatsapp Application on your mobile.
Step 2: Once Whatsapp is launched, Navigate to Settings and Select the Notifications Option.
Step 3: When you click on the Popup Notification Option, a new window would open with a list of radio buttons.
If you want the popup notification only when the screen is OFFl you can choose the third option. Alternatively, if you want the popup notification at all times, select the fourth option.
Now, irrespective of whether your screen is locked or not, your message notification would look like the one in the image below and you would also have the provision to reply to that.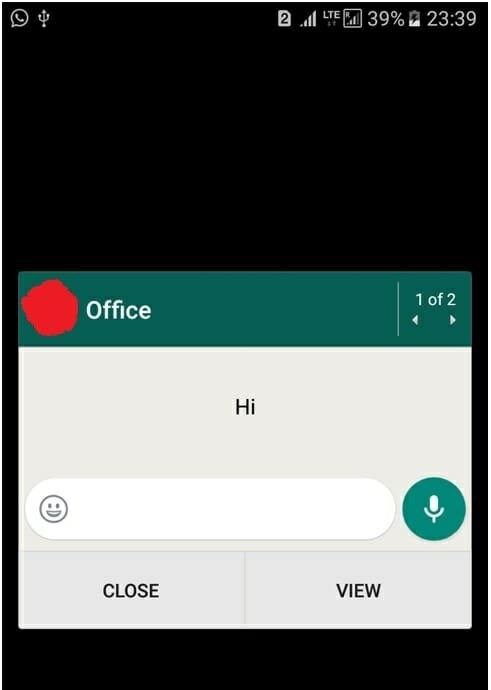 However, there is one drawback of this method. While you can see and respond to messages, the issue arises in the case you have multiple messages. You won't be able to reply to a particular message through this method.
But it still is a lot easier than having to unlock the phone for every single message, right?
2. Adding the WhatsApp Widget
Now if you have an Android smartphone which runs on 4.2 Jelly Bean and higher Android version or even a device which has a custom ROM that supports lock screen widgets, you do have an alternative method to read the messages.
Step 1: Long Touch on your screen to get the Widgets Option.
Step 2: Click on the Widgets Icon to Open a screen with all the widget options available for your smartphone. Click and Drag the WhatsApp Notifications to your main screen.
However, this feature can only be used to read the messages without going online. If you touch any message to reply to it, this will launch the Whatsapp app and your status would be online as usual.
3. Using Notifly App
This is another way of responding to your Whatsapp messages without unlocking your phone. This app is available at the Google Play Store.
Step 1: Download and Install the Notifly App on your smartphone.
Step 2: Go to the Settings and Allow notification access for Notifly App. The best part about this app is that by installing it, you can not only read your Whatsapp messages, but also check notifications for many other apps like Hangouts, Messenger, and Skype.
Step 3: Now you can read and reply to WhatsApp messages without going online!
The application also allows you to link it with the System Settings. You can enable Screen On when Notifly appears, Remove Notifly when the notification is removed from the status bar, and cancel/remove the notification from the status bar if Notifly appears/ is removed.
4. Quick Replies from the Notification Panel
You can now also reply directly from the notification panel of your phone to reply to Whatsapp messages. Simply follow these steps:
Go to the notification of the Whatsapp message that you have received.

Instead of opening the message and replying which you usually do, place 2 fingers on the message and swipe down. Note that on some phones, the swipe might require 1 or 3 fingers depending on the handset and the OS that it runs on.

You will now be able to see the option: 'Reply to Contact_Name'. Touch this option.
Write your reply and click on the arrow along the side to send the message.

5. Disable Read Receipt
The sender gets the blue tick only when you enable the read receipt and you read the message in WhatsApp. However, if you disable the read receipt, your sender won't know that you have already read the message. To do that, you need to follow these steps on an Android mobile.
At first, open the WhatsApp on your mobile, and go to Settings. After that, you need to tap on the Account settings and select the Privacy option.
Here you can find an option called Read receipts. You need to toggle the button to disable this functionality.
So you now have five smart and swift ways to read and respond to those continuous WhatsApp messages that keep popping on your mobile without going through the hassle of launching the app every time or going online. We leave it to you to choose the best possible option for you to reply to Whatsapp messages depending on your device and requirement!