Top Sites To Sell Items Online In The USA
If you are done with door-to-door product selling, and you want to uplift your selling business to the internet, you should check out these websites. No matter if you have a big company or your own one-person business, you can get started with these websites to sell items online. All these websites are really handy, and they are available almost everywhere in the world.
Instead of creating your website to sell products online, you can take the help of these sites. There is a significant advantage of these sites, i.e. you can get some exposure from day one as these sites have a huge user base. Therefore, you should take a look at these websites to sell items online.
Top Sites To Sell Items Online In The USA
1] Amazon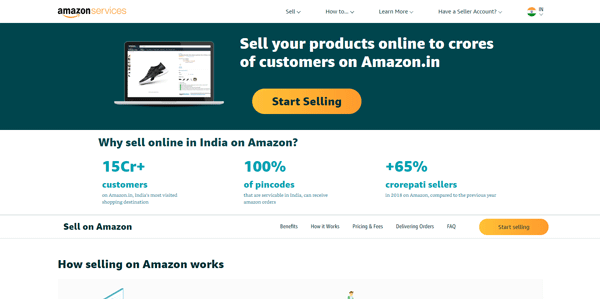 Amazon is probably the most significant marketplace which you can use to sell products online from home. You need to visit the courier company on a day-to-day basis; you can use Amazon to start your online selling business. How does it work? The workflow is quite simple to understand. Amazon charges only 99 cents per item sold and a referral fee. The referral fee can depend from 8% to 20% based on the product. Also, the referral fee depends on the total billing amount.
The best thing is that you do not need to worry about the product shipping as Amazon will handle that on your behalf. Previously, Amazon used some local courier companies to ship their products, but now the scenario has changed a bit as they have a better shipping process. There are mainly two plans for a seller, and both of them can be handy for different sets of people. Check out this website to know more about the process.
2] Facebook Marketplace
Although Facebook launched the Marketplace not very long ago, they got a massive exposure because of the monthly active users. Millions of people use Facebook every day for a tremendous amount of time, and they use that activeness to sell some products. You can sell everything on Facebook, including electronic gadgets, clothes, accessories, etc.
There are two ways to sell a product. You can either ship the parcel to the buyer, or you can hand it over yourself – like offline selling. On the other hand, there is another option called Properties for sale or rent. It helps you sell or rent an apartment or land. This specific feature is not available on Amazon, and that is one minor advantage of using Facebook Marketplace over Amazon. This is very easy to place a product for selling. You need to visit the Facebook Marketplace website after logging into your account and enlist the product that you want to sell.
3] eBay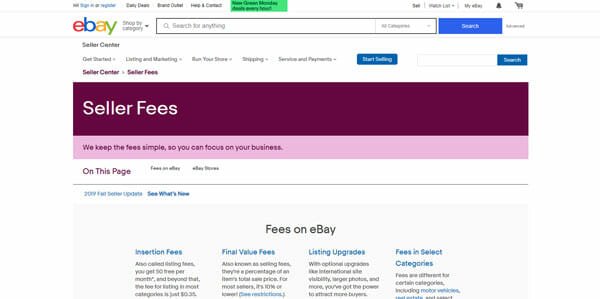 eBay has been in this field for a very long time, and they know how to retain sellers as well as buyers. You can take the help of this old-man to get your products sold quickly. Although eBay had some issues in various countries, you can use this marketplace to upload your product and sell it quickly. Unlike Amazon, they have a clearer fee structure. eBay charges 10% on the final sale price. The good news that it includes the shipping charges but not the taxes as it can be different based on the region.
Another important thing you should know about eBay is that they start charging 30 cents per order if you upload more than 50 products on their website. However, they charge different per cent and fees for different categories. Therefore, this is recommended to check out their website before getting started with eBay.
4] Craigslist
Craigslist is a slightly different website than others as you may not be able to ship your products effortlessly via this online classifieds website. However, the good thing is that you can sell almost anything. From the house, office space, service, to yourself for a job – this is possible to sell anything on this website. That implies how significant and useful is the Craigslist website.
As mentioned, you might not want to deal with shipping and all unless or until you gathered full information about the buyer. This is best for local businesses, and many people got success on this website in a minimal period.
To sell on Craigslist, you need to enlist your item on the website first. Following that, someone will contact you about your product. Then, you can go ahead and start the payment process. You should visit the website to understand how it works.
5] Etsy
Etsy is a bit different website as it allows you to sell only handcrafted products instead of the regular stuff. For example, let's assume that you have made a wooden box, and you want to sell it for a reasonable price. Instead of using other mentioned websites, it would be better if you use Etsy. It has a substantial monthly buyer that will let you get a good price for your handcrafted items.
Before getting started with this website, you should know about the fee structure of Etsy. They have a few couples of fees that a seller needs to pay to sell something on Etsy. For instance, there are listing fees, transaction fees, subscription fees, in-person selling fees, payment processing fees, advertising, and promotional fees, delivery fees, pattern fees, etc. Although you do not need to pay all of them, this is recommended to know about then before using this marketplace to sell your products online.
These are the top five websites to sell items online in the USA. However, if you want to check some other sites, here is a list-
Newegg
Bonanza
Shopify – one of the biggest marketplaces with more than 1m active users.
Zazzle
Alibaba – This is probably the best option for you if you belong to China.
Fruugo
No matter which website you choose to sell your products online, this is recommended to read their terms, fee structure, customer support response, etc. before opting for it.