Why You Should Upgrade To Internet Explorer 11
After making a mockery out of itself for years, Internet Explorer has finally got an update from Microsoft that is worthy of it's fame. Awful web standards, insanely slow web experience and continuous neglect from Microsoft in the past led to its presence be analogous to no more than a malware. Almost every user has ditched it for a better counterpart. But the recent update previous year has actually surprised everyone and IE11 is finally a browser that users would actually want to use. And as the year passed, it became even more awesome with vigorous development. Let's discuss the reasons why should upgrade to Internet Explorer 11.
You can Download Internet Explorer 11 here.
Internet Explorer 11 is Actually Fast
And reports are suggesting its even faster than Google Chrome. As usual with all Internet Explorer versions, graphically intensive web pages are processed and loaded with the help of the GPU rather than the CPU as compared to other browsers. This helps to load web pages faster. In addition to this, Internet Explorer comes with an ingenious algorithm that continuously works in the background and tries to guess which web page you will open next, and thus preloads the page data. It does so intuitively only when it is certain in its calculations about the choice of the next web page the user is going to navigate to.
Security is Improved and Additional Privacy Features
Internet Explorer 11 has a 'Safety' menu where there are a host of options that help improve both security and user experience.
There are options to Delete Browsing History and inPrivate Browsing which is analogous to the 'incognito mode' of Google Chrome. It lets you surf anonymously with no cookies or tracked web history. Another cool feature is the Turn On Do Not Track Request which lets you surf securely by not allowing the websites to track you. This helps protect against websites you don't trust and protects your privacy.
Lastly, the SmartScreen Filter checks every page you visit by sending data to Microsoft servers and comparing them to their list of malicious entities like phishing websites. It alerts you whenever it finds the current page as non trustworthy and advises you not to surf further.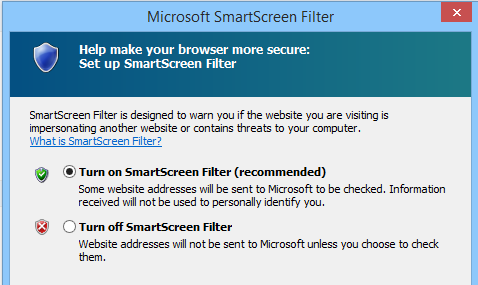 Adhering To Web Standards
With improving the browsing speed by the means discussed earlier, Internet Explorer has finally come in line with browsers that adhere to web standards. In the past, Microsoft has been often accused of following poor standards. And while earlier versions of Internet Explorer lagged behind in this aspect, other browsers like Netscape Navigator and Mozilla Firefox flourished. Thus, after the long wait of countless years, IE11 finally achieves the feat and this alone has converted it into a mainstream browser.
Conclusion
If you haven't used Internet Explorer 11 yet, you can try it out by downloading from the given link. Although users using Windows XP and Vista cannot avail the service as it is available from Windows 7 onwards. Users with Windows 7,8 and 8.1 can upgrade to Internet explorer 11 immediately. Give your views about IE11 in the comment section below. Let us know what you like or dislike about it.