2 Ways to Play YouTube Video in iPhone Background
iPhone as well as other iOS devices are really stable and equipped with much better hardware than most of the Android mobiles and tablets. That is why most of the people head over to iPhone instead of a cheap Android mobile. The latest version of iOS has brought loads of new functions in terms of security, UI and all the others. On the other hand, YouTube is the second largest search engine in the world that helps users watch videos on the go. You just need an internet connection to start watching YouTube videos. The best part of YouTube is most of the part of this video broadcasting website is available at free of cost. You can also watch live events, upload your own video, watch someone else's video and do more on your mobile, tablet as well as computer. However, what if you want to listen to your favorite song as well as do your job at the same time?
You can certainly find the song on iTunes or any other legal music download repository. But, there are many people, who often choose YouTube over those sites. This would be a problem since you are about to use two apps at a time. For your information, this is possible on iOS. Since Apple launched Control Center with iOS 7.0, users can play YouTube video in iPhone background. Not only iPhone but also you can do the same on iPad with the help of this function.
Play YouTube Video in iPhone Background using Control Center
This is very easy and not much time consuming. As mentioned before, there is no need to install any third-party software for this purpose. You do not even need YouTube app on your iOS device. To play any YouTube video in iPhone or iPad background, at first, open YouTube website in Apple Safari browser. Following that, choose a video and hit the Play button. Naturally, your song will start playing. Now, press the Home button and return to your home screen. After that, open Control Center by swiping from bottom to top. If you are using iOS 10, you need to swipe from right to left. You should get some options like this,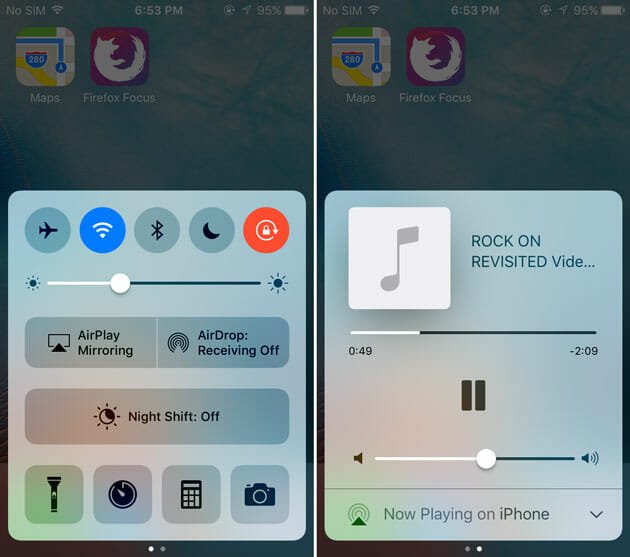 There should be a Play button on your screen. Tap on that to play the music. Now, you can do almost anything and the song will keep playing in the background. However, it would be stopped if you close the Safari browser since it runs through that browser.
Now, the disadvantage of this trick is you cannot play YouTube playlist. Each time, you need to follow all the steps above to play all the songs even when they are in a single playlist. To solve this problem here is a third-party app called SongStream that assists users to play YouTube playlist in the iPhone background. Unlike Control Center trick, you do not have to open the app frequently and hit the Play button.
Play YouTube Video in iPhone Background using SongStream
SongStream app is available for iOS 8.0 and later version. This is nicely designed and available for iPhone, iPad, and iPod Touch devices. Talking about the user interface, SongStream looks nice for its color combination. Apart from playing songs in the background, you can search for any song, make a playlist, play existing playlist, share the list with anybody, get trending audios and more. All those things are fetched from YouTube. Regarding stability, SongStream is a very stable iOS app. during the test (almost one hour), it didn't now show any bug and didn't lag at all.
To get started with this app, at first, install it on your iPhone or any other iOS device. You should find a similar screen like following (left one). Just type your keyword and do a search for your favorite song that you want to listen. It can be anything. As long as it is available on YouTube, you can find it on SongStream.
The SongStream player looks something like this,
You can make a song favorite, share it with anybody, make a loop, and do more from the same window. After playing a song, just press the Home button and do any other task. Your song will keep playing in the background.
If you like, you can download SongStream from here.