Best Apps For Samsung Galaxy S20, S20+, And S20 Ultra
Samsung has finally announced three new high-end smartphones globally – Samsung Galaxy S20, S20+, and S20 Ultra. All of them have some cool specifications, features, camera, performance, etc. They work fluently and differently – no matter which app or utility you are going to use on them. If you have bought any of these smartphones, you should check out this article. Here are some of the best apps for Samsung Galaxy S20, S20+, and S20 Ultra.
Best Apps For Samsung Galaxy S20, S20+, And S20 Ultra
1] Adobe Lightroom
All these mobiles are camera-specific smartphones, and that's why you should have a photo editing application that does everything. Adobe Lightroom is a well-known image editing software among professionals, and the same company has develops this application for mobile as well. You can download it for free on Android mobile, but you might need to spend some money to unlock more functionalities. No matter whether you want to do color grading or color adjustment, it is possible to do everything with the help of this free application. The most important thing about this app is that you can remove unnecessary objects from your photo. Download
2] Evernote
Evernote is a note-taking application for Android mobile that is compatible with almost all versions of Android. Therefore, you should not have any problem while installing it on your Samsung S20 mobile. The user interface of Evernote is neat and clean. All the options, notes, and features are well-organized, and that is why you should not get any issue while using it to create a list of grocery, or anything else. The best thing is that you can lock it down using a password or fingerprint. The dark mode is also there, which will let you get rid of eye strain. As you can synchronize notes across multiple devices, you should not get any problem to use it among team members. Download
3] SmartThings
If you have installed multiple smart gadgets in your home and Samsung has made all of them, you should have SmartThings app on your mobile. This application will let you control everything remotely. No matter whether you want to check the status or control anything else, you can do everything from your mobile. It is possible to operate the refrigerator, wine cellar, washer, dryer, oven range, dishwasher, cooktop, robot vacuum, air conditioner, etc. using the SmartThings app. The user interface of this app is modern so that you won't feel anything like old-school while using it on the latest mobile. Download
4] Microsoft Office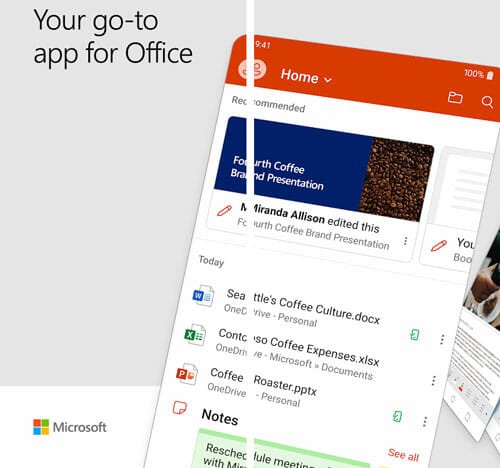 All these mobiles have big displays – no matter which one you purchase. Therefore, it is straightforward to create or edit a document, PPT, or spreadsheet. If you often do that for office, school, or anywhere else, you can install the Microsoft Office application on your mobile. Although it is under development, you can try it out since it comes with all the apps as a bundle. You can create and upload documents to your OneDrive storage and access them from any other device. If you have Office 365 subscription, you can get all the benefits. You can use it fluently, even if you do not have any Office 365 subscription. Download
5] Sound Assistant
Nowadays, mobiles are getting better sound speakers, and thus the sound quality has improved dramatically. If you have a Samsung mobile, you should have this audio management application called Sound Assistant. It will help you do various things on your mobile that are unavailable by default. For example, you can play audio from two apps simultaneously. On the other hand, you can get a floating button, control media volume, manage the volume of each app, and more. The best thing is the Scenarios. It will let you create a sound profile with effects, and you can apply them at different times of the day. Download
6] FiLMiC Pro
As these three mobiles have top-notch cameras, you can use them in different situations. You can use the camera for vlogging, general video recording, professional video recording, etc. The in-built options are excellent, and they allow you to almost everything. If you want to do more, you should take a look at this app called FiLMiC Pro. FiLMiC Pro is what you need when you want to record professional videos like a studio. From frame management to zoom facility, it offers everything so that users can get the most out of a mobile camera. It requires Android 6.0 or later versions, and you can install it on your new S20 mobile without any problem. Download
7] Weather by Weatherbug
Nowadays, you do not need to wait for the weather report section while watching the morning news on television. You can open your mobile and download this app called Weather Weatherbug. It will let you obtain every information related to the weather. You can set your location if you do not want to use the 'current location' functionality. The best thing is that you can get an icon in the status bar and all the information by tapping that icon. Also, you can include the temperature information on the lock screen as well as the Always-on-Display screen. Another handy feature is that you can add multiple cities and get weather forecasts of all of them at once. Download
8] Unique Wallpaper
There are tons of wallpaper apps for Android, but only some of them excel because others provide copy-paste wallpapers. Talking about some excellent wallpapers, you can install this application called Unique Wallpaper, which will provide 'unique' wallpaper for your mobile. As these mobiles have punch cutouts for the selfie camera, you can get some compatible wallpaper from this application. The user interface looks good, and all the wallpapers are organized by categories. Therefore, you can opt for a category and download something according to your desire. Download
9] Gmail
Gmail is one of the best email clients for your Android mobile. No matter whether you want to use Gmail, Outlook, or any other customized email service, you can certainly take the help of Gmail on your mobile. The ad-free user interface makes everything better than anything else. It offers almost every essential option so that users can utilize this email client without any problem. For instance, it allows users to schedule emails, manage multiple email accounts, etc. Apart from that, you can see all the common features in this email client. Download
10] LastPass Password Manager
In these present days, you should always use strong passwords so that attackers do not get an easy chance to gain access to your account. LastPass helps you create and save all your passwords within moments. As the security of LastPass is top-notch, you cannot find any problem while using it for a long time. However, it is recommended to change the login credentials in every one or two weeks to be on the safe side. Although LastPass has some paid plans, you may not need to opt for that since the free edition is more than enough for a regular internet user. Download
11] Nova Launcher
Many people like to use Samsung mobile but they do not like the OneUI, which is the default ROM of these mobiles. If you are one of them, you can try using the Nova Launcher, which is one of the best launchers out there for Android. This launcher is available for free but you can spend some money to unlock all the functionalities. It allows users to change the icon pack, home screen theme, app drawer, etc. The best thing is that you can set various gestures to open apps, settings, etc. Download
12] Gboard
If you previously used stock Android, chances are you have used Gboard. It is the default keyboard application for stock Android mobiles. Now, if you are facing problems while using the default keyboard of Samsung, you can install the Gboard. From gestures to glide typing – everything is available in Gboard. The best thing is that you can choose various themes so that it matches your system theme (Light or Dark). Download
These are some of the best apps for Samsung Galaxy S20, S20+, and S20 Ultra. I hope you will like them.