Contactually Actually Does A Great Job Sorting Emails Based On Contact Importance
Everyone among us shares daily sweet and sour email surfing moments. Almost all have now and then missed out on several important emails. Frustration of missing vital leads among those who receives a ton of emails everyday are even more. True if you are a Gmail (Google Apps) user, Priority Inbox does help parsing important emails. Although that too fails from time to time. The hassle of maintaining a relationship as well monitoring your CRM software is an added baffler.
Three developers, Zvi Band, Tony Cappaert, and Jeff Carbonella from Washington DC have recently launched a startup named Contactually that aims to nullify the aforesaid problems and help you manage email contacts more productively thereby maintaining a steady relationship with them.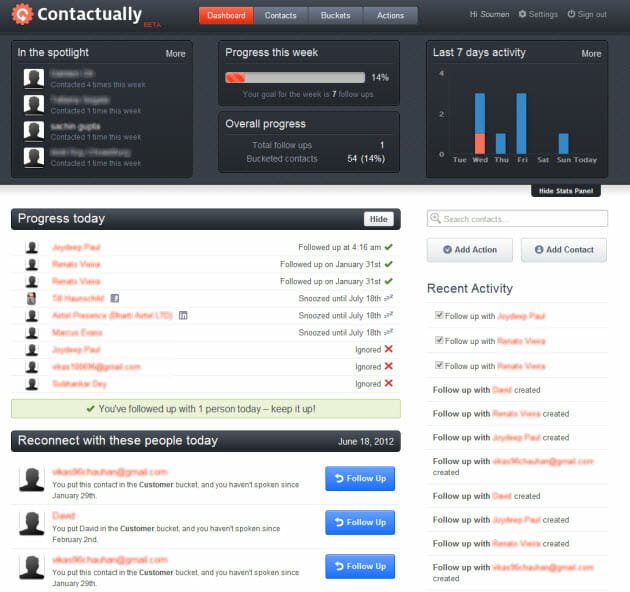 Authorize the app with your IMAP connected email accounts(I used my Google Apps) and you will be taken through steps to connect your account and then categorize your contacts(in Buckets) based on the role(entrepreneur, business owner, Networker, Account Executive) you fit in. Next you will be taken to your Dashboard where you can monitor contacts and interactions on them. You can track your progress, follow up selected contacts, see how you have interacted during the week or month. Contactually currently works with IMAP connected accounts and integrates with CRMs as well. The support for POP3 is expected in coming months.
The app reminds me a lot of Rapportive, a finely crafted contacts addon lately acquired by Linkedin. Contactually, however, feels like a distant relative of Rapportive. Automatic sync of social profiles was one of the great thing I loved about Rapportive. Contactually also has a similar feature for its premium users(although I'm yet to see any sync done for my contacts, maybe it takes a little time). Considering the fact that most of its users use Gmail, Contactually is soon to roll out a sidebar contact information widget(like Rapportive) for Gmail.
The best thing about Contactually is the call to action. Unlike Google's own inbuilt People widget(for showing contact info) and Rapportive, Contactually actually offers a brilliant reminder service to keep the conversation going with your contacts. This, can thus be followed up or snoozed for a later date. And all this right from your email Inbox. You can log into your Contactually account to get a better idea about your contacts and how you interact with them. The follow up reminders can also be monitored from here. You can customize to get email reminders from Contactually about people it suggests you should follow up.
The daily digest emails that are sent twice everyday can be replied with human legible texts like "Follow up David in a week" which will thus be deciphered by the NLP(Natural Language Processing) engine and a task/action will be added automatically. It might sound like a charm, albeit it's experimental and doesn't quite work the way it's intended to.
Since Contactually works with teams, the concept of closed network is absent here. So you can check who from team contacted whom, while this is good for teamwork, it might be a little frustrating for privacy. You can also collaborate and assign follow ups within a team which again serves well for collaboration.
The service offers different pricing plans that seems fit for anybody from individuals to teams. Though my personal opinion is, its a bit overpriced for individuals. You can enjoy using Contactually free for a period of 30 days. After that you can opt in for a plan if you are convinced that your demands were properly met by the service.
Be it contact management or building relations, Contactually does a great job in getting things done with your email. While I use Sanebox for managing email overload, Contactually definitely serves as a great complimentary service to have a contact manager for people/service that matters to me.