How to Remove Audio from Video on Android
There is no doubt that Android is one of the best and most popular mobile platforms out there, which is being used by millions of people from across the globe. People use Android because it has a lot of phones, apps, games and features. No matter what do you need in your mobile or what is the purpose of your mobile but you can indeed find your preferred mobile running on Android. Suppose you need a mobile that can capture good photos. Therefore, you can opt for OnePlus 3 or high-end Samsung mobiles etc. Suppose you need more battery backup. You can also find lots of mobiles those are having a very good battery backup.
Let's assume that you often record videos on your mobile. Suppose, you have recorded a video, but the background sound is boisterous that you want to remove. Obviously, you can mute the sound while playing, but that is not the real solution if you would like to add another sound in the background.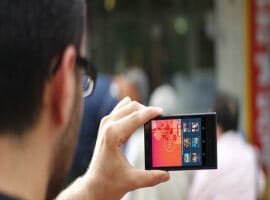 To do so, at first, you have to remove audio from video. If you are using a PC, there is no issue. However, the problem commences when you are on an Android mobile. There are very few video editing tools for Android those work. Besides, most of the video editors cannot replace audio. Therefore, here is a solution that will let you remove audio from video on Android mobile.
Remove Audio from Video on Android
There is an app called Video Mute, which is available for Android 2.3.3 and later version. Some people have claimed that Video Mute doesn't save the video in SD card or any other storage, but I had not faced any issue while testing it personally. However, the only negative side is it has a lot of advertisements. Otherwise, this tiny app can do your job without any issue.
Video Mute is very easy to use an app for Android. For your information, it doesn't replace the audio. Instead, it only removes audio from any video. Do follow the following steps to get started with this small tool.
At first, download and install Video Mute on your Android mobile. Like said before, make sure that you have Android 2.3.3 or later version. After opening it, you will get a window something like this,
Tap on the Start button. In the next step, you have to open the desired video. After opening the video, you can find two options on your screen. One option will let you set the time, which is set to 15 seconds by default. Another option will allow you to change the volume level. You can low down the volume, or you can mute it entirely. For that, just tap on the Volume button and set the volume according to your wish.
After hitting the DONE button on your screen, you will get a preview, where you can check whether it has removed the audio or not. If you are satisfied with the result, tap on tick mark. In the next step, you can save the video on your phone. Tap on the corresponding button.
There is another method that you can use to extract audio from a video. No matter how long your video is, you can extract only audio from your file. In simple words, you can use online audio extractor tools to get the job done. Here, we have enlisted two of the best online audio extractor tools that you can use.
Audio Extractor
Audio-extractor is one of the best websites that you can use to grab audio from a video file. As mentioned earlier, you can upload any size of the file to this website and go through some simple steps to download the audio. At first, you need to visit the site and click on the "Open video" button. If the video file is already on your mobile, you can select the file and upload it accordingly. After that, choose "mp3" from the list and click the "Extract audio" button. Visit website
FileConverto
FileConverto is another website that you can use to convert video to audio. In other words, you can extract audio from video with the help of FileConverto web tool. The only problem with this tool is that the video file must be within 500 MB. Otherwise, you cannot upload the file to this website. If so, you can visit the FileConverto website and click the "Browse" button. After that, you need to select the video file to upload it to this website. Once you do that, click the "Submit Now" button. Following that, your file should be downloaded to your computer automatically. Visit website
That's it! This is as simple as said.