Best Free Jigsaw Puzzle Apps For Android
Experts conclude that puzzle games help stimulate the brain and improve one's productivity. So if you are all set to give it a shot, then let's get started with jigsaw puzzles — the most popular genre of puzzle games. Wondering why this one's so popular? Well, maybe because all of us have played it at some point in time and feel some sort of a connection with it. Also, there is some strange satisfaction in putting all the pieces in a jigsaw puzzle, together. If you are now trying to figure out the best free jigsaw puzzles apps for your android phone, then we've sorted it all out for you. Below mentioned is a list of some of the best jigsaw puzzles that you can start cracking right away.
Jigsaw Puzzle Epic by Kristanix Games
Jigsaw Puzzle Epic is one of the best rated free jigsaw puzzle apps for android phones. The reason for this is pretty straightforward — the makers of this app have addressed the needs of a wide range of audiences and cater to the needs of all age-groups. You can choose from over 10,000 puzzles on this app, which assures that you'll never get bored with it. As a player, you have the liberty to decide the number of pieces and can choose anywhere between 4 and 625 pieces.
Jigsaw Puzzle Epic Brings you
Over 10,000 puzzles to choose from.
Choose to play with up to 625 pieces.
Ideal for all age groups.
In fact, you can also create puzzles from your very own pictures, if you want to. To spice things up, Kristanix rolls out daily puzzles, which is something that most users eagerly wait for.
Jigsaw Puzzles by Appgo
Jigsaw puzzles by Appgo is one of the best stress-busters, that comes with a whole bunch of pleasant themes such as animals, plants, and sceneries. Also, there's a Timer in this app that lets you time up your game like a real pro. So, go ahead and challenge your friends to a game of jigsaw puzzle, but make sure that all the participants choose the same difficulty level. Despite all the rich features that this one's loaded with, we rank it on No.2 because of a handful of glitches.
Jigsaw Puzzle Brings you
Diverse themes such as animals, plants, sceneries.
Comes with a Timer.
You can challenge your friends with it.
The biggest problem with this app is the numerous ads that pop up, which results in inferior user experience. Also, several users have complained about the fact that it isn't very easy to load your own images on this app and create puzzles with it. Moreover, this game tends to load slower on older versions of Android. Finally, this game is not very interactive and ends abruptly after the game is over, without really giving you a pat on the back.
Jigsaw Puzzle Real by Rottz Games
If you are sick and tired of all the ads popping up while you play your favorite puzzle game, then try Jigsaw Puzzle Real. This app isn't gung-ho about commercialization and offers a minimal number of in-app purchases. Also, it is much more engaging and interactive than most other jigsaw puzzles out there. You can pep up yourself anytime with this application's wide range of entertaining themes like Halloween, castle, beach, pets and also choose the number of pieces that you'd like to have in your puzzle. This app currently has around 2400 free photos spread across 35 themes. Each of these photos can be split into 1000 pieces and rearranged.
Jigsaw Puzzle Real Brings you
Over 2400 free photos.
Comes with around 35 themes.
Has innovative themes like Halloween, castle, beach, and pets.
You can play with up to 1000 pieces.
Magic Jigsaw Puzzles by ZiMAD
Here's your chance to be part of an active Jigsaw community that adds new puzzles to its collection, on a regular basis. This ensures that you'll never get fed up of this game and will have something new to solve every now and then. This Application's partnership with National Geographic and Sony for HD pictures brings along a rich visual experience. Also, you get to choose from five difficulty levels and customize the game to have up to 630 pieces in the puzzle.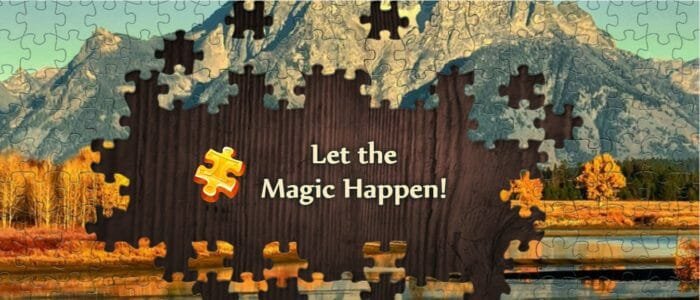 Magic Jigsaw Puzzle Brings you
High-quality photos sourced from media partners National Geographic and Sony.
Adds new puzzles on a regular basis.
Lets you play with up to 630 pieces.
Comes with five levels of difficulty.
Jigsaw Puzzle Crown
If you want to engage in a brain-stimulating experience, then try Jigsaw Puzzle Crown which comes in various styles — Classic, Figural, Spiral, and Cuts. Now if that's not exciting enough, there's more in store for you. The free version of this android app gives you access to ten different puzzle types and to keep you going, there's an amazing reward system in this app.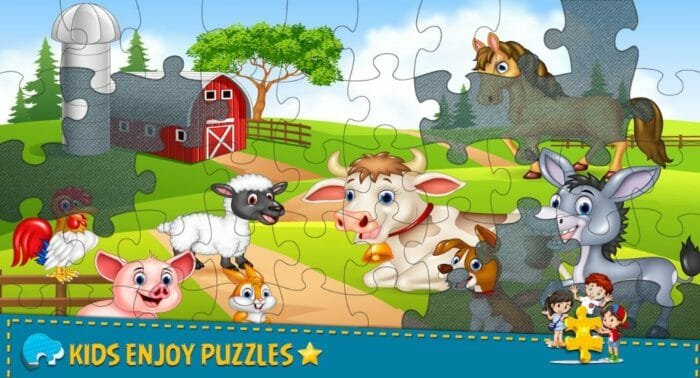 Jigsaw Puzzle Crown Brings you
This puzzle comes in various styles such as Classic, Figural, Spiral, and Cuts.
The Free version lets you play from ten different puzzle types.
Offers an interesting reward system.
Easy to use controls.
Kids Animal Jigsaw Puzzles by Brain Games
If you are looking out for a jigsaw puzzle that can keep your little one busy, then try this app. It's a great way of keeping young ones occupied while introducing them to the animal kingdom. You can decide the number of pieces between 4 and 56 depending on your child's intellect and let the kid play any of the 6 free puzzle games. The best part is that the in-app purchases let you buy additional parental controls, which you can decide depending on the age of your young ones.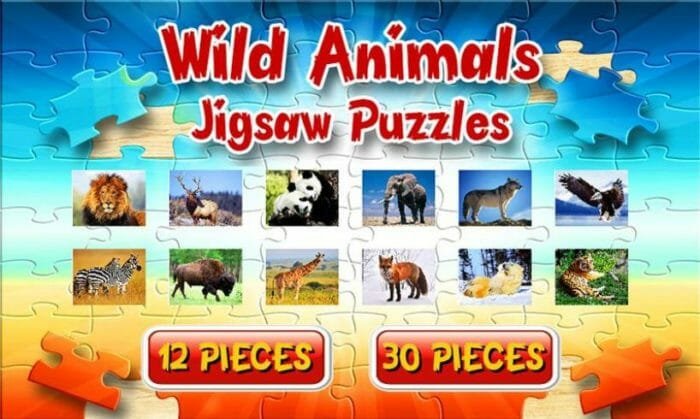 Kids Animal Jigsaw Puzzle Brings you
Lets you choose between 4 and 56 pieces to play with.
Lets you familiarize your kids with animals.
Has interesting Christmas puzzles and games.
Jigsaw Puzzles Free by Titan Inc.
If you are a lover of all that is pleasing to the eye, then this one's for you. This application delivers a graphics-rich experience and even lets you download its content. Conversely, you can add your own music and pictures, for a more personalized experience. With this app, you can play four types of jigsaw puzzles — regular, swap, shuffle and rotate jigsaw puzzles. Coming to the difficulty level, you can rearrange the pieces between 9 and 1600 pieces. That lets you elevate the difficulty level and have all the fun that you want to have with this jigsaw puzzle.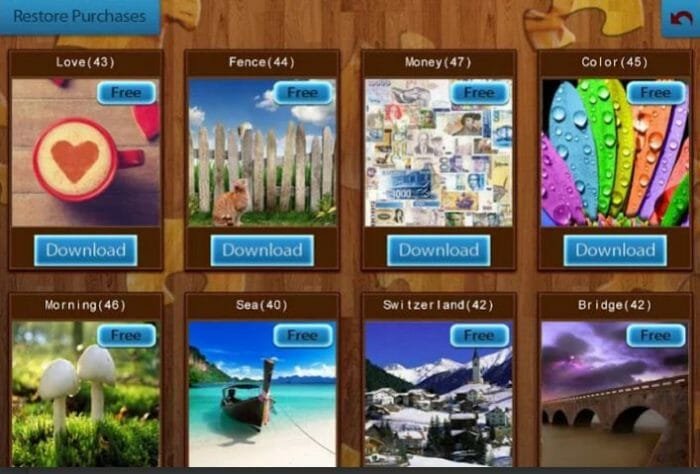 Jigsaw Puzzle Free Brings you
Rich graphics.
Lets you play regular, swap, shuffle and rotate jigsaw puzzles.
Lets you add your own pictures and music.
You can choose between 9 and 1600 pieces to play with.
Jigsaw Puzzle World by Mobirix
This is an exciting game that's full of surprises and you seldom know what's going to come up next. Also, this game supports around 16 languages and offers various difficulty levels that you can choose from. Further, it gives you the option to choose from 9, 25, 100 and 225 pieces. Once you've made your choice, you can then compare scores on the leader board and combat with other players across the globe.
Jigsaw Puzzle World Brings you
Supports 16 languages.
Lets you play with 9, 25, 100 and 225 pieces.
Lets you compare scores on the leader board.
You can choose to combat with other players.
Jigsaw Puzzles – Classic Puzzle Game by Easybrain
This jigsaw puzzle is loaded with a whole bunch of free games that you can enjoy for a very long time. Those who've used this app for quite some time, state that it's ideal for all age groups. Also, the support offered by the makers of this game is commendable. As casual as the name 'Easybrain' sounds, it isn't any of that and the makers of this application take their job pretty seriously. So if you face some sort of a glitch and report it, then expect them to revert back in no time and help you fix it.
Jigsaw Puzzles Classic Brings you
Several free games.
The gallery is updated on a weekly basis.
Can choose between 9 and 400 pieces.
Excellent support.
Jigsaw Puzzle, create pictures with wood pieces by Critical Hit Software
Critical Hit Software brings you one of the most enthralling experiences by letting you play your favorite game with wooden pieces. The makers of this application have gone that extra mile to ensure that you get the feeling of putting the pieces together, for real. The "wooden pieces" add that distinct touch to it, which makes you coming back for more. However, some users have reported issues after its recent update. The most interesting one from a regular user is that the app freezes after every ten minutes or so, of playing on it. Although Critical Hit seems to have taken note of it, we are unsure whether they've fixed that glitch until now.
Jigsaw Puzzle Brings you
Lets you play with wooden pieces.
Lets you use your own pictures.
Over 20,000 high-quality puzzles.
New puzzles released every week
Houses Jigsaw Puzzles
If you are on a lookout for a puzzle game that you can play in the online as well as offline modes, then this one's for you. Plus, you can create a "memorabilia" out of your best game and set it as your wallpaper. Although the free version of this app gives out only 8 games, with different difficulty levels, it seems like a whole lot more than that. Also, if you can handle a moderate amount of ads, you'll never have to invest in the pro version of this app as most of the features are available for free. However, the only downside is that, at times, this game gets more challenging than expected but if you like challenges then go for it.
Houses Jigsaw Puzzle Brings you
Lets you set your best game as the wallpaper.
Allows 8 free games.
A moderate number of ads.
Comes loaded with surprises.
For most people, the very mention of a jigsaw puzzle tends to bring back a flood of childhood memories. Those days are gone, but if you wish to relive those memories (and also kill some time) you could try playing some of the abovementioned jigsaw puzzle games on your mobile phones, or tablets. Jigsaw puzzles are undoubtedly a great way to beat everyday stress and build your self-confidence, but that's only when you pick the right one.