Video Players for Android Review – VLC, MX Player, Archos Video Player

In the burgeoning world of mobile phones, sub 4 inch screen Android device is a rarity. The latest phones on offer have some of the best mobile displays, like the 4.7 inch Super LCD 2 of the HTC One X, similar size with IPS display on the Google Nexus 4 or the Super AMOLED 4.8 inch screen of the Galaxy S III. Viewing videos on these phones is a pleasure, that now phones with come support to play High Definition videos, even 1080p. The stock video players are good enough but often lack support for multiple formats. Today we will review three great video players that offer support for almost all video formats plus a myriad of additional features.
Archos Video Player
Archos just recently launched the Ad-supported free version of their android video player on the Google Play market. Archos Video Player can play videos of most formats and has a simple yet intuitive interface, with a nice 3D effect of the videos when in landscape orientation. You can bookmark videos that then play from specific time of the video, ideal if you want to share or show an interesting part of the video to others. You can also change the brightness levels and volume during video playback and support Hardware acceleration. There is also an option to enable/disable screen rotation right within the Archos Video Player app.
Where this player excels though is the ability to stream video content from local computer, network storage on a local network or from an external USB storage device. It fetches videos from the shared servers on Samba or UPnP media servers and play them. It also fetches the movie or TV show information, poster from online source for all videos on both local and network storage.
I like the fact that Archos plays most video formats and even videos in shared servers as well as the ability to add bookmarks.
You can check out an in-depth review of the player here. It's available on the Google Play for free (ad-supported version) or for $5 for ad-free version.
MX Player
MX Player is one of the popular video player on Android devices. It has a minimalistic interface with tons of options and customization. Fire up the MX Player and you get the list of videos sorted in the order of their location in the System directories. The videos are loaded almost instantly and refreshes fast for those new added videos. The video playing interface is simple but the controls are done through gestures. Swipe up/down on the left side of the screen to adjust the brightness level, swipe on the right to adjust the volume. You can also fast forward or rewind the video with horizontal gestures. MX player also lets you lock the interface to avoid accidental touches.
MX Player supports a wide variety of video formats and is one of the most compatible android players, with codecs available for download for different devices. It has 3 decoders – Hardware, Hardware + and software decoder. You can customize the video list and the player interface from it's preferences. It can also automatically load the subtitles for the video when available.
I like MX Player for it's no-frills video player, customization and universal support for all Android devices.
MX Player is available for free on Google Play, with codecs for different devices automatically downloaded after install. Related – Stream audio and video from Android to your desktop computer.
VLC for Android
One of the favorite video players on desktop, VLC has now evolved to the mobile platforms. It was available for a brief period in the Apple App Store back in 2010, the Android version was only released last year. It is still in beta stage, but it is promising to be "Swiss Knife of Video Players" on the Android platform too!
VLC for Android plays both Audio and Video formats and plays almost all the formats known. It opens up to show all the media files available on the Android device. The video interface is similar to that of MX Player, with swipe gestures to adjust the brightness, volumes and the video timeline.  VLC also supports hardware acceleration and has customization options available. It also has widget support, though it doesn't have the lock screen widget that would have come in handy.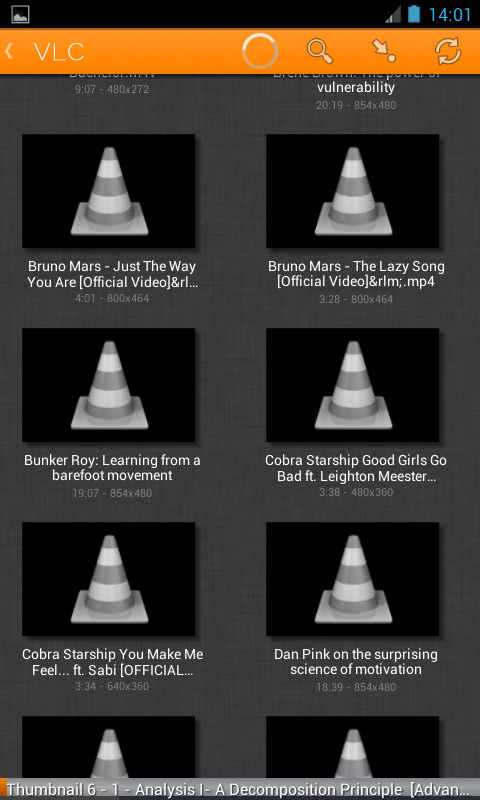 It is still in beta stage. It takes quite a bit of time to load the media files on your Android and takes even more for loading the thumbnails. The video interface, although functional, is not smooth and stutters at times, especially during swipe gestures. It does not support all devices as yet, but developers have promised improvements coming soon.
I like VLC for the fact that it can play both audio and video and another reason maybe, well, it's VLC!
You can get the VLC Beta version free on the Google Play market. You can also head to the VLC page for the same.
As mentioned earlier, there are tons of video players out there for Android. We hope to cover more video players in the future. Do let us know your thoughts in the comments.