Jolidrive – One stop for all Your Cloud Services
In today's world all those who have access to the internet will have access to one or the cloud services. "Cloud" services as such not only refer to online drive storage, services exclusively to Photos, Videos, Audio, even emails, all come under the same category. And you might have at least 2 or more accounts among such cloud services. Managing these cloud services, from online storage options like Dropbox, Box, Google Drive, music services like SoundCloud, or Video services like Youtube, Vimeo, it certainly is a hassle. In come Jolidrive that makes cloud management a breeze.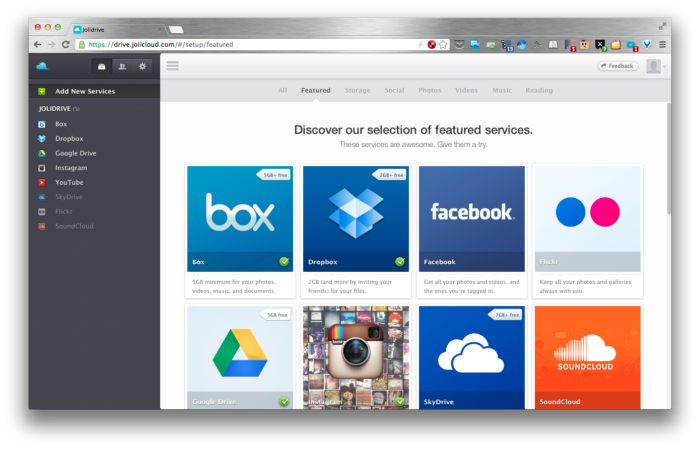 Jolidrive is a product of Jolicloud, the makers of the Joli OS (an alternative operating system for the netbooks). The main idea behind Jolidrive is the fact that the internet users use the myriad cloud services for different purposes. Most people use Google Drive for managing documents, spreadsheets, forms, etc, Flickr for photo management, Youtube for videos, and likewise. Jolidrive simply brings all these services under one umbrella and manage all these services at Jolidrive.
Jolidrive supports integration with various cloud services. Popular ones like Dropbox, Google Drive, Youtube, Flickr are there, and you can get other services like Skydrive, Pocket, Google Plus and more with some promotions (more on that later).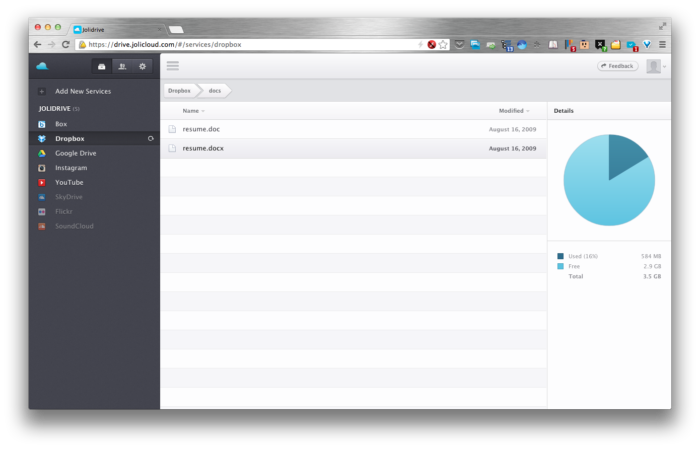 You can signup a Jolidrive account via Facebook or email login. Once setup, you can connect with your cloud services by simply clicking on them in the Jolidrive homepage. Setting up is a breeze, generally Jolidrive requires you to allow it to view all the files and folders in your cloud services, though it won't need you specific contact details. All the services you have integrated appear on the left hand side.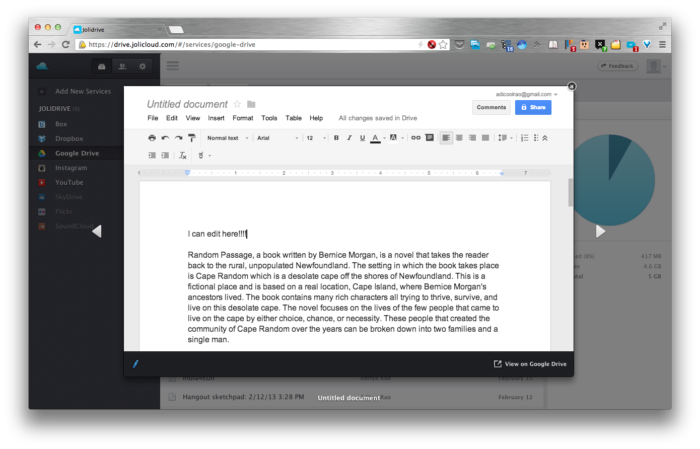 You can view all the files and folders in your respective accounts by clicking on one of these services. Clicking on any file will open up in a popup window within the page to show the file. While you may not be able to add anything to your drives, Jolicloud does have support for editing and collaboration. For instance clicking on the edit icon for one of the documents in Google Drive will lead to the edit page as you would find on Google Drive, so you won't need to go to the Drive separately.
It also offers service specific features, such as the like option for photos on Instagram, watch videos on Youtube or Vimeo through the same popup window.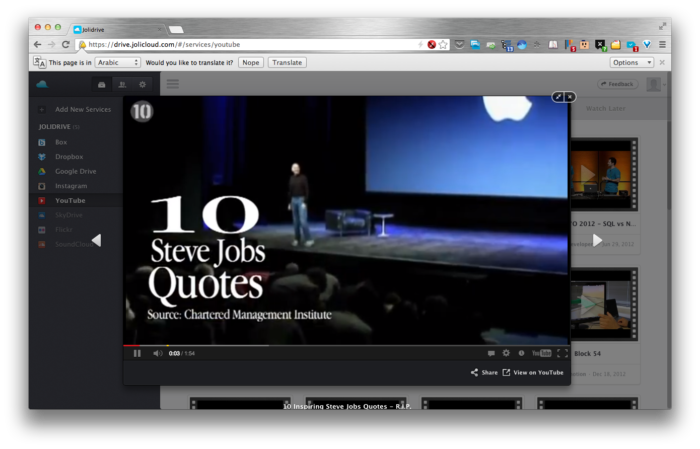 It is easy to integrated with cloud services and you view and edit documents, photos, watch videos right from the Jolidrive page. It stays up to date with all you cloud services, plus Jolidrive looks great on mobile browsers too, as you see here on my Nexus 7.
Although the service is free, connecting to additional services such as Google Plus, Vimeo, Pocket, etc. requires you to promote the Jolidrive service on Facebook, which is not an ideal solution. Also you cannot add anything to your cloud services through Jolidrive.
Jolidrive is a great solution for managing multiple cloud accounts on the internet. You can view/edit documents, like photos, even watch videos within Jolicloud and it is designed with mobile browsers in mind. Best of all, it is free and has integration options with some of the favorite cloud services. Do share your thoughts on through your comments.
Sources: Jolidrive [via Lifehacker]