Make Calls From Your iPad and Mac with Handoff
With iOS 8 rolling out to iPhones and iPads and those nice shiny little iPods, do you know what all features does it bring along? Of course the new software packs a bunch of new features, that are beneficial both for consumers as well as developers, but what you people want to know is that how these features will make your life easier. Am I right?
Just to fulfill that desire of yours, we have decided to bring you a series, that will explain the features that are coming in iOS 8 and OS X Yosemite. In this series we will also guide you through the feature functionality and explain how you can make the best use of those features.
Apple with the release of iOS 8 and OS X Yosemite, have gave yet another reason for people to love them even more.And when you will know of Handoff, things are going to be much much better folks.
Handoff: What is it?
So what exactly is Handoff? Handoff is a new feature that was introduced by Apple in the latest iOS 8 and OS X Yosemite. If your are rocking any of these, you can now have the ability to transfer your activity, of any kind, to any Apple device without losing any of your data and strting where you left off.
This means what ever you may be doing, you can just start off on the other device from where you left in one. For example, you can transfer calls from your iPhone to your iPad. Send text messages from your Mac, and play some game in iPhone and transfer it to iPad and start where you left it in the iPhone. Isn't it cool? Sure it is. I mean who wouldn't want such a functionality with all their devices?
Handoff is a major step toward connected platforms by Apple. Since it incorporates alot of connected services, it is certainly sure to make a mark on the tech world.
Handoff: What is required?
Since you know what Handoff actually is, and what you will be able to do with it,  you will be wondering if that requires some special software/hardware combination of any sort? Rest assured, because what Handoff mostly requires to function is that you already have, or your devices do. Exception is just a WiFi network. Which I don't think would be a problem these days. So this is the list of what you require:
iOS 8 (iPhone,iPad,iPod) or OS X Yosemite (Mac).
Bluetooth LE (already present in models above and inlcuding iPhone 4s, iPad 2 and iPod touch).
A WiFi network
So these are the things that you will be needing if you want to use Handoff at your place. However, we need not mention out of common sense,that you need at least two Apple devices too.
Considering you have two apple devices, other things comes all within them, all you have to do now is setup a WiFi network at your place and start using Handoff.
Now, you might wonder why do you need Bluetooth LE and WiFi both? Let us explain that.
Bluetooth LE is used to make sure that it is you who will be accessing the devices, or anyone in your presence. Since Bluetooth have a range limit, only the devices connected through Bluetooth LE, having the same Apple ID signed in, will be able to perform Handoff functionality. Since you can have multiple devices linked with your Apple ID, you may not want to use Handoff in all of them.(Like your Mac at Office while you at home). So Bluetooth LE connectivity ensures that all the devices are within your limit,hence providing security.
Now since Bluetooth LE is used, that means you cannot transfer large amounts of data over it. And some features may need to transfer continuous data, which is not possible with Bluetooth LE. Hence, to transfer the work you were doing to other device, WiFi network is used. Which is also faster than a Bluetooth connection and in addition again ensures that all your devices are within your reach. thus providing additional security. So in actual, WiFi is used for transferring the activity, and Bluetooth is used for security
 Handoff: How to do it?
Now the questions comes, I know everything Handoff does and what it requires, but do i use it in real?
You see using Handoff in real is no big deal. It is just a built in feature. Not an extra app or something. All you have to do is fulfill the above requirements and start using Handoff right away. You can do anything from anywhere, like writing emails, watching movies, perform calender tasks, view maps etc on either of your device and without any lag or need to do it all over again.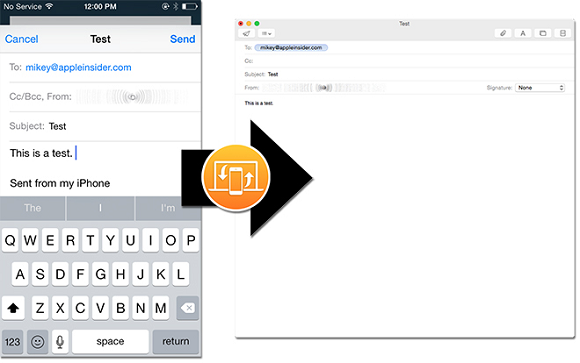 Since your Apple ID will make sure everything on all your devices in sync with each other, switching to other devices will not be a hassle anymore. Apple is also encouraging developers to include Handoff functionality in their apps so as to provide a unified experience for all the Apple ecosystem.
Developers will also be able to launch apps based on websites.For example if you are using Facebook in Safari on your Mac's and then want to use it on your iPhone, Handoff can allow Facebook developers to directly open up the Facebook app in your iPhone.
Since other developers are still to incorporate their apps with Handoff, here is the list of apps that are supported by default for Handoff:
Mail
Calender
Contacts
Safari
Maps
Pages
Numbers
Keynote
Messages
Reminders
Sure that list is small, but considering its ease of use and the reaction it got from the developers, we are sure to see a lot more apps coming with the Handoff functionality in the near future.
This was our first installment of the series explaining the features and functionality of  the new perks made available in iOS 8. Let us know in the comments your views about this. What feature would like us to cover in the next installment. Make sure to sound off below, we are listening.