Micromax Canvas Fantabulet vs Xiaomi Redmi 3: Which is Better and Why?
Micromax has launched a brand new mobile called Micromax Canvas Fantabulet to extend their Canvas series. This mobile has some good specifications and the price is affordable, which knocked our attention to compare it with another budget or entry-level mobile called Xiaomi Redmi 3. Both of them are priced quite same. Obviously, there is a difference between the price but that is not too much. In India, the difference is only Rs. 400, which is negotiable.
However, if your budget is short and you want to get a better Android mobile than earlier, you can simply opt for these two mobiles. Now, as you cannot buy both of them, check out this comparison to get the better one for you.
Micromax Canvas Fantabulet vs Xiaomi Redmi 3
While comparing two same range mobiles, you should check out different things very carefully. Although, you cannot find any major difference between the looks but the under-the-hood features may have changed without your attention. On the other hand, you should know your necessity. Otherwise, you will end up buying the wrong mobile.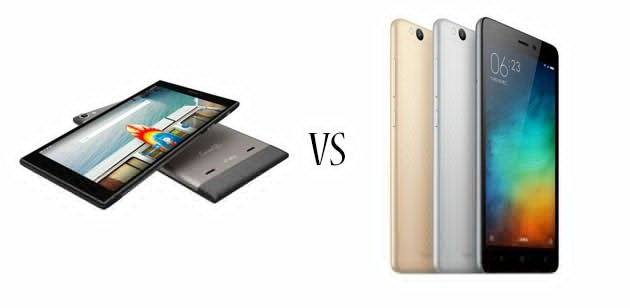 Design or Looks
In terms of overall, Micromax Canvas Fantabulet and Xiaomi Redmi 3 both are almost same. Although, the design of these mobiles do not look professional, but you will get same type of design while comparing them. Both of them have plastic body but Canvas Fantabulet looks better in the black and grey. The overall design of this mobile far better than the other one. At the same time, the body : display ratio is fine and this is why it looks quite better from the front side. However, you can find a major difference between the dimension and weight as the display size is different. Micromax Canvas Fantabulet weighs 265gm and Xiaomi Redmi 3 weighs only 144gm. The reason behind this heavy weight is demonstrated below.
Display
This is where you will opt for Micromax Canvas Fantabulet. Micromax is popular for the size of display and this time, there is exception. You will get massive 6.98-inch display in MIcromax Canvas Fantabulet. On the other hand, a 5-inch display is included in Xiaomi Redmi 3. However, the color depth, screen resolution and pixel density are same of both mobiles. You will get a resolution on 720 x 1280 pixels and the pixel density is 294PPI. This is needless to mention that both of them have multi touch support.
Performance
Talking about the performance, you will get quite same performance or a little bit better performance in Xiaomi Redmi 3 as it comes with Snapdragon 616 chipset and Micromax Canvas Fantabulet has MediaTek MT8382W/M processor. The clock speed of Micromax mobile is 1.3GHz but the clock speed on Redmi 3 is 1.5GHz. Just like that, you will get quad-core processor in Canvas Fantabulet but octa-core processor is included in Xiaomi Redmi 3. The best part is you will get Adreno 405 GPU but there is nothing mentioned for MIcromax Canvas Fantabulet.
The next big thing is RAM. You will get 2GB RAM in Redmi 3 but there is 1GB RAM in Micromax Canvas Fantabulet. There is a difference between storage as well. You will get 16GB internal storage with Xiaomi Redmi 3 but 8GB internal storage is included in Micromax Canvas Fantabulet.
Camera
Even after being same priced mobiles, you can find so many differences between the camera. 8MP rear camera with LED flash is included in Canvas Fantabulet but you will get 13MP rear camera with Xiaomi Redmi 3. In terms of other features, Micromax is still lagging behind Xiaomi. However, you will get 2MP front facing camera with Canvas Fantabulet but 5MP camera is included in Xiaomi Redmi 3.
Battery
Although, both mobiles have a good battery and much better battery than other mobiles, yet, Xiaomi Redmi 3 has better battery than Canvas Fantabulet. You will get 4100 mAh battery in Xiaomi Redmi 3 but Micromax Canvas Fantabulet comes with 3000 mAh battery. This is where Xiaomi excels again.
Hope this comparison will help you to choose the better mobile for you.