5 Things You Should Do After Installing Windows 10
Windows 10 is probably the best invention of Microsoft as millions of people have already started using this operating system after getting impressed by the features and user interface. Microsoft has included a lot of new features, quite new UI, lots of new options and some enhancements in Windows 10 and this is why Windows 10 is being popularized day by day.
Although, Windows 10 is so much attractive, but some features of this OS can harm your online privacy any day. For a regular or first time Windows 10 user, this is really not so good as it should be. This is because of having some privacy threats by Microsoft and some features, what could have other options or better options for the users. Therefore, here is a list of top 5 things what you should do after installing Windows 10 is full of things, what you should turn on or off right away. If you are using Windows 10 for a long time, you should also check these items for making your PC more secure for you.
Disable Keylogger of Windows 10
This is probably the worst feature of Windows 10, which has been implemented by Microsoft. A regular person cannot find the option since he/she doesn't navigate through various options after installing a new OS. They crawl all options, when they need it. Anyway, this is a harmful feature for Windows 10 and you should disable it right away. To do so, just head over to Win + I >> Privacy >> General and toggle the button that says Send Microsoft info about how I write to help us improve typing and writing in the future. This is a needless feature and you should it off.
Enable Metered Connection
Do you know what Metered connection is? When you install Windows 10, it needs data to update your installed store apps or the system. But, if you enable Metered Connection for your limited data network, you can easily ignore those update. To disable automatic update, you can enable Metered connection for unlimited data connection as well. To do so, just open new system settings panel (Win + I), go to Network & Internet, click on Wi-Fi, click on Advanced options and toggle the buttons under Metered connection. This is as simple as that.
Disable Auto Store Apps Update
In Windows 10, you can find a lot of universal apps. Apart from that, you can download more other apps from Windows Store. For them, who download a lot of Windows Store apps and but now they have internet data problem to update them, can easily turn off automatic Windows Store apps update in Windows 10. You can find an option in Windows 10 Store. You just need to toggle a button to get things done. For that, open Windows Store in Windows 10, click on your Profile picture and go to Settings. Then, you can find an option called App updates. Just toggle the Update apps automatically button to solve the problem.
Turn On System Protection
Although, Windows 8.1 and earlier versions have this feature enabled by default, yet, Windows 10 has disable it for the first time users. Users need to turn the System Protection on manually. Otherwise, they cannot even create a system restore point. After enabling System Protection, you can revert your PC back to a certain time if your PC gets into any trouble. Therefore, to enable System Protection, you can do this. Go to Control Panel and search for Restore point. Or you can do the same in taskbar search box. Following that, switch to System Protection tab and click on Configuration. Therefore, you will get options to turn it on.
Disable Wi-Fi Sense
This is another no-so-good feature of Windows 10 as it may consume your data rapidly. Wi-Fi Sense helps your friends to connect to your connected Wi-Fi network and vice versa. That means, you can also connect to your friends' connected Wi-Fi network. This is certainly a bad feature that you should turn off. To do so, open new system settings panel (Win + I), click on Network & Internet, select Wi-Fi and Manage Wi-Fi Settings. Here you can find some options like Connect to suggested open hotspots, connect to networks shared by my friends, for networks I select, share them with my outlook/skype/Facebook friends.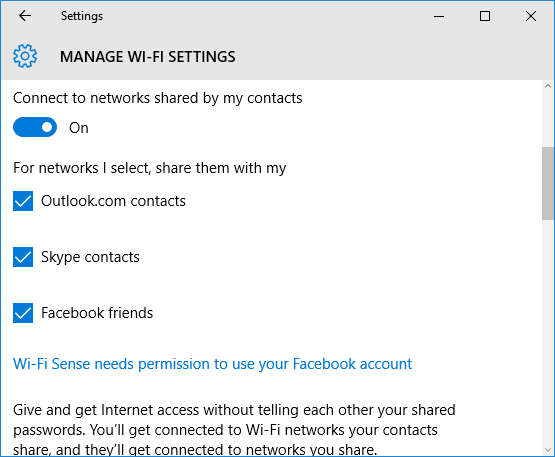 Just disable all of them.
Hope these little tweak can help you a lot. If you want more protection, you can download DoNotSpy for Windows 10.