How to Export The Email Addresses of Facebook Friends To a CSV File
While you can always export contacts from Gmail, Yahoo and import the CSV file to your Facebook profile – the reverse is not true.
Facebook does not allow users to download email addresses of their Facebook friends, you can request to download a zipped archive of Facebook profile information though.
Unfortunately, the zipped archive will contain a complete backup of photos, videos and items shared on your wall but the most important thing is missing – the email addresses and contact details of your Facebook friends.
In recent times, there has been a war heating up between Google and Facebook on the issue of letting users export data from their services. Google even changed some lines in their Terms of service page, stating the following:
5.8. Google supports data portability. By accessing Content through the Contacts Data API or Portable Contacts API for use in your service or application, you are agreeing to enable your users to export their contacts data to other services or applications of their choice in a way that's substantially as fast and easy as exporting such data from Google Contacts, subject to applicable laws.
So you get the idea – Google allows users to download contacts from Gmail in a CSV file but Facebook doesn't allow a direct download of all your Facebook friend's email addresses.
Export Email Addresses of Facebook Friends using Windows Live
If you have a Windows live account, you can export the contact information of all your Facebook friends to a CSV file. When the CSV backup is ready, you can simply import the file to Gmail or Yahoo contacts. Hence, the following procedure works as a workaround to export Facebook contacts and merge them with existing Gmail and Yahoo contacts.
1. Go to home.live.com and sign in with your Windows live account. Open your Windows live mail inbox and click Options > More options from the top right of the screen
2. Click the "Contacts" link from the left sidebar and then click on "See Suggestions".
3. In the next page, click "Add more friends" link and then hit the "Facebook" icon, as shown below:
4. Next, connect your Facebook account with your Windows live account.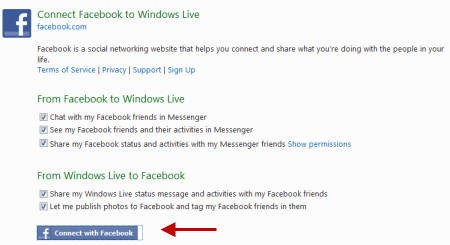 5. Once the Facebook account and Windows live accounts have been connected, hit the "Facebook" icon on the same page and you will be asked whether you want to share your friends' email addresses from Facebook so you can communicate with them on Windows Live.
6. This will import all the Facebook contacts to your Windows live hotmail account so that you can read updates directly from Hotmail and chat with Facebook buddies from Windows live messenger.
7. Now go to "Manage Contacts" and hit the "Export" button to download the email addresses of Facebook friends to a Comma separated file.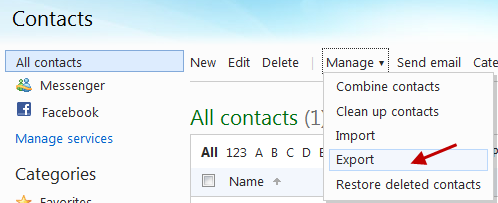 Importing Facebook Contacts in Gmail or Yahoo
Now that you have the CSV list ready, you can simply login to your Gmail or Yahoo account and import the list of Facebook friends.
To import email addresses of Facebook friends in Gmail, click the "Contacts" link in Gmail and then click "Import contacts". Hit the "browse" button and upload the CSV file you downloaded in the earlier step.
Additionally, add these contacts to a new "Group" so that you can later sort your Facebook friends from existing Gmail contacts.

To add the email addresses of Facebook friends in Yahoo, login to your Yahoo inbox and click "Contacts' from the left sidebar. Then connect your Facebook and yahoo accounts and import the email addresses of all your Facebook friends.
Once the contacts have been imported, you can export the list as CSV, vCard or Zip of .VCF files (Microsoft outlook compatible).
Watch the Video Tutorial
I have detailed the above steps in the following video, check it out:
http://www.youtube.com/watch?v=A9kM8lUvDhQ
Related: How to Share Files and Office documents with Facebook friends