Five Reasons why Sunrise Calendar is the best Calendar app
No matter if you use Android, iOS or Windows Phone, your phone should have a calendar app to superintend your tasks and schedules. Although, to do list management apps do well to manage your tasks but a calendar app does more than that. If you start finding calendar app for iOS or Android, you will end up with confusion because both of the platforms have many useful calendar apps available for free and paid.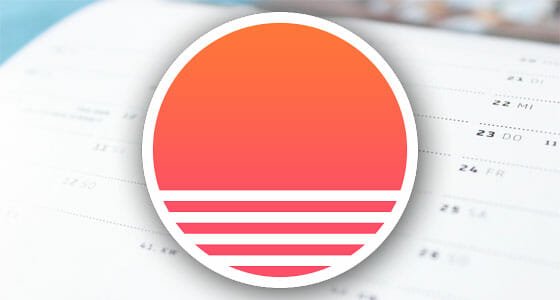 However, if you really need a calendar app for your Android as well as iOS mobile, here is a solution, which is available on both. Sunrise Calendar is an awesome calendar available at free of cost. If you know about Sunrise Calendar, there is nothing to say as you know how useful it is. But, if you do not know anything about Sunrise Calendar, check the following list where you can find some advantages of using this app.
User Interface
Although, Android and iOS, both have their native calendar app, i.e. Google Calendar and iCloud Calendar & Reminders, but still many people do not want to use them because of the messy interface. The trendy visual design aka Flat UI makes Sunrise Calendar even better and good-looking. All the options of this free calendar app are well managed and included in specific primary categories.
Availability
Generally, most of the calendar apps are available only on either Android or iOS. Or, you can find some cloud based calendar apps those can be accessed on any device. If you check them minutely, you will find nothing useful and productive. However, Sunrise Calendar app is available on Android, iPhone and iPad. You can synchronize all your data, i.e. schedules, events, etc. across multiple platforms and devices.
P.S.: Before trying to install it on your device, make sure that you have iOS 8 or later versions and Android 4.0 or later version.
Not only, Android and iOS but also this app is available on Mac as well as at Chrome Web Store.
Weather Forecast
Can you find this feature on any other calendar app? NO. You can't. But, Sunrise Calendar app has such a great feature like Weather Forecast that shows a compact details about the forecast. How does it help? Let's assume that you have a meeting with your clients on a specific day. But, due to bad weather you cannot attend the meeting. This happens when you do not know the weather forecast. Sunrise Calendar app users do not face such problems because they can get all the information about weather in advance.
Google Maps Integration
Suppose, you want to go for a walk in the park or play football with friends, who do not know about the new park or playground. You can simply set an event and send that to your friends with an original map so that they can reach to the  playground without having any issue.
Facebook Events
We often forget to wish happy birthday or congratulate to our Facebook friends on their birthday or any other day. This is a common issue among them who do not use Facebook a lot. This is where Sunrise Calendar comes in. You can easily import all your Facebook events in this calendar app. There are two different methods to do so. You can either use the Facebook account to be signed in at startup or synchronize Facebook account later from Settings. This calendar app will notify you in particular time.
Apart from all these aforementioned features, Sunrise Calendar has more awesome things. You can interlink multiple Google accounts, i.e. calendar, iCloud Calendar, Exchange Calendar, Evernote and more other third party services.
Do you this calendar app on your mobile? How is it? What is your opinion?