Don't Want to Give Your Real Email Address To Another Website? Try Mallinator
Email spam is one of the biggest problems and challenges for any web worker. You already have multiple email addresses, but that's not so big of a problem.
The problem is when a third party website sells your email address to spam vendors and you repeatedly receive spam emails from a large number of unknown sources. Sure, you add those email addresses to your spam filtering list but this is not a viable option to prevent spam, you're only diverting the spam to your trash folder. The point is that the spam is still entering your email address, you're just diverting it to a specific folder in your inbox.
Reduce Email Spam With a Temporary Email Address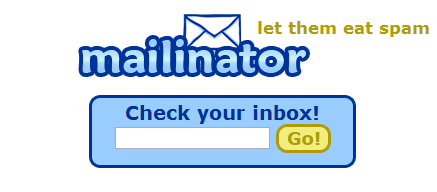 To reduce email spam, one thing you can do is setup anonymous email addresses of yours or use a temporary email address with third party websites.
Mallinator is one such website – it allows you to create a temporary email address with no password at all. Which means, your email address is open to public is someone is able to guess the username.
Getting started with Mallinator is simple, all you have to do is go to the website, enter a username and hit the "Go" button. Be sure to choose a difficult to remember string for the username because you don't want your friends or nearby people to guess the username of your temporary email address.
Once you're done setting up the temporary spam control inbox, Mallinator will give you a unique email address (e.g xyz@mallinator.com) and a web URL to check your inbox. That is all, now you can use this email address with any website you want to, it works the same way as your regular Gmail, Yahoo or Google Apps email accounts.
How To Use Mallinator With Third Party Websites
When you're signing up in some forum, or want to download some files but the host website asks for an email address – simply enter the Mallinator email address, get your job done and delete the email. You can again delete the temporary email inbox and create a new one.There is no need to give them your real email address at all, since this will surely invite spam at a later point of time.
Mallinator also provides an RSS feed of all the incoming emails so you can simply subscribe to all the emails in your Mallinator feed and read the emails from an RSS reader application like FeedDemon or Google Reader. This is exceptionally useful because you don't want to waste time in checking your temporary email inbox every other day.
Overall, Mallinator saves the day when you're getting tons of spam and want to control email spam without exposing your real email address. If you're the type of person who  has to deal with a lot of clients, strangers and online customers, I highly recommend using Whspr – it's another website which lets you create a web based contact form, so that  people can email you, without knowing your real email address
Another thing you should keep in mind is that do not expose your real email address on websites, forums, blog posts and Facebook. Hide your email from spam bots and web spiders who routinely scan through links and try to extract email addresses of innocent people, so that they can send them tons of junk email at a future date.
If you are already getting a good amount of spam on your current company or corporate email address and want to reduce spam clutter, I highly recommend using Unsubscribe.com. The service lets you unsubscribe from email newsletters and mailing lists in Gmail and Google Apps and routinely clears away spam, so your inbox remains organized and clutter free.
I hope these tips will help you reduce email spam on your email accounts. If you have any more tips, do share your thoughts and ideas in the comments section.