Best Gift Ideas For Writers
If your friend's birthday is coming soon and he/she is a writer, you might get some help from this article. It is quite essential to give a second thought while choosing a gift for someone. Instead of getting a random gift, you could gift something useful so that he/she remembers you whenever he/she uses it. Therefore, here are some of the best gift ideas for writers. All these things are convenient for a writer, and you might like to gift these to your friends as well.
Best Gift Ideas For Writers
1] Unruled Diary And Pen
Most of the writers, including me, like to write on an unruled diary or journal. No matter whether he/she needs to write something special or random thoughts, he/she might get a lot of interest by seeing your gift. Although some writers like to have a ruled diary, many people often prefer unruled journal. It happens because he/she can write as well as draw different things on the same page. Therefore, if you know a writer and you want to gift something special to him/her, you can check out some unruled diary. They can cost from $10 to $100 depending upon the page quality, size, brand, etc. On the other hand, don't forget to include a pen as a special touch.
2] Online Writing Courses
Let's assume that your friend or someone else is trying to be a writer, but he/she doesn't know where to start. At such a moment, you can buy him/her an online writing course from a reliable website. It will help him/her to get started in this field, which is very competitive at this moment. To stand out in the crowd, writers need to have a different style alongside the true sense of words. Courses can help for sure, and that is why it would be an excellent gift for any "wannabe" writer. There are several websites such as Lynda, Skillshare, Udemy, etc. Where you can find top-notch courses of various subjects including copywriting, creative writing, etc. In case you do not have any knowledge, you can ask some existing writers to suggest some courses.
3] A Fountain Pen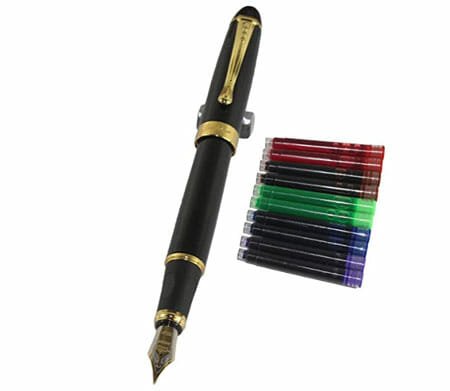 If you don't know what the fountain pen is, you are missing out on a great team that can improve your writing and brings back your interest. A fountain pen and a regular pen are different, but the fountain pen can make you writing unique and different. For obvious reasons, this kind of pen costs a lot more than a standard pen. However, it is an excellent gift for any writer as well as a calligrapher. You can check out some of the best fountain pens on the Amazon website. However, it would be better if you can visit an offline store and get a pen for your friend.
4] A Paid Writing Software
If your friend is a scriptwriter, but he/she often faces several problems while writing a script in a low-quality tool, you can get a paid writing software for him/her. For obvious reasons, any paid writing tool provides a lot more features than a free one. On the other hand, you will get support so that the members can solve common issues a user receives. However, the software's price depends on the developer, features, compatibility, etc. For instance, an online tool costs less than desktop software, which is available for Windows, Mac, or Linux. However, most of the writers use either Windows or Mac. Therefore, you might not have to search for a Linux compatible writing software.
5] A Keyboard
Nowadays, most of the people write on a computer. If your friend does that too, you can buy him/her the right keyboard. The keyboard is one of the essential tools for writers, which needs to be perfect all the time. A lousy keyboard can cause pain, and eventually, the person can lose interest gradually. Therefore, you can bring back the excitement by bringing him/her a keyboard. There are countless keyboards available in the market. You should ask your friend for him/her preference since some people like to use smooth buttons whereas the rest of them like to use a mechanical keyboard. The price depends on the keyboard quality, keys, manufacturer, etc.
6] A Pen Stand
Pen and writer are like vein and blood. Every writer has some pens got for various reasons from various persons. You should gift something like a pen stand so that the writer can organize them according to his/her preferences. A pen stand also goes with the writing desk or table so that the writer can unclutter his/her table by keeping all pens in one place. A simple pen stand doesn't cost a lot – you can get something excellent if your budget is around $30-35.
7] Photo Frame Of Some Quotation
Every home has some photo frames of kids and happy memories. Some people often prefer to have some photo frames of some quotations, and it is a great gift idea for a writer. You can ask your friend about his/her favorite author or idol or inspiration and grab some quotations from the internet. Later, you can visit a local store and get it framed for your friend.
8] Gift Card
Sometimes, we cannot visualize a gift for someone. If you are in such a position, you can buy a gift card and give it to your friend. It can be from Amazon or any other online or offline store. It will help him/her to buy something essential.
That's it! These are some of the best gift ideas for writers. I hope you will like this list.