Best Android TV Apps That You Can Install For Better Entertainment
It's been a long time since Android TV was first introduced. Nowadays, people often opt for Android TV because of flexibility. If you have an Android TV, this list would be helpful for you. These are some of the best Android TV apps so that you can get more out of your existing TV. We have made this list considering the fact that you like to watch shows and movies all the times. However, most of these following apps are available for free, but you might need an active subscription to make them on your TV.
Best Android TV Apps
Some of the best Android TV apps are-
Netflix
VLC Media Player
Spotify
Solid Explorer
Google Chrome
Kodi
Amazon Prime Video
Sideload Launcher
Google Drive
Hulu
1] Netflix
If you need to watch top-notch movies and web series, you should check out Netflix. It is already a common platform where you can find countless films of different native and foreign languages. From documentary to web series to regional films, you can find everything on Netflix. Considering the quality of the content and streaming, the basic plan, $9, doesn't seem so costly. However, if you want to enjoy Netflix's movies in HD, you should opt for the Standard version, which costs around $13 in the USA. As the user interface of Netflix is pretty good and uncluttered, you would not find any problem using it for a long time on a small Android TV as well.
2] VLC Media Player
Android TVs have some storage, and users can use that to store movies. However, you need a player to play them on your TV. For that, you can use VLC Media Player, which is equipped with almost all the essential functionalities so that you can play any file without any problem. The user interface is super smooth that makes you use it more often. No matter whether you have a movie or some web series, you can watch anything with the help of VLC Media Player. As it is available for free, you can try it out without losing anything.
For your information, you can download the MX Player as well. This media player is an excellent substitute to VLC Media Player.
3] Spotify
If you often listen to music online, Spotify is a good source for you. From old classics to newest rock music, you can find almost anything in Spotify. You can use the auto-play feature in Spotify and keep doing your jobs while listening to your favorite songs. Talking about the pricing, you can use it for $4.99/month if you are a student. As a regular user, you need to pay $9.99/month for an "Individual" account. The "Family" account costs around $15, which is better if you know someone who is willing to buy Spotify premium.
4] Solid Explorer
If you often store files in your Android TV, you need a file management tool so that you can organize and manage with ease. Solid Explorer is a such a file explorer that allows you to do everything mentioned above. No matter whether you have pictures, documents, or videos, you can categorize and manage them as per your requirements. As the user interface is mostly white, you might face some issue related to eye strain. Otherwise, you should not get any problem while using the Solid Explorer app on your Android TV. To download this app, you do not need to pay any money. However, you might have to spend some dollars to get rid of advertisements. Download
5] Google Chrome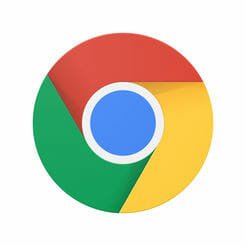 Although it's been a long time since Android TV launched for the very first time, Google Chrome is still not available for this OS. Most of the people might not want to use a browser on a TV, but if someone wants to do so, he/she can do that with a little trick. The secret words are – you need to sideload the app on your Android TV. For that, download the .apk file from a trustworthy source, install a file manager app like Solid Explorer, and install the Google Chrome, respectively. Following that, you can use this browser to open any website without any issue.
6] Kodi
When you have a lot of media files on your Android TV, and you want to solution to gather them in one place, you should take a look at Kodi. Kodi is a free and open-source media player that you can install on your Android TV. The user interface is well-organized so that you can find everything at its place within moments. It doesn't matter whether you have movies, TV shows, music, video clips, or anything else, you can manage them all with the help of Kodi.
7] Amazon Prime Video
If you are done with Netflix, the next thing you should check is the Amazon Prime Video. As the name defines, this OTT platform's owner is Amazon, which is an online giant. Like Netflix, it has almost everything – from movies to web series to documentaries, etc. If you are a fan of watching regional and foreign film, you would be happy to have an account of Amazon Prime Video. The pricing of the Amazon Prime membership is quite impressive. You can purchase a one-month subscription of only Amazon Prime Video for $8.99.
8] Sideload Launcher
If you often sideload apps on your Android TV, you might get some help from the Sideload Launcher application. This tool helps you launch all the sideloaded app on your device so that you can find which one is from the official source and unofficial source. It is q quite lightweight app for Android TV, but you should install it so that you can manage everything with ease. Download
9] Google Drive
When you need to transfer files from computer to Android TV and vice versa, you can take the help of a cloud storage service. When it comes to the cloud storage service, Google Drive tops the list every time because of the features, security, etc. Therefore, you can install Google Drive on your Android TV to move files from one device to another. On the other hand, you can open files from Google Drive directly as well.
10] Hulu
You have purchased a TV to watch live TV – it is pretty obvious. However, if you do not have cable TV service, you can get a subscription of live TV streaming services such as Hulu. If you live in the USA, you should find Hulu very handy since it streams on-demand content as well as popular TV channels at a very minimum price. Talking about the pricing, it will cost you around $55 per month. Check pricing
These are some of the best Android TV apps that you can install. We hope you will like this list.