Best people search engine to find anyone easily
What is the best people search engine on the internet? If you are looking for a people search engine, here is what you need to know about. In early years back, whenever you meet with the anonymous person or old friend or someone unknown, you supposed to think what he does, how is his position in the professional sectors. Even I also believe like you. Whenever I meet someone new professor in my university, I always search for him to grab all the information about the research field.
But it is not easy to get information about them by manually.Now the world is changed due to the fantastic resource of the Internet. You can easily track down the unknown person or your long lost friend by using people search engine. This search engine can quickly help you to look for some with whom you can first time start your business or work.
Best People Search Engine Services
In this short article, we have listed 6 top people search engine. That let you find people easily and get the best information details with them. Like, get all the details about your roommate without knocking him. So, it's so easy to handle.This search engine will have provided you verified information about the person. Whom you want to search. The information is related to social media, personal information, relatives or associates field, Phone Number, Email Address, and so on.
Pipl
Whitepages
Spokeo
PeekYou
Instant Checkmate
BeenVerified
1. Pipl
Pipl is not only a people search engine but also a people directory where you can get almost the best accurate details about the anonymous people. It claims the core web search technology by this is able to show you other sites which don't access. It helps you to find the contact over all countries worldwide. Just you have to enter the name, phone number, email, username and also give the location (optional) hit the enter. Now you show the result related to the person. Pipl is available for free, and also it offers you some sponsored results around the people. Visit website
2. Whitepages
Whitepages is one of the best people search engine available on the internet. It is the site where you can get specific search option as a person, reverse phone and address, business and the public record for the premium version users only. If you don't know a name but know a phone number or the business criteria without knowing an address, then it is the best search engine provider which is perfect for your desire.Whitepage provides you name, email, phone number, family members, locations and any kind of social media background. Along with it also listed the critical information like criminal and court records for the premium user only. So If you want to get each and everything in detailed, then you just registered and made a premium account by paid up $ 19.95/month. But the biggest problem of it the premium service work only with the users situated inside the United States. Visit Website
3. Spokeo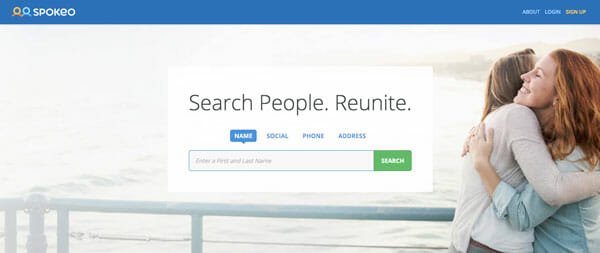 Spokeo is also one of the popular people search engine provide you most of the information with the help of 'deep web search' technology. It also provides you the results of whitepages listings, public records, and social media information. It helps you to do a safe search around the world wide. You make a quarry on Spokeo by using the name, email, username, mobile phone number, and address also. The search results are included in 60 social networks with the combination of the photos which make your search simpler and impact. It is the best-paid people search engine which I never saw only because of its technology. The paid premium service is available to enter the world, and you can get easily access globally. The subscription cost is very low and its start with just $ 4.95/month. Visit Website
4. PeekYou
PeekYou is also a free people search engine which helps you to find someone anonymous through the internet. You can find by name, phone number, email, address and also username. You get lots of results related to social media, websites, news with photos. Also, it gives you the blogger platform information. It gives you the freedom to discover your most important and relevant contact associated with your life. It uses the 'patented technology' to give you the best search results. If you search someone who is in the US, then it is the best engine to get the best result on that person. It mainly works with the US server, but it gives you the result all over the world. So that you can access it whatever the counties are. It works to collect and combine the scattered content all over the network associated with that name. The main this is it is totally free. Visit Website
5. Instant Checkmate
Instant Checkmate is a fibula, and mind-blowing people search engine which gives you point to point record of the anonymous person. You just put some basic details of the person, and instant checkmate will instantly give you the results. If you can go to the site, you can first see that a banner on it. It claims that they contain real police record. You have to be very sincere when doing a search and ensure all the information that you have entered is too much accurate. Because getting the truth about the history of the family and friends can shock you, so you are requested to cautious while using this tool of this search engine. It does not provide any kind of consumer or agency reports. You can surely believe this public records engine to get information about anyone. And this site is verified and secured by Norton Symantec 3d security system. It's totally free. So this company gives you total free service to search for any person without any pay. Visit Website
6. BeenVerified
BeenVerified is one of the trusted people search engines. Searching an anonymous people is not a business it helps you to connect to your old friend, getting info about yourself. And also get lots of view about your site, that what people think about you and your website. It is the search engine where you can get all the information. To search a relative, your neighbor, close friend or even yourself it provides you accurate information. It is such easy and affordable people background checker. You just have to put the first and last name and state by choosing people, phone number, email, and property. By signing up and make a subscription you can search anybody without any problem and get you private. You can add any public record into the site, and after verifying by site developer, it is also added to the person record. That's it. Visit Website
Search people by Google, LinkedIn, Facebook
Search for them is also a good technique, but it is now old.In Google, you make a query by a name you want to get information about of the person. Then hit on search Google show you lots of results, and among them, you have to find by accuracy.
In the LinkedIn which is entirely a property of Microsoft provide you lots of results when you put the name in the search. Because 70% of people over the world make their account on it. Naturally, you can find anyone associated with it. But most of us make an account on it, not for communicate or chatting, for work. It helps you to connect the people in the same job field.
Currently, Facebook reaches its 2 million users. So you can easily find someone on Facebook. It actually a directory of people where you can find anybody all over the world. Read more about how to find people on Facebook.
Now according to me, whenever I go to meet someone related to my work, I always used Spokeo and Google to search a query about an anonymous person. It gives me too much satisfaction.Hope this article will help you to search someone with the people search engines.