How to Open ASPX File and Convert ASPX to PDF
ASPX is a rare file-extension that we usually open in Windows desktop. Basically, ASPX is the source file of ASP.NET and it is an internet media type text/html document, which was introduced and developed by Microsoft. ASPX is not an image file. Actually, it is an extension for active server pages.
One day, one of my friend emailed me an ASPX file. I was not quite sure how to open it locally in my windows computer. I tried so many things for opening that file. I tried to open the ASPX file with notepad but failed to read it. I searched for online file converter and offline Windows file converter application too to open that file. I wanted to convert the ASPX file to PDF but failed to find any converter that could open an ASPX file and convert it to PDF document.
Perhaps, you could fall into a same problem when you tried to open ASPX file in Windows and got the message "Windows Can't Open This File."
However, at last, I have found an easy solution for opening an ASPX document. I will also discuss about converting ASPX document to PDF.
How to Open an ASPX File Locally
With the help of a web-browser one can open any ASPX document easily. Browser like Google Chrome, Firefox, Modern version of Internet Explorer, etc. can be very handy to open and view an ASPX document.
But, I will suggest you to open any ASPX file in Chrome Browser. Because, with the help of it you can also convert the ASPX file to a PDF one.
When you get the ASPX file in your desktop, just right click on it and choose 'open with' option and select Google Chrome from the installed program directory. If you'll be unable to find 'Open With' option in the right-click context menu, just select 'Open', and you will see a screen like the above image. Just select "Select a program from a list of installed programs" and press 'OK'. Browse and select Chrome from the list. Then, the ASPX file will definitely be opened with Chrome.
Now, lets see how to convert the ASPX file to a PDF file.
Read Also: How to open .dmg file on Windows
How to Convert ASPX File to PDF
At first, open ASPX file using Chrome browser. You can follow the above steps.
Then press Ctrl+P to open print page.
At the left pane you will find 'Destination' option.
Just, change it to "Save As PDF".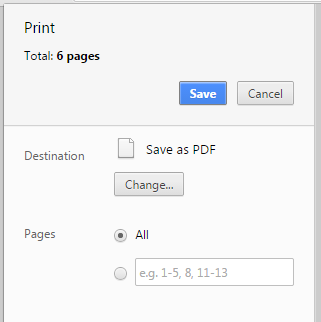 Press blue 'SAVE' button to save the ASPX document as a PDF.
That's all.
Note: With the help of Dreamweaver one can open ASPX file. But, Dreamweaver opens an ASPX file in a coded format, not a readable format.