How to Open ASPX File and Convert ASPX to PDF
ASPX is a rare file-extension that we usually open in Windows desktop. ASPX is the source file of ASP.NET, and it is an internet media type text/HTML document, which was introduced and developed by Microsoft. ASPX is not an image file. It is an extension for active server pages.
One day, one of my friends emailed me an ASPX file. I was not quite sure how to open it locally on my windows computer. I tried so many things for opening that file. I tried to open the ASPX file with notepad but failed to read it. I searched for an online file converter and offline Windows file converter application too to open that file. I wanted to convert the ASPX file to PDF but failed to find any converter that could open an ASPX file and convert it to PDF document.
Perhaps, you could fall into the same problem when you tried to open ASPX file in Windows and got the message "Windows Can't Open This File."
However, at last, I have found an easy solution for opening an ASPX document. I will also discuss converting ASPX document to PDF.
How to Open an ASPX File Locally
With the help of a web-browser, one can open any ASPX document easily. Browser like Google Chrome, Firefox, Modern version of Internet Explorer, etc. can be convenient to open and view an ASPX document.
But, I will suggest you open an ASPX file in the Chrome Browser. Because with the help of it, you can also convert the ASPX file to a PDF one.
When you get the ASPX file in your desktop, just right-click on it and choose 'open with' option and select Google Chrome from the installed program directory. If you are unable to find 'Open With' option in the right-click context menu, just select 'Open', and you will see a screen like the above image. Just select "Select a program from a list of installed programs" and press 'OK'. Browse and choose Chrome from the list. Then, the ASPX file will be opened with Chrome.
Now, let's see how to convert the ASPX file to a PDF file.
Read Also: How to open .dmg file on Windows
How to Convert ASPX File to PDF
At first, open ASPX file using Chrome browser. You can follow the above steps.
Then press Ctrl+P to open print page.
At the left pane, you will find the 'Destination' option.
Just change it to "Save As PDF".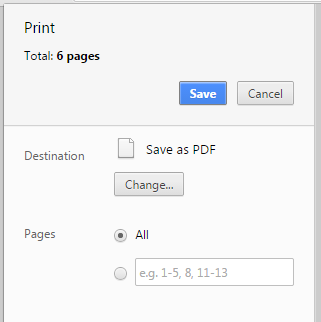 Press blue 'SAVE' button to save the ASPX document as a PDF.
Use Online2PDF To Convert ASPX To PDF
Online2PDF is a web app that allows users to convert various files into PDF. Although it doesn't have the option to convert ASPX to PDF directly, you can follow this workaround to get that done. If you visit the website, you can find a detailed guide. However, you can follow the following steps, as well.
The only requirement of using this tool is the Windows computer. If you are using Mac or Linux operating system, you cannot use it at all.
To get started, open the ASPX file in the Chrome browser. After that, press Ctrl + P. You need to choose 'Microsoft XPS Document Writer' from the list and click the Print button. Your file would be converted from ASPX to XPS.
Now you can use the Online2PDF tool to convert the XPS file to PDF. Your file would be intact even after making two conversions. You should not get any problem with this tool.
Talking about price, Online2PDF is available for free. It is quite fast. Therefore, you do not have to wait for a long time to get the conversion done.
Use PDFelement To Convert ASPX To PDF
PDFelement is a desktop tool that lets you convert ASPX file to PDF within a couple of moments. As the name defines, it mainly deals with PDF files. From creating, editing to convert – you can do everything with the help of PDFelement tool.
The good thing is you can install it on Windows as well as Mac computer. Although Mac users do not use ASPX format, you can still find it quite useful if you do that.
The user interface looks pretty modern and uncluttered. It has a PRO or paid version, which has even more options.
Regarding price, you can download the trial version. However, that might not provide all the features as mentioned. If you want to explore all the options, you should purchase the paid version costing $129.
It is effortless to convert the ASPX file to PDF. You need to install the app and open the file first. After that, you should get an option to save the file in various formats. Use PDF from the list.
Best Tools To Convert ASPX To PDF
1] PDFelement Pro
As the name suggests, PDFelement Pro is a paid software that allows users to convert ASPX file to PDF within moments. No matter whether you have one to ten files, you can convert them into your desired format with the help of this tool. This software costs around $79, but you can try out the trial version so that you can know whether PDFelement is for you or not. Purchase
2] PDF24 Creator
PDF24 Creator is yet another tool that allows users to convert ASPX file to PDF on Windows. You can install this software on Windows 7 and all the later versions, including Windows 10. The best thing is that you do not need to pay a single dollar to download it from the official website since it is available for free. The user interface of PDF24 Creator is neat and clean so that users do not get any problem while using it for the very first time. Download
Note: With the help of Dreamweaver one can open ASPX file. But, Dreamweaver opens an ASPX file in a coded format, not a readable format.