How To Hide Apps On Android: Best Apps
Although Android has so many functionalities, it doesn't allow you to hide apps without third-party application if you are using stock Android. However, if you have a custom ROM, there is a high chance of getting such functionalities from the mobile manufacturer. Here is how to hide apps on Android, no matter what Android version or ROM you are using on your mobile.
How To Hide Apps On Android
There are several ways to hide apps on your Android phone. As mentioned, you can opt for the native method, or you can start using a third-party application.
Samsung One UI Users:
If you are using a Samsung mobile with One UI, this is very easy for you to hide apps from the app drawer or menu since they have included an in-built option. In other words, Samsung's One UI users do not need to install a third-party app to get the job done. To get started, do follow the following steps.
At first, open the Home Screen Settings page in the Settings panel.
You can go to Settings > Display > Home Screen.
Alternatively, you can open app drawer > tap the three-dotted button visible next to the search box > select Home screen settings.
Scroll down until you get the "Hide apps" option on your screen.
After clicking this option, you can find all the install apps. From there, make a tick in the corresponding checkbox to hide the app.
No matter how many apps you want to hide, you can use this technique to get the job done.
Stock Android Users:
If you are using mobile, like Google Pixel or MI A3 or something like that, which is running stock Android, you can use the "Guest Mode" to hide apps on your mobile. Guest Mode is included in your mobile as an in-built functionality, and you do not need expert knowledge to make use of this option. To get started, you need to follow these following steps.
At first, open the Settings app and go to System settings.
Now expand the Advanced settings.
Here you can find an option called "Multiple users," and you need to open it.
You should find your current user profile alongside the "Guest" option on your screen. You have to click the Guest menu.
Now your phone will be switched to the guest mode that looks like a new phone with all the latest apps and without all third-party apps.
This functionality is good enough when you want to hand over your phone to your kid to allow him/her to watch a YouTube video without affecting your personal files.
Best Apps To Hide Apps on Android
Two types of apps can hide install application from the app drawer or menu. The first category is indirect apps like some launcher, and the second category is dedicated app hiding apps.
1] Nova Launcher
Nova Launcher is an excellent solution for users who want to hide apps from snooping eyes. Nova Launcher is a great launcher app for Android, and you can download it for free on almost all the Android mobiles running in these present days. You need to install this launcher, open the settings, find the corresponding option, and select all the apps that you want to hide from the list. Following that, you cannot find anything that you do not wish to. Download
2] Apex Launcher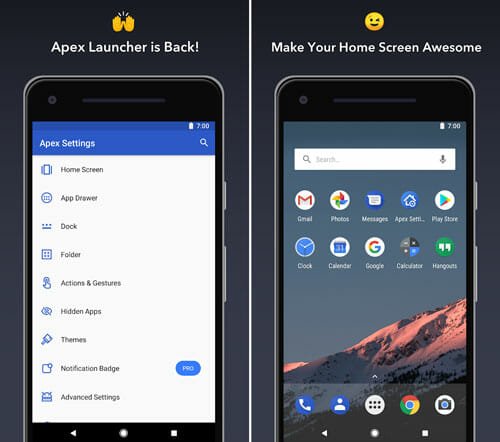 Apex Launcher is another excellent Android launcher that lets you get Google Pixel like experience on any Android mobile. Like Nova Launcher, you can download this app for free. Talking about the primary purpose, you can get the respective option in the Apex Settings section, and it is called "Hidden Apps." After opening this section, you need to choose all the apps that you want to hide. Download
3] App Hider
This is a dedicated Android application which helps you protect any installed app on your Android mobile. The best thing about this tool is that you do not need to root your phone to get it done. No matter if you want to hide Facebook, Tinder, Tiktok, or anything else, you can do that with the help of this application. The best thing is that you can lock down the App Hider app with password and PIN so that other people cannot access your hide app list without your permission. Although this app is available for free, you might need to spend some money to unlock all the features. If you are ready to download, make sure that you have Android 4.0.3 or later version. Download
4] Safe Box
It doesn't matter if you want to hide Messenger, Contacts, Settings, Twitter, Facebook, or any other app, you can do that with the help of Safe Box app. You can create an encrypted folder and save your image, video, audio, notes, contacts, passwords, and so on. The unique feature of this app is a Fake Account. In other words, it shows fake content whenever someone tries to open some locked file or app. No matter how someone tries to uninstall an app, he/she will fail for sure since Safe Box doesn't allow anybody to uninstall or delete a locked content. Download