Top Cricket World Cup 2015 Apps for Live Score Updates or Live Streaming Online
ICC Cricket World Cup 2015 schedule is ready and the opening ceremony took place on 12th February 2015. The actualy Cricket World Cup 2015 matches start from 14th February 2015 with the tournament final to be held on 29th March'2015. As hosts for this World Cup event are Australia and New Zealand, many of us would find it hard to catch Live telecast of the World Cup 2015 matches on TV. We would need to download the best smartphone apps to keep track of Cricket World Cup 2015 match scores, live streaming, match results, points table, match highlights, etc.
In this article, we shall browse through the popular cricket based apps to follow during this World Cup event. In simple words, let's go through the comprehensive list of must-have CWC 2015 apps that will provide live score updates online along with ball-by-ball commentary or even enable us to watch World Cup 2015 matches online. The best part about most of these popular cricket world cup 2015 apps is that they are free to download.
Read about features of popular cricket apps like Cricbuzz, Cricinfo, Star Sports, Hotstar, etc. related to coverage of CWC 2015 event in addition to routine cricket events for Android, iOS and Windows smart devices.
Official ICC Cricket World Cup 2015 App for Android and iOS devices
You can get hold of this official cricket app released by ICC at the following links:
Download ICC CWC 2015 App for Android
Download Cricket World Cup 2015 App for iOS
This app will provide you a comprehensive coverage of this latest ODI cricket world cup edition. The features of this app are wonderful and they will make your life really easy if you are a hard-core cricket fan. Right from providing CWC 2015 time-table or match fixtures, match results and scorecards, match reports, etc. to video-based coverage for match highlights, player interviews, etc., this app will suffice your requirements in most ways. Most importantly, you will be able to receive ball-by-ball live commentary coverage and live score updates through access to ICC Live Match Center.
You will also be able to read expert opinions from past cricketing legends within the app. You will find all important statistics related to current World Cup tournament, players, etc. To improve user interaction, you will have access to polls and social hub within the app.
Star Sports App by Star India Pvt. Ltd.
Star Sports are the official broadcasters of CWC 2015 event. You would be delighted to know that you can access most of their services related to this World Cup event as well as for other sports by downloading their official Star Sports app from following links:
Download Star Sports Cricket Scores app for Android
Install Star Sports live streaming app for iOS
This app covers news, information, live score updates, etc. for the several sports events including the upcoming cricket world cup fixtures. It will even allow you to watch Cricket World Cup 2015 matches live on your smartphones or tablets. However, you might have to shell out few bucks to get this live streaming feature on your Star Sports app. Besides this all-important feature, you will get several other useful stuff like live match score details, post-match reports, points table details, overall tournament stats, etc. You can either opt for the app or you can directly visit the Star Sports website for availing all these features.
The ESPNcricinfo Cricket App
One can install this dedicated cricket app on their smart devices from the following link:
Free Download ESPNcricinfo Cricket App for Android
Free Install ESPNcricinfo Application for iOS
Free Download ESPNcricinfo Mobile App for Windows
This official Cricinfo cricket app from ESPN will help you to stay updated with latest match scores, player records & stats, team rankings, all breaking-news stories, exclusive articles from best sports writers, audio and video expert opinions as well as post match analysis, image gallery of key match moments, etc. The best feature of this app is the amazing ball-by-ball online commentary with minute details which gives you the feel of watching the cricket match Live on TV. I have been a fan of their website for years and this app is just the icing on the cake.
Cricbuzz Cricket Scores and News App
You can install this latest cricket app that claims to be the no.1 cricket app from following links:
Download Free Cricbuzz application for Android
Install Cricbuzz app on iOS for free
Free Download Cricbuzz scores and news for Windows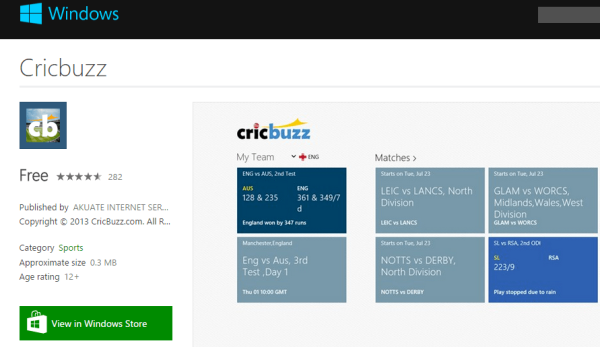 This highly rated app provides stiff competition to the long-running Cricinfo app. It provides great coverage of all cricketing events including the Cricket World Cup 2015. In fact, this app has started a separate World Cup section dedicated to CWC 2015. You can enjoy good live commentary, updated match scorecards, match reports, tournament statistics, etc. Some interesting stuff includes caricatures of team captains wearing jerseys from 1975 WC to 2011 WC, past World Cup Timelines, WC Team section for following your favorite team, etc.
This app offered by Cricbuzz.com has caught up well with cricket fans and this has encouraged them to provide another similar app "Cricbuzz – in Indian languages" to support several languages like Kannada, Hindi, Telugu, Tamil, Marathi, Bengali, etc.
Apart from the above popular apps, Star India's Hotstar Live Cricket, TV and Movies app may also be providing live streaming of Cricket WC 2015 matches. Since, Star India's Star Sports app is already discussed in detail above, I am not discussing in detail about this new Hotstar app from the same company. However, we can already see TV advertisement for Hotstar app and I am sure it will soon become very popular among Indians, especially for Live World Cup 2015 video streaming and Live TV shows streaming.
As discussed above, cricket lovers all over the world will have access to some of the most inventive and comprehensive sports apps or cricket apps for complete coverage and updates of the ICC Cricket World Cup 2015 event. I have loaded my smartphone with all of these apps and I shall enjoy the key features of each app during the course of this cricket tournament that happens once every 4 years. I cannot wait for the cricket action to begin!