Best Free Movie Streaming Sites Without Sign up
The olden days of waiting for a movie to come on cable TV had been gone. As the speed of the internet increased, tons of streaming website has come to the web and, people find it easy to use it. The best thing about streaming sites is you don't have to wait for your favorite movie to come. You are the superior authority, who decides what to play and what not to. If you are a movie maniac, who often like to watch movies on his/her computer, you should check out these free movie streaming sites where you can watch films without signing up.
Due to the hectic signup process, there are tons of reluctant people overlooking the possibilities of online streaming. Are you one of them?
Best free movie streaming sites without sign up are:
1. StreamingSites.Com
StreamingSites.com is the best free movie streaming website where you don't need to sign up. The best thing is, you will not find any ads there. Simply, it's the biggest collection of movie websites in the world. Every site has been reviewed and ranked by quality. It's safe to use and user friendly.
StreamingSites should be your go-to place if you want to watch the latest cinema films and TV shows for free!
2. AzMovie.to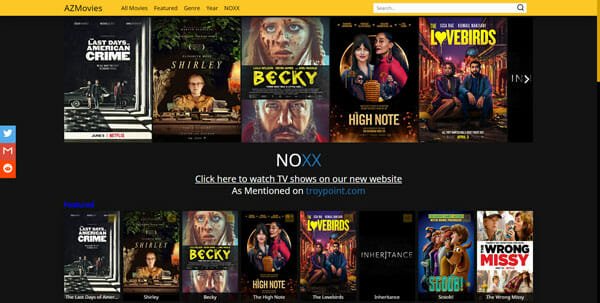 AzMovie is a great place to watch movies in HD quality without registration for free. with most of the movies being 1080p real full HD quality, it is definitely a great resource to watch movies online without signups, registrations, or having to reveal your credit card details to an unknown website. Movies are categorized on the basis of genre and year and there is also a search feature that lets you search whether your favorite movie is there on the list.
There are three servers to choose from. If one doesn't work, you have two other options to stream your favorite movie. The good thing about AZMovie is that it has only HD movies and no CAM. Visit website
3. Housemovie.to
Housemovie.to is slowly becoming one of the popular destinations for watching movies and TV soaps online. Popular movies and TV shows are shown on the home page, you can click a movie and stream them in your computer in HD format. You can also download the movie on your computer and watch it offline. There are some country restrictions and not all countries are supported but most of the movies are supported in the US, Canada, and European countries. You can also filter movies by Genre, read reviews, and quotations of other online users who watched a movie online at housemovie.to.
Read more: Top 10 Live TV Streaming Sites To Watch News, Sports, Movies
4. Haloa Movies
The first one in this list of free streaming sites is Haloa movies. They have a metro style design with thumbnails of movie posters. Hovering over each one there opens a small tooltip that shows you a brief storyline and IMDb rating. They didn't insert uncomfortable ads on the website. To the right of the logo, you can see a search button whereas the left is dedicated to the menu triggering button. Clicking on the same will open a list of categories or genres. You can start streaming the movie right away just by clicking on the movie thumbnail. It also allows you an option to download the media content. Visit website
5. My Download Tube
My Download Tube has an amazing featured slider. To the right of the logo, you can find different links to games, movies, etc. They have the latest update bar underneath the logo as well. Below the same lies the one I told you in the beginning; a slider featuring top movies with engaging animation. You can navigate through it using the left and right arrow keys. Scrolling down to the bottom unveils more genres and movies. You can go through it and choose any one that you like. Even though it has a login button, you can stream movies without having an account. Visit website
6. Watch New Movies
Though I am not a fan of their site layout, I really appreciate their effort of keeping the site up to date with new movies. On the top, to the right, you can find a few links like popular movies, new releases, and some years. Clicking on them will fetch you the appropriate movies. The search bar comes handy when you want a specific movie. Just below the same, you can find a range of movies. On the bottom of the page, you can see pagination. Yeah, they have some ads, but not irritating. Visit website
7. F Movies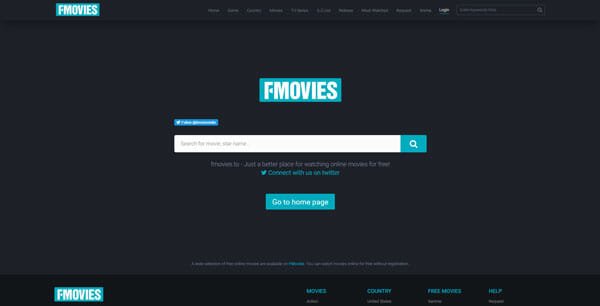 Next up in our list of best sites to watch movies without downloading is FM Movies. Though they use a clickjacking script to send us to an ad for the first click, their site design is flamboyant. Below the top bar that includes a logo, navigation bar, search field, and login button, you can see a slider featuring new releases. Scrolling down to the bottom will reveal a lot of popular movies. Overall, FM Movies is worth a shot (not really, it's worth multiple shots). The list of genres can be found on the footer as well. Visit website
8. Mogo Movies
Mogo Movies has a clean design similar to the first free movie streaming site shared in here. You can find a menu triggering button alongside a search field on the top as a navigation bar. Beneath the same lies the list of movies. The metro style arrangement doesn't create any displease. If you want any specific title, you can use the search field. Else, scrolling down to the bottom will give you a lot of suggestions. Just like the first site I have shared with you, this one also shows the brief of the story and IMDb rating when you hover the mouse pointer over a title. Visit website
9. Showbox
Showbox is a nice little mobile app that lets you watch streaming videos and movies on mobile. Showbox comes with high-quality content for TV shows, movies, news, and other videos from the Entertainment industry. You can download these videos in your mobile device or stream it live on your computer or tablet. There is a small subscription fee to watch movies online but it's totally worth the price. Download Showbox APK here. Visit website
10. MoviesJoy
MoviesJoy is a free website where you can watch movies without creating an account. No matter whether you want to watch movies on mobile or computer, you can do both on this website without any problem. It has a good collection of films so that every type of user can enjoy the website all the time. The overall user interface of this website is clean and that is why you can explore and find something quickly. It is possible to navigate through genres, countries, movies, TV shows, etc. Visit website
11. Watch Free
It is yet another addition to this list that allows users to watch movies on their computers. Like most of the above-mentioned websites, it has a wide list of films to choose from. No matter whether you want to watch comedy or action films, you can do that on this website for free. Many folks often like to enjoy some old classics. If you are one of them, you can find this website pretty handy. At the same time, you can find some of the latest yet less-known movies as well. Visit website
12. Vumoo
If you are looking for the best-looking website to watch movies without sign up, you should check out this entry. This website's design is probably the best in this list and the content quality is top-notch, which makes it even better. From 13 Reasons Why to Supergirl, you can watch anything on this website. That too, you do not need to create an account. If you are watching a web series, you can easily navigate through various seasons and episodes as per your requirements. Visit website
Wrapping Up
I hope you like my list of best free movie streaming sites without sign up. If you have any personal favorite that doesn't make into the post, you can share it with us using the comment section down below.
I expect you to share this article with your friends and followers as well.