5 Gadgets You Should Buy To Fight Stress
Stress is probably the worst enemy of the human being. No matter whether you are a student, businessman, or anybody else, you might have gone through a period when you could not see anything but a dead end. That period might be going on now as well. If you know someone, your friend, kid, sister, brother, etc., you should help him/her as much as possible. In this article, you can find some of the best gadgets that you can purchase to fight stress. Although they won't help directly, they can "help" for sure. Therefore, without wasting time, let's check out these gadgets.
5 Gadgets You Should Buy To Fight Stress
1] IMPRESA Stress Relief Balls
Kids often go through stress due to bully. Whenever someone teases, hits him/her, the kid wants to do the same in return. This is general psychology, and it is happening with adults as well. The revenge is bad for you as well as your loving persons. That is why you should purchase these stress relief balls that you can punch, throw, or do anything else. In that way, you might get rid of some stress without hurting anybody. They do not cost a lot, but they are effective for sure. Countless people have got some relief temporarily, and you might get the relief too. It is possible to purchase it from the Amazon website for $12. Check the deal
2] Head Massager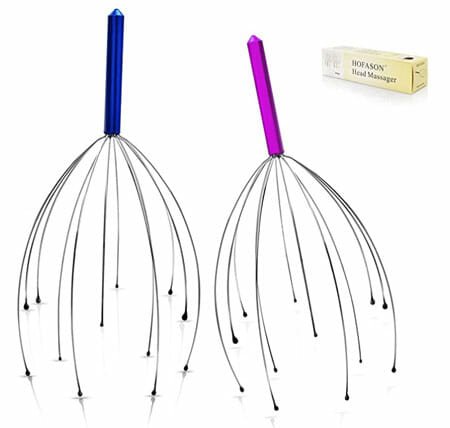 It is a very small product that you can purchase for $9-10 from the Amazon website. No matter whether you have a bad headache, stress, or anything else, which is affecting your daily work, you can purchase this product from Amazon. Just spend a couple of minutes doing massages using this product. You might be one of the people who have got some major relief after using this head massager. Check the deal
3] Fidget Spinner
Don't know how much it affects your daily work, but it will definitely help you concentrate on your work instead of some time-wasting things. A fidget spinner can help kids as well as adults. There are tons of fidget spinners available on various websites. The price depends on the material quality, design, brand, etc. However, you can purchase something good for $10 from any online or offline retailer. No matter which spinner you are buying, make sure that it comes with an essential oil pouch. Otherwise, it might get worse day by day. You can use it anywhere, and so far, there are restrictions on this fidget spinner in any country. Check the deal
4] Noise Cancelling Headphone
Music has high power, but you need to find something suitable as per the environment. There are countless amount of songs available on various platforms, including YouTube, Spotify, etc. You need to put on a noise-canceling headphone and listen to some good music to get relief from stress. You can listen to anything you want – it can be hard rock music, soft classical, or anything else. There are hundreds of excellent noise-canceling headphones that you can find in the market. An excellent and well-equipped noise-canceling headphone can cost from $100 to $500, and the price depends on the brand, audio quality, etc. If you are going to some significant level of stress, you should opt for a headphone and listen to some music, speech, or anything else.
5] A Pen And Notebook
Many times we want to say things to someone but could not do that as planned. Let's assume that your boss has said something personal, and it hurt you, but you couldn't say anything in return because he is your "boss." At such a moment, you can write down everything in a notebook that you wanted to speak to your boss. It can be some bad words or anything you wanted to say to make things even. Almost everyone has a pen and a notebook. However, if you do not have, you can purchase one within $10. They do not need to be fancy since you are going to show them to anybody.
Some Effective Methods to Get Relief From Stress
1] Take A Walk At Night
The night is the best time for many people to open up the brain as the surrounding is going through the silent mode. No matter whether you are a night owl or morning person, you should take a walk at night in your locality. It will let you see things differently and minutely.
2] Shopping
Who doesn't like to do some shopping, buy new clothes, etc.? Everyone! That is why you should do some controlled shopping. However, it is not possible when you are going through stress because of the money problem.
3] Take A Small Vacation
Everyone likes to travel. Whenever you are going through some stress, you should take a small break from your office and daily life. You can go to the nearest beach, hill station, or anywhere else, which makes you happy. When you travel, you do not think about the work or why you were in the stress. That is how a vacation heals most of the problems we have.
4] Small Ride or Drive
Do you have a car or a motorcycle? No matter whether you like to ride or drive your motorcycle/car, you should do a small ride. Wake up very early in the morning, start the engine, and do a small ride of 100KM or so. Not only that, but also meet some new people ta a coffee shop, order your favorite coffee, drink it, and come back home. Those who like to ride a motorcycle have got considerable relief from this solution.
No matter what your problem is, it can be solved. Do, don't worry about the situation you are going through right now. Talk to your parents, friends, spouse, etc. Everything sees other people's problems differently, and thus, they can help you to come up with a solution quickly.