5 Lesser-Known Chrome Extensions
We have covered Chrome extensions a lot in our articles in the past. And, I know you may not want to read it again.
What if I share five of the best offbeat extensions for Google Chrome? Yeah, in this article, you are going to get a few unconventional browser add-ons here.
So what are you waiting for? Let's just begin!
Lesser-Known Chrome Extensions
I had done research before I wrote this post. Every single extension here is handpicked by me. With that being said, let's just dive into the list.
#1. Twinword Finder
Almost all of us have used Ctrl+ F on the Chrome, right? When you have to find out a specific word on the webpage, you can use the shortcut to trigger the search field.
What if you want to find the synonyms? Then, the shortcut doesn't work well. It would be better if you search for image, it shows synonyms (like picture, photo) along with the actual word as well.
The extension highlights the paragraphs with desired word in yellow and presents the words on the right side of the screen.
#2. ShowPassword
We often type wrong characters as passwords and then empty the whole field because we don't know exactly what character went wrong.
When we encounter such a problem, it would be better to see the password as the exact characters. That's what ShowPassword does.
You can setup the trigger from options of ShowPassword. There are multiple ways including double click, ctrl and a few others.
So, you will never have typos in your password anymore.
#3. HoverCards
Hovercards get rid of unnecessary opening of tabs. Whenever you want to check out something like a YouTube video, Imgur image, Tweet, Reddit or an Instagram post, you can just hove the mouse pointer over the link.
Guess what? It will display the content of the webpage, to which the link points. In case you are interested, you can use Click For More option.
The best thing about this is you can even play a YouTube video inside the card. And, this one can reduce the browser tab clutter.
#4. Sideplayer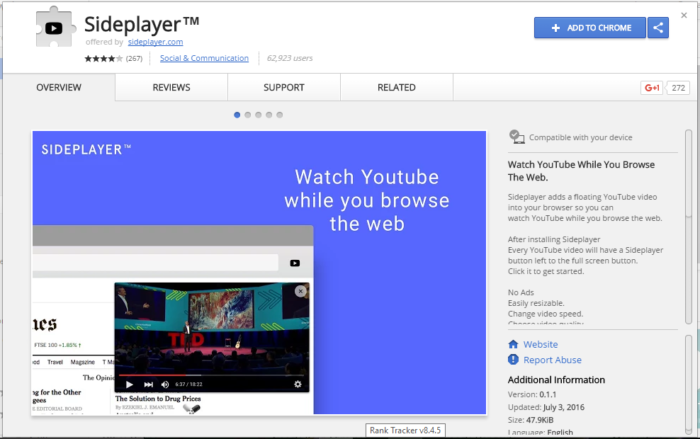 You know what is the Sideplayer used for?
Let's say you are learning HTML or CSS from a YouTube video. When you have to add code into an online editor, you need to pause the video and switch the tab.
What if the video follows you in every tab you switch to? Yeah, you just heard it right. Sideplayer is the extension which helps you have a floating YouTube player. idmgcext.crx for opera
Whenever you play a video, just click the Sidplayer button on the toolbar. It will start playing the video on a floating window.
#5. Wikiwand
You know Wikipedia is not the prettiest website on the earth, don't you? When you visit the site, you get the feeling that the site was developed by a coding rookie, right?
Don't worry! Wikiwand adds a beautiful typography, an elegant table of contents, link reviews and a few other elements to increase the usability of Wikipedia.
The best thing about the extension is its low size. You can install it within 2 seconds using even a mediocre connection.
Guess what? It has got 4.8 star rating on the Chrome web store.
Wrapping Up
You have got five of the best offbeat extensions for Google Chrome now. What do you think? Do you like them? Have you ever used them?
Don't forget to share your feedbacks in the comment section down below. Moreover, I appreciate if you share this article with your friends and followers on social media.
Would you like a second part of this post? Let me know!