Best Sites for Free Kids Programming Tutorial and Coding Classes
Nowadays, kids are more sophisticated and advanced than earlier. With the growth of technology, kids have become more advanced, and almost all kids have a keen interest in computer and mobile. Although they often try to waste their time on PC and mobile games, if you want to give your kid a good direction, you can help your kid/s learn programming, which will help them in different ways. There are loads id websites with free courses and classes of programming. However, not all of them are child-friendly. Therefore, what follows is a list of sites for free kids programming tutorials and coding classes. Your kid can learn the basic of different programming languages, and you can also help them learn whatever you wish. Not only just theory but also, they can utilize the practical interface to learn more.
Best Sites for Free Kids Programming
1] Code.org
Code.org is one of the best sites out there, which comes with a lot of useful tutorials so that anybody can get started with any programming language. As per the website, it has more than 25% students o the US has Code.org account, which is very high in numbers. On the other hand, more than 800k teachers use Code.org website. All these things have become possible because it comes with a handy interface, learning scale, etc. At first, you need to choose your grade based on your age. Therefore, you can opt for various tutorials right on your screen. It offers a lot of video tutorials those are important since practical things are more important than theory in any situation. On the other hand, it allows users download the video so that you can watch that offline or any time you want.
2] W3Schools
Although W3Schools come with so many advanced tutorials for mature programmers, you can find lots of useful, free, and beginner guides on the website. It doesn't matter whether you want to get started with HTML, CSS, or JavaScript or PHP, you can get everything on their website. Not only just theory but also, you can find practical guides where you can try out your code and find out the mistake you are making on the go. The Try in Yourself window is probably the highlight of W3Schools website. After opening, choose what you want to learn. Therefore, you can open countless tutorials and start learning them all one by one.
3] Khan Academy
When you do not need anything except video tutorials of A to Z, you can opt for Khan Academy. Khan Academy allows you access all their videos for free and you can learn almost anything on their website. From basic programming language to Mathematics, this is possible to learn anything using their video tutorials. It comes with a tree-view mode, where you can find out your favorite video and start learning within moments. From drawing basics to a variable to animation – you can learn anything with the help of their videos. The website is easily accessible, but one thing is missing on their website. You cannot find any compiler where you can write your code and test it out with a live view. Otherwise, Khan Academy is the best.
4] Udemy
For a kid, a video is more important than the same textbook and Udemy uses the same method to teach you programming. You can learn everything from the basic to advanced with the help of Udemy videos. Even if you are a mature person and you want to learn to code or test your coding skill or want to learn some advanced techniques, you can opt for Udemy, which is easily accessible and you can browse all their videos within moments. However, this website is not available for free, and you need to spend few bucks to access it. However, this is much affordable, and you can learn to code at the price of a Starbucks coffee.
5] Code Academy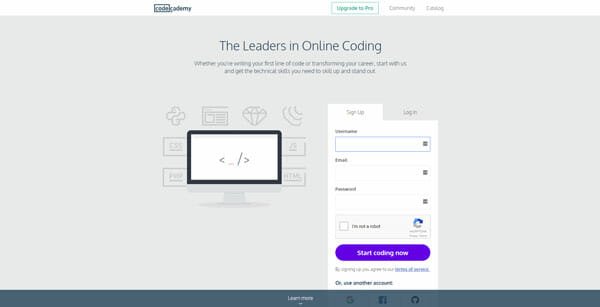 Who doesn't want to get a free emulation system where you can write your code and test with live preview? If you are one of them, who loves to do that or want to do so, you can opt for Code Academy. It has a FREE version as well as PAID version. For a beginner or a kid, the FREE version is more than enough. You can learn HTML, CSS, Java, JavaScript, SQL, Ruby, Python, etc.
The user interface is pretty cool. However, you need to create an account to start using the website and the tutorial. Talking about tutorials, you can learn the A B C D of programming first, and then you can opt for advanced tutorials, where you can learn how to create a website or computer application.
You can get a tree-view user interface. From there, you can browse all the tutorials one by one. The drawback of this website is you cannot find video tutorial much. Almost all the tutorials are theory basis. However, you can try out your code or learn on the same panel.
6] Coursera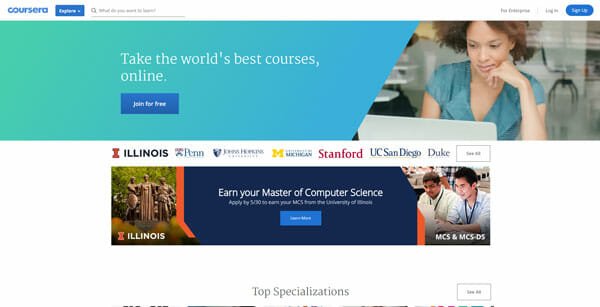 Instead of learning alone, you should find a teacher, who can show you the right path. If you use Coursera, you can find that thing right on your computer monitor. You can enroll yourself or let your kid do that to any course you want. It provides some basics like what a variable is and so on. On the other hand, it offers how to create a computer application with your skill. In simple words, you can find everything on your screen.
After opening the website, and creating an account, you need search for a course. Therefore, you can enroll yourself to start learning. Before enrolling, you can check out the entire syllabus that the course is about to cover, chapters based on weeks, grades, etc. so that you can get a basic idea about the course.
Not only English but also, you can find courses in more other languages such as Spanish, French, Chinese, Russian, etc. You need to use the filters before opting for a course or making the search.
Final Word
There are tons of other websites, where you can get free programming tutorials, but they are not child-friendly. For a kid, you need to provide more video tutorials so that they can get more interest. These aforementioned websites do the exact thing to bring back of interest and keep that going.