Best Tips and Tricks of Google Maps to be A Pro
When you travel alone or with friends to an unknown location, you should have a proper map. Days are gone when you had an option to buy a paper map from a local store. In these present days, you can have a mobile and install Google Maps in it. If you often use Google Maps in your mobile (Android or iOS), and you want to learn more, do check out these tips and tricks of Google Maps. It doesn't matter whether you use the mobile version or the desktop version of Google Maps, you can certainly use these techniques to get the most out of the Maps app.
Offline Maps
Let's assume that you are going somewhere, where the cellular connection is weak or not available in most of the times, but you need the help of Google Maps. There are two things you can do. First, you can bring a dedicated mapping device. Second, you can download maps offline and use that to get things done. Google Maps is far better than any available dedicated map device. If you are willing to download, you can follow the following steps.
At first, open the Google Maps app and expand the options menu and select Offline Maps. Therefore, you need to select the option called SELECT YOUR OWN MAP. Now, you need to choose the location that you want to download. At the same time, you can find how much memory it is going to consume. After choosing everything, hit the DOWNLOAD button.
Every time you download maps for offline usage, it will show you an expiry date. You need to update the map before that date.
Share Location
Suppose, you have an office somewhere that is not registered on Google Maps. Or, let's assume that you want to show someone your home location on Google Maps. At such a moment, you can share your location with anyone via Google Maps. This is easy and not much time consuming as well since Google Maps has an inbuilt option to do that. To get started, select a location that you want to share and put a pin on it. You should find an option called Share. Following that, you will get some options for sharing that location. You can choose any medium and share that with anyone.
Explore Nearby
If you have gone somewhere and you want to know what are things near to you, here is a simple solution to that. You can find various places including restaurants, hotels, coffee shop, bars, gyms, and so on. Previously, it was needed to do a search based on the requirement. However, now you do not have to do that since Google Maps comes with an inbuilt option. Being said that, you can find a tab called Explore that you need to utilize. Here you can find all the categories provided by Google Maps. For instance, if you choose Restaurants, you can find all the places doe dinning and so on.
Find If A Business is Open
Take the previous point. Means let's say you have found a restaurant and you want to go to that for dinning. However, after 5 minutes of walk or car journey, you have found that the restaurant is closed. In simple words, you should check whether a place is open or not. The best thing is you can find that information on Google Maps. To do that, open any business's page on Google Maps and scroll-down a bit until you get something like the above picture. You can also get the time when it will open or close.
Check Bike Route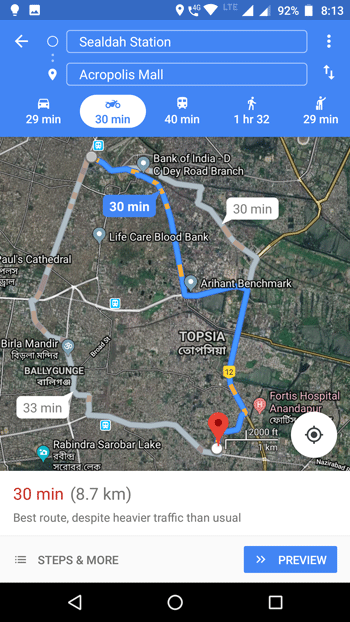 A few months ago, Google Maps introduced a new feature called bike route and as the name says this functionality is for bikers only. Google Maps has been trying to show shortcuts and different routes for bikers after the launch of this feature, and as a biker, people have got some awesome routes as well. However, this feature is limited to phone only and that means you cannot find that on the Web version of Google Maps. To check out this feature, you can find a bike logo on the page where it shows the direction from one place to another.
Find Plus Code
Google Maps has introduced a new feature for mentioning any location or a particular business or anything like that, and this is called Plus Code. Instead of entering a long address, you can simply use Plus Code to find any location, and almost all the places have a plus code on Google Maps. To find the Plus Code of your location, you can follow these steps. At first, open a location on Google Maps and scroll down a bit. Here you should get the code that you are looking for. It looks something like this:
G98V+47 Kolkata, West Bengal
Add Multiple Pit Stops
Suppose, you have set a direction from one place to another, but now you need to stop in between somewhere. For that, set the direction from your location to another. Therefore, tap on the three-dotted button and select Add Stop. Therefore, you will get a new empty box where you can enter the location where you want to stop. You can choose the location by selecting Choose on map button.
Manage Route Option
Suppose, you want to go from a location to another, but you do not want to go through highways or tolls or ferries. All of them can be avoided with the help of Google Maps. To get direction without those things, you can follow these steps. First, you need to select two locations, i.e., source location and destination location. Therefore, tap on the three-dotted button and select Route Options. Following that, you can choose what you want to avoid.
That's all! These are some of the things that you can do with Google Maps. There are a lot more things you can do with Google Maps. For example, you can set home or work location and quite drive to that, check hotel reviews, hotel price, a traffic condition and more others.