How can Publishers Earn Money by Joining Google Consumer Surveys?
Taking surveys has always been a part of the list of ways to earn money online. What if I tell you that you can earn money through surveys completed by readers on your blog or website? Yes, you heard it right. Google has made it possible for publishers (bloggers or website owners) to monetize premium content through Google Consumer Surveys which would serve as an alternate source of income for the blog / website. In simple words, adding Google surveys can empower you to monetize the content on your site.
Currently, this blog monetization technique of using Google Consumer Surveys is available only for publishers in UK, USA and Canada. Google has provided a simple process for publishers to embed surveys on their websites. In this article, we shall discuss about how one can join Google Consumer Surveys and make money online through it. You will also understand how the surveys earnings can be checked using your Adsense account.
Understanding the working of Google Consumer Surveys for Publishers
As mentioned above, only publishers from selected countries can join this monetization program and embed surveys within different sections of their websites. Through this method, webmasters can gray out certain premium content on their website based on their choice by simply making use of some tag (that is provided after you join the program). This allows them to hide certain content at different parts on their website from the readers (by graying those parts out).
In place of the content, the site visitors would be shown some survey (to be embedded using some script shared once you join the program) which they can either complete or skip. Only then, will they be able to view the actual content that was hidden previously behind the survey. You can check an example of survey as seen on Google's website related to this survey program.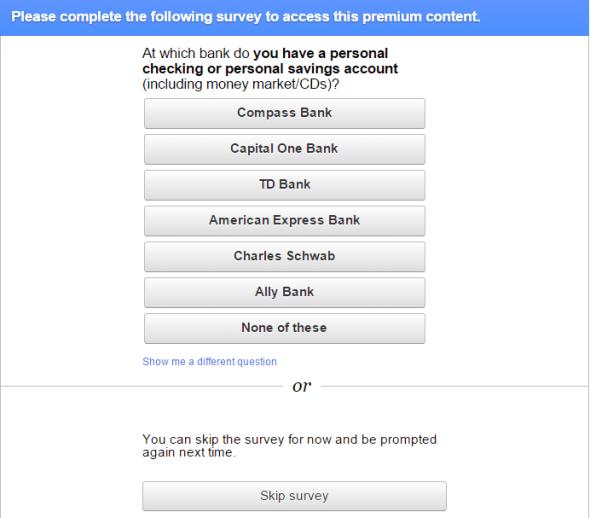 For every survey question that is answered by the reader, the publisher earns 5 cents. A maximum of 10 questions can be asked in any survey and so a blogger or webmaster can earn a maximum of 50 cents for 1 survey.
Steps to join and embed Google Consumer Surveys
Before you sign-up to become a survey publisher, you need to have an approved Google Adsense account. As a publisher from USA, UK or Canada, you can then join this survey program offered by Google at:
Applying to Google Consumer Surveys for Publishers
In the above link, you need to first click on the button 'Add surveys to your site'. This will take you to the form page seeking details for site name and site domain, if you already have an approved Adsense account. Else, it would ask you to create one as shown below:
Once you sign up through your adsense account and submit the form, you will get details about your new Consumer surveys publisher account along with code snippet. You will then have to start the process of embedding surveys in your website. This can be done by adding script to your web pages where you want to display surveys along with specific tags to hide the premium content that you want to be grayed out for displaying surveys.
Thus, you will now be able to see surveys being displayed at select places on your blog site. It may take about 15 to 30 days for your surveys account to be fully approved for your website and till then test surveys would be displayed. During this evaluation period, you won't be able to monetize the surveys. Once you receive the final approval, you can start earning through your surveys.
Key Points to Note
If you become a survey publisher and use surveys by wrapping some content on your site, then, only people from US or UK or Canada will be getting the surveys. For visitors from other countries, the wrapped content would anyways be visible. Hopefully, this consumer survey program would soon be extended to other countries.
Also, once a reader fills out the whole survey on your site, then, he / she won't have to fill any more surveys till next 7 days. So, even if he / she comes back again to view some other hidden content on your site, that person would easily be able to view it.
Even though Adsense account with account pub id is required to apply for this surveys program, you need not have to display Adsense ads on your website. This account is required for review purpose and to trigger payment transfer as per Google Adsense payment schedule.
Before applying for the program, there is no minimum requirement about number of impressions for your website. However, once you become a survey publisher, you need to maintain survey completion rate of 10% for continuous participation. For further information about this program, you can refer Consumer Surveys Help provided by Google.
With such innovative blog monetization methods becoming available to publishers, I am sure bloggers and website owners are more keen to earn big money from their websites. There is very little awareness about this program as of now and only time will tell if Google manages to make it as effective as the potential seems to be. Please feel free to share your opinion about this below!