How to Download and Watch YouTube Videos Offline on Android [Official Method]
YouTube is the second largest search engine that has more than billions active users around the world. Anybody can watch YouTube videos on various gadgets including Android, Windows, iOS, Mac or anything else. All you need is good data connection for buffer free YouTube experience.
YouTube has their dedicated application for almost all major mobile platforms including Android, iOS etc. The mobile app helps users to have a better user experience whereas the mobile version cannot provide. On the other hand, you know that Google has launched Android 5.0 or Android Lollipop along with two new Nexus devices. Anyway, although, Google launched Android Lollipop more than a month ago, but most of their apps are not updated with Android L UI.
However, Google's official YouTube app was one of them that is not updated with the Android L UI. But, fortunately, the YouTube app has been updated with the latest Android makeover just couple of day back. Actually, that was an unofficial leak. However, now, you can download the official YouTube app from Google Play Store that comes with Android Lollipop looks.
The important change in latest YouTube app for Android
The latest YouTube comes with several important changes and features. Obviously, the UI is much different from earlier. The font pack seems different too. Apart from those silly updates, this app has something big onlye for three countries. Those are India, Indonesia and Philippines. If you live in those countries, you can now download and watch YouTube video offline on Android.
Previously, downloading YouTube videos was a criminal offence in all over the world. Nevertheless, now, anyone from those aforementioned countries have the permission to download YouTube videos and watch them for up to 48 hours. That means, after 48 hours, the video would be removed from your account. This is not confirmed yet.
How to download and watch YouTube video offline on Android?
This is very easy. YouTube makes it simpler. At first, select a video that you want to download in your mobile. After that, play it. Then, you will obviously get the page where YouTube runs their videos. On that page, you will get the Download button in the middle right section of your screen.
Just tap on it. After that, it will ask you the video quality. You have two options. Either Normal (360p) or HD (720p).
Select any one of them. Now, it will ask you whether you want to check the download status or not. If you want to check, simply tap on Show me button.
Otherwise, you can swipe from left to right and then tap on Offline button to check your downloading and downloaded videos.
The UI of Offline page looks something like the following picture;
After downloading, you can play it right away without any internet connection. If you want to remove any download video from your list, simply tap on Options and hit the Remove form Offline link.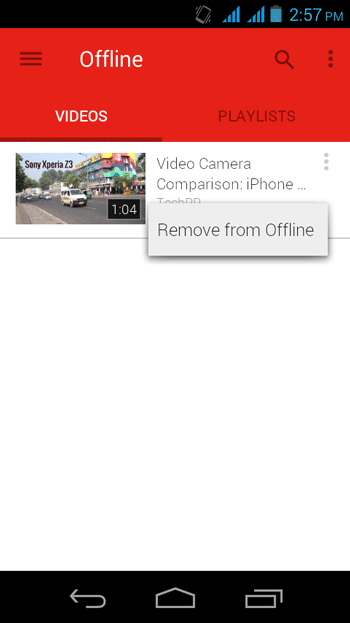 That's it! Hope you will like this feature of YouTube. Do let us know your opinion.