Top 5 Sites To Download Cheap PC Games
Every 1 out of 3 computer user loves to play games on their PC. No matter whether they have an old motherboard, processor, or the latest one, they certainly try to install some games to spend time. If you have pretty good hardware or you have built a computer for gaming, and now you want to buy some games, do check out this article to know more about some sources from where you can download cheap PC games.
Top 5 Sites To Download Cheap PC Games
1] Steam
Steam is a digital distribution platform, where you can find tons of games for your computer. From free or paid, everything is available on Steam. Some favorite games like PUBG, CSGO, etc. are also available on Steam. The price of such games is quite affordable. As you are getting the original license of those games, there is nothing to worry about the validity and authenticity. You can choose a category of game, and following that, everything will be available on your screen so that you can buy whatever you want. You need to create an account so that it can save all the license keys and purchased games. The best thing is it shows some reviews. That means if you want to try a new game, but you do not know whether it is good or not, you can find that out from the reviews.
2] Amazon
Amazon is one of the largest ecommerce website, where you can find almost anything. From toothbrush to the PC game, people can purchase anything from Amazon. No matter whether you are in the US or India, you can buy PC games from Amazon at a very cheap price. Obviously, you need to do some research on the seller, import duty, etc. Almost all the popular games like Grand Theft Auto V, Tom Clancy's The Division, etc. are available on Amazon. Not only just games, but you can also purchase gaming peripherals such as a headset, wireless controller, etc. This is recommended to switch from one Amazon website to another (change region) so that you can find the best price and shortest waiting time.
3] Electronic Arts
Core gamers know what Electronic Arts is. However, in case you do not know, Electronic Arts or EA is one of the best repositories of best PC games. From football (soccer), cricket, to adventure, action games, you can find everything. EA doesn't sell third-party games. In other words, all the games that are available on Electronic Arts website, are made by them only. The price of games is pretty cheap, and they often run some discounts. That is how you can get top end games at a very affordable price. As they make all the games for their store, you can find some tips and tricks so that you do not lag behind other players from day one. Obviously, they require an account for management purpose.
4] GamersGate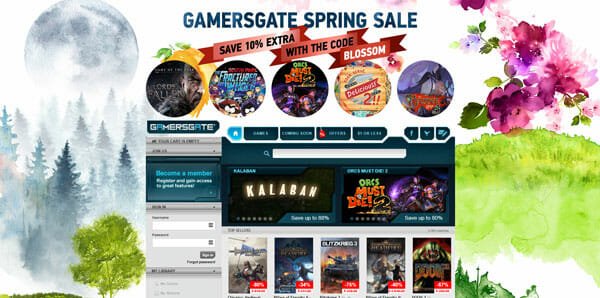 GamersGate doesn't build any game. They are just a hub where people can find some popular games at a cheap price range. It has a huge collection of games. No matter whether you like sports games, action games, adventure games, strategic games, or anything else, you can certainly find something suitable for you on the GamersGate website. The website looks awkward, but it offers almost everything that might be required for a person, who is starting the gaming carrier. You can find a term called Blue Coins, which is equivalent to money for them. If you have Blue Coin or you have earned by doing something, you can use that to purchase any game from their website. There is no need to spend money at all.
5] Humble Bundle
Humble Bundle is made by IGN Entertainment. The best part of this website is you can enter a genre and it will show all the games on your screen. From there, you can pick one and purchase it if you wish. However, you need to purchase a monthly subscription, which costs around $12/month. After purchasing that, you can play games on your computer. They have a huge collection game. From Tomb Raider to Assassin's Creed, everything is available on Humble Bundle. As usual, you need to create an account so that you can manage all the games and subscription.
There are many other websites where you can find cheap PC games. However, these are some of the most popular and trustworthy websites to download affordable computer games.