How to Forward Calls on iPhone (3 Most Popular Ways)
iPhone is a great device manufactured by Apple. There is no doubt that iPhone has many impressive features for any user. No matter whether you are a student or a businessman, you can certainly find some useful features for your needs. However, let's talk about Call Forwarding. Call Forwarding is one of the old functions that comes with almost every mobile. From old Nokia mobiles to latest iPhone, you can find this function on your mobile. Here is how to enable call forwarding or forward calls on iPhone.
What is call forwarding?
Sometimes, out mobile network service provider may not be able to catch the network to connect a call. Or, suppose you do not want to receive a call from someone and instead want to forward that call to someone else. Therefore, you can set up call forwarding on your mobile, and the caller will be forwarded automatically according to the settings. For your information, if you forward a call from "Number A" to "Number B," both of your numbers will be charged for the call. However, there are some mobile network providers, who do not charge for call forwarding. It would be better if you check that info on the respective website.
There are several ways to forward call on iPhone. Three of them are mentioned below. You can opt for any trick that you love and according to your requirements.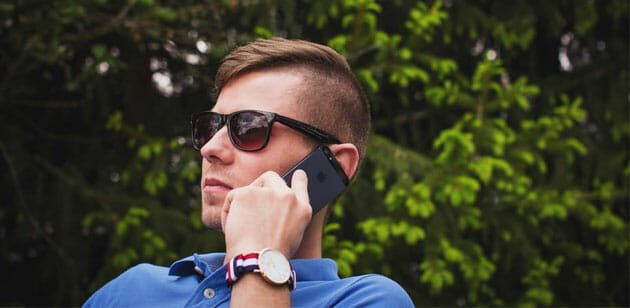 How to forward calls using Phone app?
This is very easy and an essential function on your iPhone. Apple has already included this feature in your mobile to help you to forward calls easily. However, it doesn't allow users to set any condition. Sometimes, we want to forward calls only when we are unreachable. But, if you use this trick, all your calls from a particular number would be forwarded to another specific number that you set. If you can comply with this problem, do follow the following steps.
At first, open Settings app on your iPhone and go to the Phone app. this Phone option doesn't work if your iPhone sim slot is empty. After that, tap on the Call Forwarding option that is visible under the CALLS tab.
Now, you can enter desired mobile number. This is the number, where all your calls would be forwarded to. Make sure you have entered correct mobile number.
Disadvantage: Like said before, this trick would not allow users to set any condition. All of your calls would be forwarded to that mobile number.
If you want to set a condition such as when not answered, when unreachable when busy etc. you can use the following method.
Enable Call Forwarding using USSD Codes
This is a pretty unique method for each mobile network service provider. Each mobile network company provides different code to enable or disable call forwarding. For example, Airtel is a popular telecom company in India. If you are an Airtel subscriber, you need to enter 114+Telephone number in the dialer app to enable call forwarding. On the other hand, if you want to disable it, you have to enter 115. A general USSD code list is mentioned below,
All Calls-
Activate: *21*[mobile number]#
Deactivate: ##21#
When not answered-
Activate: *67*[mobile number]#
Deactivate: ##67#
When unreachable-
Activate: *62*[mobile number]#
Deactivate: ##62#
As mentioned before, it can be different depending on the carrier. However, at first, try these codes. If they do not work, check out the official website of your carrier.
How to Forward Calls on iPhone using Call Forwarding App
Call Forwarding is a light-weight iOS app available for iOS 10.0 and late version. It helps users to set different conditions (like the method as mentioned above) to enable call forwarding. You can have four various conditions including All Calls, When Busy, Out of Reach (Unreachable), No Answer. The user interface of Call Forwarding app is not bad. Although, it is made with images, but the UI is not cluttered at all. At first, purchase this app if you are using iOS 10.0 or download it if you are using 10.1. Following that, open it and enter your mobile number where you want to forward your call to. Then, select a condition and copy the code.
Now, open up the dialer app and paste the code and hit the Call button. Call Forwarding would be activated immediately. If you like, you can download this app from here.