How to Hide Targeted Ads on Facebook
There is no doubt that Facebook is the best social networking site that you have even seen and used. Facebook earns money using various methods and advertisement is one of them. Generally, a regular Facebook user doesn't know about advertising on Facebook. However, if you are an online marketer, you may know about Facebook advertising. Nonetheless, if you do not know about advertising on Facebook, let me explain.
Facebook ad is one of the cheapest advertising networks out there, which is helping marketers to gain their business or anything else. As a user, you may have seen the Sponsored below the page name or any other name in some Facebook posts. Or, you may have also seen the word called Suggested Pages. These are ads what are being shown by advertisers through Facebook.
Suppose, you have opened a business online and you want to get some customers. You can simply opt for various online ad networks like Facebook Ad or AdWords etc. like said before, Facebook Ad is the cheapest one.
Sometime, you can find annoying advertisements on your timeline. Although, this is possible to get rid of other advertisements using AdBlocker but this is not possible to hide Facebook ads using any ad blocker. The most irritating thing is you will get ads on any browser and Facebook app.
How does Facebook ad work?
Facebook helps advertisers to get most targeted customers by offering a lot of filters. Facebook users generally fill up their profile with favorite movies, sports team, singers, interests etc. Facebook gathers all the information and provide those to the advertisers so that they can get most targeted customers at the cheapest price. That implies, whenever you do something on Facebook, your activity will be gathered by Facebook. Therefore, if you have liked a lot of sports pages and joined a lot of groups, there is a high chance to get sports related ads on your timeline.
Now, if you want to hide targeted ads on Facebook, you may have to follow this guide as adblockers do not block Facebook ads.
How to Hide Targeted Ads on Facebook
This is very easy and it doesn't require any third party software. At first, open Facebook and log in with your credential. Following that, go to Settings and opt for Ads settings. Alternatively, you can click on this link to visit the same page. Here you can find some options like this,
Click on Ads on app and websites off of the Facebook Companies.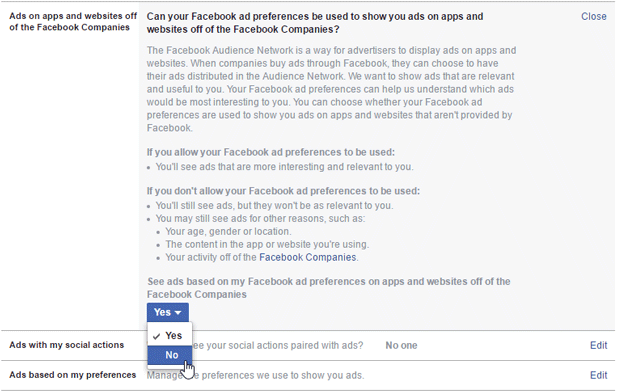 Select No from the drop-down menu. That's it!
Sometime, you can find that some ads are following you through the internet. In other words, you can also get some ads based on your browsing history. This is called interest-based ads. To block that, just open Ads based on my use of websites and apps, select Off.
That's all! This is that simple. You are done. Now, you cannot find ads based on your interests. However, it doesn't block the advertisements but you will now find less ads.