How to Prepare an Udemy Online Course and Earn Money?
How often have you curbed your wish to learn a new technology or hobby activity just because you didn't have any relevant courses being offered in your local area classes? With the internet serving as the answer for most needs in these modern times, it also helps to fulfill our online learning needs or e-learning requirements. Among many popular e-learning platforms, Udemy stands out because it not only offers valuable online courses (on any topic you can think of) for any avid learners, but also provides a great platform for instructors / tutors to make good income online. Lynda (acquired by LinkedIn) seems to be a close competitor for Udemy.
In this article, we shall understand the importance of Udemy as an online learning marketplace and the process / steps to create online courses on Udemy successfully. We shall also go through some useful tips to earn money online through the launch of Udemy online courses.
Introduction to the Udemy platform
Udemy.com is one of the most popular online learning platform for students as well as instructors. It offers various tools and support to tutors (instructors or subject matter experts) in order to create courses, promote them and offer them to learners across the world for a tuition fee (or no charges at all). Thus, instructors get free access to Udemy resources to create money-making online courses and reach out to a wide pool of students (around 6 million across 190 countries) on Udemy.com. The fact that top instructors on Udemy have managed to earn in millions proves that online teaching is a successful monetization technique or revenue generation option.
You can access Udemy on the web, as well as on your Android device or iOS device. The relevant links to Udemy apps are listed under:
Free Download Udemy Online Courses App for Android
Free Download Udemy App for iOS
Udemy Courses on Offer
Apart from the facility to monetize online courses generated by tutors or experts, Udemy also helps them to fine-tune their own skills on their area of expertise along with improvements in teaching pattern and course presentation. Udemy online learning programs are not based on traditional college coursework. Instead it offers courses to improve your job-based skills, technology know-how along with few technical certifications, and so on. There are tonnes of topics covered across categories like academics, health & fitness, arts, business, entrepreneurship, technology, music, etc. and the list simply keeps growing with each passing day (with more than 20,000 courses). With the International Yoga Day now a part of our calendar, you can even learn yoga on Udemy.
It manages to target corporates via Udemy for Business option that offers access to over 1000 training courses related to office productivity, management, digital marketing, programming, etc. Your organization can also build custom learning portals to boost corporate training.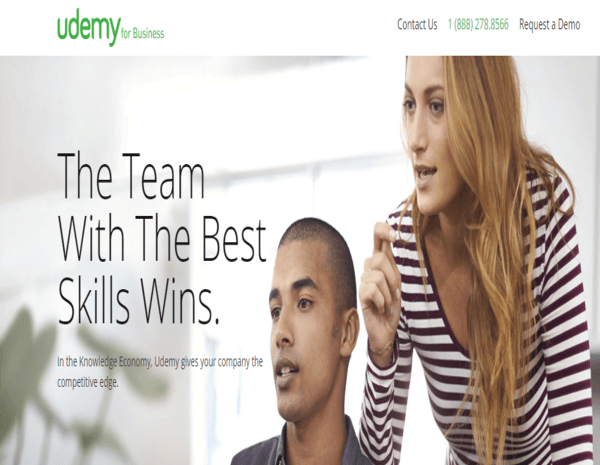 Guide to Launch an Online Course on Udemy
Once you read about the enormous benefits Udemy offers, you may think 'how do I start with Udemy?' If you desire to be an Udemy instructor, you can take up any topic on which you possess significant knowledge to build the online course.
Then, you need to sign up for your free Udemy account at Udemy official site. It is very much likely that hundreds of courses on similar topics are already available on Udemy. You can refer the brief details of such courses and identify ways by which you can make your course unique and appealing to the learners.
Once you are ready with your topic, you can gather relevant information and verify its correctness from multiple sources. You need to plan your unique teaching pattern and the flow of the course to be designed. Once this plan is ready, you are good to prepare your course in the form of a PowerPoint presentation or PDF or Video or similar course development tools offered by Udemy. In fact, the 6 different formats for a course preparation on Udemy are Video, Text, Presentations, Document, Audio and Mashup (Video + Presentation).
Post sign-up, you are logged into your own Udemy account and get a welcome mail as well.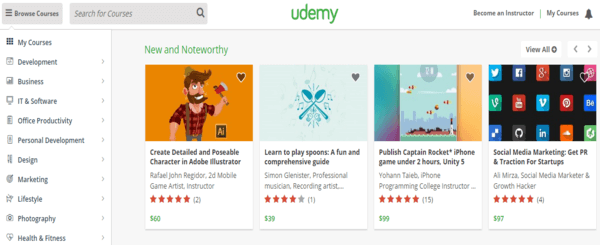 From inside your Udemy account, click on 'Browse Courses' option, followed by a click on 'My Courses'.
Now, select the 'Teaching' option that appears on the right side of 'Learning' option on your screen.
Finally, you can choose 'Create a Course'.
You can start the process to create your Udemy course by giving an appropriate title for your course.
Before proceeding further to submit your course, you need to review the content and fine-tune it as much as possible. Also, prepare an impressive landing page for your Udemy course that shall comprise of 4 main sections: Course Image, Course Summary (list key objectives of the course and differences from other similar courses), Author Profile (a detailed biography about your qualifications, work and clients to gain trust of readers and build an authority for yourself) and Promo Video (an attractive and simple video coverage of up to 2-3 minutes mentioning about all main sections of your Udemy course).
The last, but perhaps the most important part for your course submission is deciding the pricing. Do not be greedy and place a high price for your course. Think from the perspective of learners and no one wants learning to come at a hefty price. The price of a course should never stop anyone from enrolling to it. So, fix a very reasonable price that can be afforded by all learners.
This is a simple step-by-step first course submission process for Udemy. Once the course is submitted by you (or any other instructor), Udemy team reviews it in accordance with their 'Course Quality Checklist'. If you are preparing the course for the first time, you can expect several course improvement suggestions from the Udemy course evaluation team.
Revenue Model for Udemy Course Creation
In the above tutorial about course submission on Udemy, I mentioned a point about deciding the price for the course. It is important to note that you won't earn the entire amount if someone enrolls for your course at the price mentioned. There are different revenue model options offered by Udemy and you need to factor them in, while determining the price of your course.
You are bound to earn 97% of the course fees, if the students get enrolled because of your (instructor's) marketing using something like an Instructor coupon code. You earn 50% of the fees (and remaining 50% for Udemy), if the learner opts for your course from the Udemy marketplace (through organic traffic) or due to any promotional activities carried out by Udemy. Another model involves a promotional affiliate partner with Udemy who attracts students to your course listed on the site. In such a case, the affiliate gets 50% of the course charges, while you and Udemy get 25% each.
Tips to Make Your Udemy Online Course Profitable
As mentioned earlier, you have the option to offer your e-learning course for free or for a reasonable tuition fee on Udemy. Since, every instructor puts in plenty of hard work to design a course and submit it on Udemy, it is obvious that they would want to get some monetary rewards in return. To monetize any online course on Udemy, a good strategy is to not think about your course as a source of income. The moment you start thinking about monetary benefits, you will not be able to concentrate on developing a great course. Few useful tips are discussed below.
Content is King
Just focus on value addition for students who opt for your course and aim to give original, unique as well as comprehensive output content to students (on the subject matter discussed). Learners should be able to get every piece of information related to the topic you have chosen in your course.
Captivating Course Title
After content, the next important thing is the title of the course. Make use of selective keywords that can appear higher in search results related to that topic. The higher your course appears in search results, the better are the chances of more number of students taking that course leading to better income generation for you. Your aim must be for your course to become very popular among Udemy students and its topic to appear first (in search results) whenever someone performs a search query using any combination of keywords related to your topic.
Practical Implementation
Also, make sure that your course contains plenty of examples and case-studies, which generally keep the students interested and help them to understand the concept quickly. Ultimately, only if a learner likes your course, will he / she write good feedback about it as well as recommend it to more people. Word-of-mouth publicity for your course could do wonders for it and attract more students towards it.
Increasing Student Engagement and Interactivity
Key notes to remember are: keeping every course chapter brief and to the point (have more short chapters instead of few large chapters to cover your course syllabus), including an interesting introduction, learning objectives and summary for every chapter, create innovative exercises / activities to test student's understanding in between chapters, etc. This will go a long way in keeping your students engrossed and engaged throughout the duration of the course. Another useful tip is to make use of 'mashup' format (video + presentation) for an engrossing and highly interactive course.
Audio and Video Recording
Now, you need to be aware about few technicalities that will help you to create your course in the most appropriate way. To enable crisp and clear audio recording, invest in a high-quality microphone. Make use of an effective screen recording / editing tool like Camtasia to capture everything on the computer screen during the course recording. It is necessary to ensure that the video recording takes place in 720p HD format with a resolution of 1280 x 720. Avoid recording the course at one go and instead make small recordings so that your voice doesn't seem tired at any point of time.
Attractive Landing Page
The landing page of your course needs to fit in maximum information about your course and about your work in the smallest space. Try to present the problems that could be solved by the course and its numerous advantages to the students in the long run. It should be designed in such an attractive manner, that no reader should go away without enrolling for the course. For example, you can check out the free listing of 'How to Create Your Udemy Course?' (official Udemy instructor course) on Udemy here.
We have gone through complete details necessary to get your Udemy online course submitted along with key points that will help you to get it accepted for Udemy listing. For any further help related to finding a course of your choice on Udemy or submitting a course, you can check out Udemy Support.
So, what are you waiting for? Get started with Udemy courses as an instructor and make money online!