List Of Most Secure Cloud Storage Services
If you are one of the people who like to keep everything on cloud storage, you should check out this article. While choosing a cloud storage service, you should know everything about the company as you are about to hand over your important files to a third-party service. Keeping that in mind, we have listed down some of the most secure cloud storage services so that you do not need to worry about anything. You might find some new and old cloud storage names on the list, but it is recommended to check out the features, pricing, compatibility, etc. before opting for anything.
Please note that we haven't given any rank to these cloud storage services as they are equally handy for a regular user. However, we have gone through a checklist before naming them.
Most Secure Cloud Storage Services
1] OneDrive
OneDrive is a widespread name in the cloud storage business that is owned by Microsoft, the popular software and hardware company. Many people are already using OneDrive, and that is why it would be very convenient for someone to opt for the unique security layer that Microsoft rolled out a few weeks ago. It is called Personal Vault that helps you create a password-protected folder where you can store your confidential files. Even if someone cracks down your OneDrive password, that individual cannot access the Personal Vault without an OTP. Talking about other security layers, it offers AES 256-bit encryption, TLS protocol, etc. Pricing-wise, OneDrive is quite cheap as they provide 100 GB storage for $1.99/month only. Check pricing
2] Google Drive
Google always takes extra care of the users' security, and if you use Google Drive, you should not worry about anything. Your files protected with additional two-step authentication so that you do not fall into a phishing trap. It has the TLS protocol for security, but you cannot find AES 256-bit encryption since it offers AES 128-bit encryption to the users. The pricing of Google Drive is attractive, and that is why you might opt for this one instead of anything else. As you can download the Google Drive app on any platform, this is very easy for a user to upload and synchronize files across multiple devices. No matter which plans you choose, you need to pay a minimum amount every month or year. Check pricing
3] Dropbox
Dropbox is another cheap cloud storage provider, and it offers some of the top-notch security facilities to the users. No matter which plans you choose, you cannot find any compromisation in the security aspect. For instance, all of their plans include AES 256-bit encryption, TLS protocol, fast synchronization, etc. Another handy feature is the password-protected sharing option that is unavailable in most of the other cloud storage services. The user interface of Dropbox is elegant, and that might be a plus point because you do not have to spend much time understanding or find all the options they offer to the users. If you own a business, you can pay only $12.50/user/month to obtain 5 TB storage. However, the pricing is low for individuals. Check pricing
4] Sync
You need Sync when you have a countless amount of confidential data that you want to store on cloud storage. You can name any security feature, and that can be found in this cloud storage service. For getting started, you can get end-to-end encryption, no third-party tracking, file history facility, downloads restrictions, password protected sharing, and more. Apart from that, there are remote device lockout, 2-step verification, granular permissions, activity log, administrator account, multi-user admin console, centralized billing, etc. As this is perfect for multiple users, you can manage passwords of all users from one screen. Although it has a slower data transfer speed, you do not need any knowledge to set things up, and that is the most significant advantage of using Sync. Regarding the price, you need to pay only $8/month to get 2 TB storage alongside all the above-mentioned features. Visit official website
5] pCloud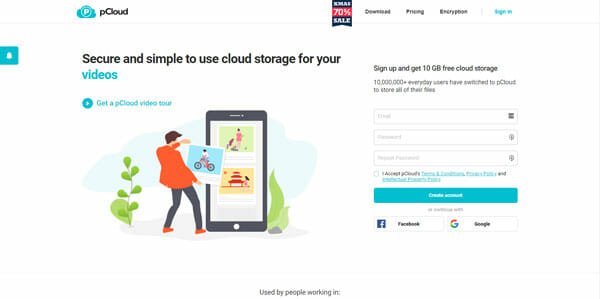 The biggest plus point of pCloud is that there is no limit of file size. In other words, you can upload any size of a file to your pCloud account without any error, whereas all the other cloud storage services have some restrictions. pCloud users can upload almost anything, including image, video, PDF, TXT, contact, etc. to their account and store them for as long as they want. The web user interface is neat and clean, so that you do not face any trouble while using it for the very first time. Another useful feature is multi-user support. That implies you can allow someone to access your storage or upload and download files from your account. Regarding the price, it has two different modes, i.e. Annual and Lifetime. The 500 GB variant costs $3.99/month (billed annually) whereas the 2 TB variant costs only $7.99/month (billed annually). Visit website
6] Zoolz
Although the price is quite higher than other cloud services, you can find almost all the security functionalities in this tool. Before getting started, you should know about the price as it costs $15/month for 100 GB storage only. You can download the official application on your mobile and use it accordingly. However, the web user interface of Zoolz is pretty good, and you should now have any problem to upload any file. Like most of the other cloud storage, you can add users to access or manage your data. On the home screen, it shows all the information about the user, data, storage, etc. so that you can know the remaining storage amount quickly. Check website
There are tons of other cloud storage providers, but they are not as secure as these services. I hope you will find this useful.