Top 8 New Features of watchOS 3
In addition to iOS 10, Apple has introduced watchOS 3 as well at the iPhone 7 launch event. watchOS has been powering up the Apple Watch products those can be employed in alternative ways. Having said that, the most substantive update of Series 2 is they are water resistant. That means you can put on it anywhere anytime without nurturing about anything such as rain else. If you already have an Apple Watch, or you are about to purchase this scrumptious gadget, you would certainly be able to update your device to watchOS 3. Now, if you are accustomed to watchOS 2 and want to upgrade your device to the latest version, here is a helping guide that would let you comprehend whether watchOS 3 is for you or not. Have a look at eight new features of watchOS 3 that may be useful for you.
Top 8 New Features of watchOS 3
This is superfluous to mention that watchOS 3 incorporates even more features than watchOS 2 and older version. You will be capable of doing more stuff as compared to earlier version.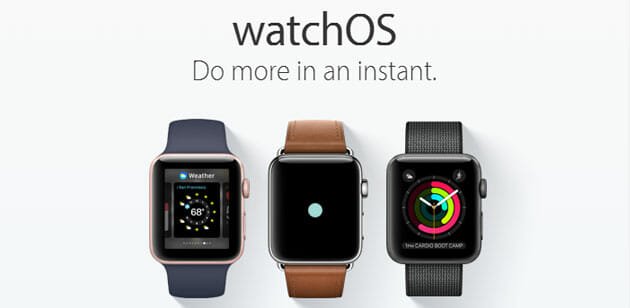 Control Center and Dock
The very first inconceivable feature of watchOS 3 is Control Center and Dock. Yes! Apple has integrated pretty much same control center and dock in watchOS 3 as on iOS. Referring to the workflow, these two features enables you to deal with your so-called tabs or screens of various apps in a better way. In simple words, these things have made the Apple Watch a lot more sophisticated. Formerly, you needed to do different things to deal with various apps. However, the scenario has been evolved with the launch of watchOS 3. Another notable feature is you can choose the choose the order of apps. For example, if you do not like an app, you can only push that back and vice versa.
No Need to Type Words to Respond to Messages
Previously, you had to type words to compose a message. However, watchOS 3 has changed that part since now you are getting Scribble. It will assist you to draw on your screen to type a word. Earlier, it was quite difficult to type words on that small screen. However, now, you can draw one word at a time to type your reply. It doesn't matter whether you hand writing is bad or good, Apple Watch will recognize your word for sure – this is what Apple said. Nevertheless, you will get other options such as emoji on your Apple Watch.
Emergency SOS
This is probably the best feature that Apple has included in watchOS 3 since many people had been waiting for it for a long time now. The "Emergency SOS" will let you call your emergency contact via your iPhone. For example, if you have set 911 as your emergency contact, you can simply press and hold the side button to call them in the US. The same thing can be done in other countries, but you need to set the emergency contact. On the other hand, it is possible to show medical ID along with health information on the Apple Watch. Nonetheless, it requires iPhone to complete the whole thing.
Unlock Mac using Apple Watch
There are some features in iPhone and MacBook that helps users to unlock MacBook using iPhone. However, now you would be able to unlock your MacBook using Apple Watch. However, you must have watchOS 3 as well as MacOS Sierra that Apple has launched recently. The setup process is very simple and not much time consuming. If you enable this feature, your synchronized Mac will be unlocked automatically when you are near to your device. However, make sure you have set it up correctly. Otherwise, it can block you from accessing your computer.
Customize Watch Faces on iPhone
Watch Faces is the screen that helps you to manage your apps or the whole Apple Watch. Previously, it was possible to manage your Watch Faces on your Apple Watch only. However, now this is possible to customize Watch Faces on iPhone with the help of Apple Watch application. That means, you can now manage your stuffs properly since you are about to get a bigger screen, which always helps users to do things satisfactorily. You should get a My Faces option on your Watch app to edit Watch Faces. To make things quicker, you can use some pre-set faces those are available in Face Gallery.
Share Activity with Friends or Family
People buy Apple Watch because it comes with great health and fitness tracking that helps users to get a better health and suggestions. However, as of now the journey was recluse since it was not possible to share your information with anybody else. However, now it is possible to share Activity with anybody with the help of watchOS 3. Sometimes, others' stats motivate us to do more, and the same thing is about to happen with this activity sharing feature. To share your activity with friends, at first, you need to invite your friend or anybody. After accepting, he/she will start getting your data on his/her device.
watchOS 3 Opens Apps Instantly
During the launch of watchOS 3, Apple's executives have announced one of the most important things that Apple Watch users have been waiting for. That is "Instant Apps." This is just a term like Retina Display. However, what it does is engrossing. Apple Watch users know how much time it takes to load an app on the device for the first time. Apple has worked on that particular problem, and it seems the problem now vanishes. According to Apple, now Apple Watch apps will open 7x faster than earlier. This is because apps will run in the background all the time and that means you will get real time update even when you open the app for the first time. On the other hand, it can make your device little bit slower since apps will run in the background all the time.
All New Breathe App
Apple Breathe will let you track your breathing and heart rate every day to get rid of stress. In our busy schedule, we always forget to take a break. But, it seems Apple Watch will remind you to do that thing every day so that you enjoy a stress-free life. The heart rate summary can be viewed inside the app that comes with watchOS 3.
watchOS 3 has more other UI and US related changes those will certainly aid the user to get more out of it. Hence, you should try watchOS 3 if you have an Apple Watch.