Two Most Popular Free Reddit Apps for iOS – Never miss a thread
Reddit is one of the most popular social bookmarking site. Not only social bookmarking website but also a great source of latest news. Different types of people use this website in different ways. For instance, internet marketers, affiliate marketers, bloggers use it to discover profitable keywords. On the other hand, a regular folk uses it to find what is happening around him.
Although, there is no official app of Reddit for iOS, but you can download some third party apps to explore this site everytime.
Read Also: Top 3 Free Fitness Apps for iOS 8
Alien Blue
This is one of the most popular Reddit client for iOS. Although, there is no app called Reddit on iOS, which is known as so called official app, but this app is being wielded by Reddit itself. Reddit has acquired Alien Blue just few days back. After the acquisition, it has become even more attractive and useful. In fact, the performance of this app has increased. Alien Blue is available at free of cost and this is optimized for iPhone 6 and iPhone 6 Plus.
The visual design is really awesome and much uncluttered. Even though, it has almost all the options what web version has but still, you cannot find any mess. This is where it excels. By making use of Alien Blue, you can browse everything including all Sub-Reddits, stories, pictures etc. This is also possible to comment on any thread or upvote any post. If you want to share your own blog post or any interesting story lifted from the web, simply head over to New Post and select a category to go further.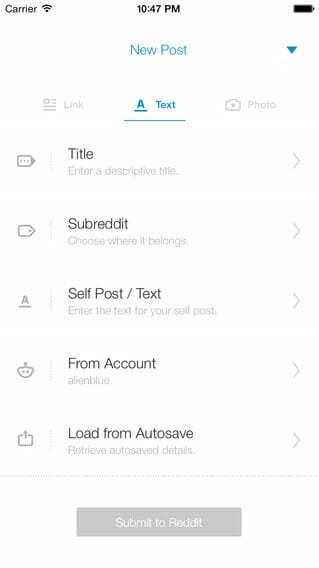 All those options are available on the free version of Alien Blue. If you want to get more features, you need to purchase the premium app, which includes the following features;
Use multiple accounts
Browse in Gallery mode
Quote comment in one tap
Find post based on keywords
And more others.
BaconReader
This is yet another great Reddit client for iOS and Android. You can download this app on iPhone and iPad at free of cost. According to me, BaconReader is much more productive than Alien Blue. All the premium features of Alien Blue are available at free of cost on BaconReader.
That means, you can explore Reddit and find interesting post as per your entered keywords, make quote from any comment. This is also possible to switch between more than one accounts easily. All the regular features such as New post, Subscribe, Flair, upvote, downvote etc. are available at free of cost.
Although, BaconReader's features are better than Alient Blue's but Alien Blue is better than BaconReader in terms of user interface. BaconReader has a neat and clean visual design but that is not as good as it should be. You can find a grid UI, which is the only unique feature of this app.
Considering all the features and UI, this is confirmed that both of them are much useful. But, if you need an app that is better at performance or stability, simply start using BaaconReader.
Even though, there are tons of free and paid Reddit apps available for iOS, but today I have mentioned only most popular apps among them. Hope you would like them.
What is your favorite Reddit app? Do let us know.