How to Use Shazam to Recognize Song
Music is one of the best things that makes our mind refreshed within moments. Sometimes, we love the music based on the beats, lyrics, etc. There are many people, who often fall in love with music by hearing the beats. Many times, we listen to a song on YouTube or any other website and cannot recognize the name of that song. For example, you are listening to an unknown language song, but you want to know the name of that song so that you can find the artist or do something else. Shazam is such an awesome app that allows users to recognize song within seconds. You do not even have to name the lyrics or something else to identify any music with the help of this tool.
Use Shazam to Recognize Song
Shazam is such a service that assists users to identify any song. Shazam app is available for Windows Phone, Android as well as iOS. This app is super easy to use, and you do not have to pay any price to download it to your mobile. If you have Android mobile, make sure it is running Android 2.3 and later version. On the other hand, if you have iOS, you should use iOS 8.0 or later version.
The user interface of Shazam is simply awesome, and there is no need to create an account to get it done. Shazam will let you recognize the song, artist, album/movie name, related video, etc. This is also possible to share the music at the same time. Not all songs, but you can play it within Shazam as well.
The following trick is based on the Android version of Shazam. However, if you use iOS or any other version of this app, you can follow the same steps to get it done.
At first, download Shazam in your mobile and open the same. You should get a screen something like this,
Now, play the music that you want to identify. On the other hand, touch the Shazam logo visible on the app. It would take few moments and show you the result,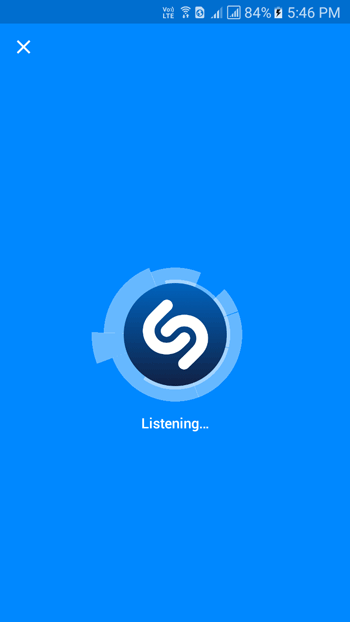 At the same time, there is another option called Auto recognizing. It will let you recognize any song automatically. If you turn it on, Shazam will keep remembering the song whenever it hears anything around you.
For your information, Shazam requires an internet connection to do all the jobs. Otherwise, it won't be able to recognize any song and show you the video related to that song. In case, if you want to save all the recognized music inside the app, just create an account.
Also, you can search for any song like Google. Not only song, but also you can search for an artist using this app.
That's it! Hope this tiny tutorial would be helpful for you.