How To Search YouTube Effectively With Google Search Operators
YouTube is no doubt one of the best websites for online video, user uploaded videos, apart from full length bollywood movies and hollywood movie trailers. Anyone can use YouTube's massive video archives for education, information, inspiration or just to kill time.
But with huge resources tallied to it, searching videos efficiently on YouTube sometimes turn out to be quite impossible at times. There is this famous YouTube trends dashboard, which lets you quickly find popular YouTube videos but the trends page is of no use when you are searching for something very specific and wantto apply custom filters to YouTube's video search results.
Moreover, there are no formal official guides that can give you tips that how to search on YouTube effectively. So today I am going to discuss some YouTube video search tips and show you how you can search YouTube by employing Google search operators.
What is The Issue with YouTube search?
YouTube just like Google's own Video search has some pretty handy options that enables you to find videos accordingly. These built-in sorters include:
Search Video by Upload Date
View Count (find videos as per the most views)
Rating sorter (enables you to find the highest rated videos)
Relevancy sorting option(enables you to find videos that are relevant to you query)
But the main issue is that whenever you sort videos On YouTube by an operator other then Relevancy, the results change drastically. Here is the comparison:
Advanced Search Operators For YouTube
The operators that are listed on "Advanced YouTube search" webpage are nothing but the normal search options which can be found under YouTube's search bar. For example, you can filter your video search results by Subject Category, Video quality or even Video length. But we can see that the moment we change these operators the search results change altogether giving irrelevant results.
To get rid of irrelevant videos being shown on the video search result page, you have to employ YouTube's advanced search operators that are basically inherited from Google's main search engine. Here is a brief run-down of these operators and their functionality:
1. Forcing the Exact Match with the inclusion of Quotes
The operator (" ") is pretty useful in YouTube search if you are sure about the exact words and key phrases that are to be there in your search query.
For example: if you want to search for a particular movie or an artist, using the exact "" operator in your entire query will give you results that will be relevant to your search.
2. Forcing words in the result with '+' Operator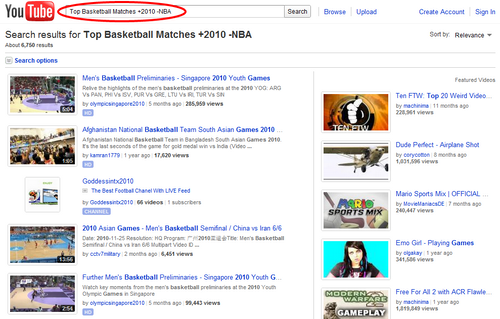 Normally the words you include in a search query on YouTube gets dropped, so this particular operator is for these kind of scenarios. You can use '-' minus operator for the reverse conditions, that is when you want to exclude any word from the search results.
3. IN-Title Operator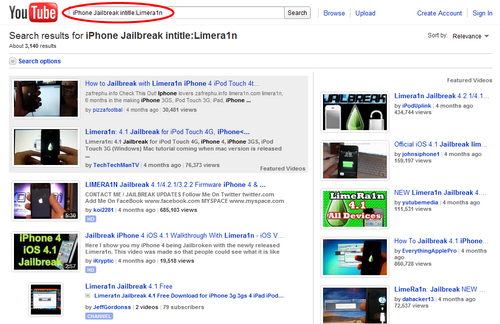 Well I think this is the best operator that you can employ in YouTube search, it simply implants a particular word in the YouTube videos search results. For example, if you are searching for iPhone Jailbreak tutorial for Limera1n, using Limera1n as an in-title operator will solve the problem.
We have previously discussed advanced search operators in Gmail, which lets you quickly find through archived emails within your Gmail inbox. As it turns out, Google's products are tightly bounded together and these search operators are true for most of Google's products e.g Gmail, YouTube, Google Maps and so on
Do you have any more tips on YouTube search ? How do you filter video search results on YouTube to find the exact video you're looking for ? Let us know your thoughts and ideas in the comments section.