Ask Anything and Its has the Information You Need
What are you searching right now? Flats for rent, Shopping centers, restaurants which prepares your favourite dish best or a spa? Whatever it is, simply, ask anything and Askme has the answer for you. This app has all the details about every category of businesses around you. It has the caliber to provide you the information you need at the right time and almost at any place. Moreover, if you are a business, it also enables you to post ads, deals and the most important, your reviews which helps every other user to judge that service before using it.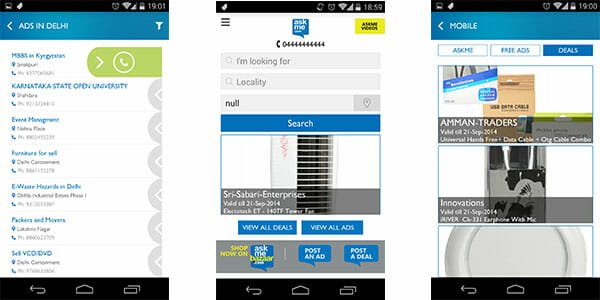 Simply, choose your city and the locality you are staying with the service you want to search before hitting the 'Askme' magic button. The rest will be done by it. It will fetch the latest information on your search keywords as a dutiful city guide. Moreover, it can be a breather for those, who just have relocated to a new city. To them, it's like a bind of dedicated yellow pages that fits in a pocket.
Its Android application will let you carry this local search engine with you. Although, iOS users are yet to get the app, which I believe is because it's targeted towards Indian users where Android is the obvious choice.
Get All the Best deals for You
Whether, it is a mouth watering deal on a local food outlet or a classified ad on jobs, cars or real estates, get them both on a single platform. It will always deliver you the latest and possibly the best feasible results you are looking for. Now, you may ask how its different from the ton of similar listing apps available nowadays.
Often in such a crowded market an app doesn't add direct value. It turns out to be the connections they can make or keeping the competition healthy thereby making the sector more enriched. For AskMe the proposition is the all-in-one which they also stresses on their TVC. Under one roof is a definite help but then often that often reduces the quality of one thing. The number of search results are really high which shows they have managed to attract businesses on board. This surely provides you a lot more options for satisfying your wants.
Make a list and Pin it for Your Friends
This app enables you to make your favorite local business and share the same with your friends on most social channels. Additionally, anyone can look for their targeted places and directly call their favorite services.
Still developing
Despite having seen more than 5 lakhs download and Ranbeer Kapoor as their brand face, Askme scores pretty ordinary on Mouth shut. However, as you can see it only have 2 reviews there. According to its Play Store users, this app is helpful but have glitches. Personally, it ain't the 'Baap of All Apps' already but it has all the potential to be the one.