Best Apps To Spend Time At Airport
Nowadays, almost all people travel via airplane. It makes the journey time smaller and more comfortable, though you have to spend much more money than other available transport. If you often travel internationally via flight, chances are you spend a lot of time at the airport before getting the connecting flight. Some people often need to spend more than 7 or 8 hours before catching the next flight. If so, you should check out these apps so that you can spend some time at the airport without getting bored.
Best Apps To Spend Time At Airport
1] WiFox
If you are in your country, you might be able to use the mobile internet. However, if you are at a foreign airport, you cannot use the internet on your mobile or laptop. As Wi-Fi makes everything smoother, you should start using this application, which will let you find the Wi-Fi password of almost any airport around the world. This app is getting updated every day with the latest password so that users can use it to find and start using the Wi-Fi without any problem. WiFox is available for Android as well as iOS devices. However, you should have Android 4.1 or later version and iOS 9.0 or later version. It looks pretty good and works smoothly. You can just open the app, find the airport, and get the password right away.
2] FLIO
FLIO works differently, but you will undoubtedly get some benefits from this app. Almost every international airport/terminal has some shops, business lounge, etc. Sometimes it is quite tricky for a newbie to find the access. If you use FLIO, you will be able to buy access to the business lounge, check all the shops at the airport, and so on. Not only that but also you can find detailed information about all the shops. For example, if you have bought lounge access, you can check all the facilities, i.e., copy machine, flight information, meeting rooms, PC with internet access, Wi-Fi, etc. FLIO is available for Android and iOS. You should have Android 4.2 or later version and iOS 11.0 or later version.
3] WiFi Map
This app works like the WiFox, which shows the Wi-Fi password of various airport Wi-Fi hotspots. WiFi Map has such an option, but it comes with another feature. Not only just airport Wi-Fi hotspots, but you can also find passwords or other Wi-Fi hotspots as well. Irrespective of the security, you can connect to those hotspots with the help of this application. As it is a community-driven app, it gets updated almost every day so that you do not get the 'Wrong password' message while connecting to a Wi-Fi network. Another very useful feature of this tool is the speed test. You can check the internet speed of a Wi-Fi network so that you can find the best and most suitable one. The UI looks good, and it is completely clutter-free. Regarding the compatibility, you should have iOS 9.3 or later version and Android 4.3 or later version.
4] YouTube
Obviously, you can read your book, news articles, and so on. But, those things make everything more difficult when you have a 5 or 6 hours delay. If you watch some videos on YouTube, it will consume more time quickly and at the end of the day, the 6 hours delay won't seem that long. This is meaningless to mention what you can find on YouTube. From the latest movie trailers to full movie, YouTube has everything. You just need to search for what you want to watch. YouTube app is available for Android as well as iOS. Also, you can open YouTube in any browser.
5] Google Maps
If you are in your country, you can simply use this application to find the best places around the airport and check them out one by one. Google Maps is a complete map and place finder application that allows users to find the best and most fruitful places whenever needed. Let's assume that you reached the airport 2 hours before the boarding time. It doesn't matter whether it happened in your country or foreign country; you can use Google Maps to find a coffee shop, or some showroom or something like that. The best thing about Google Maps is you can find the best route and transport type.
6] LoungeBuddy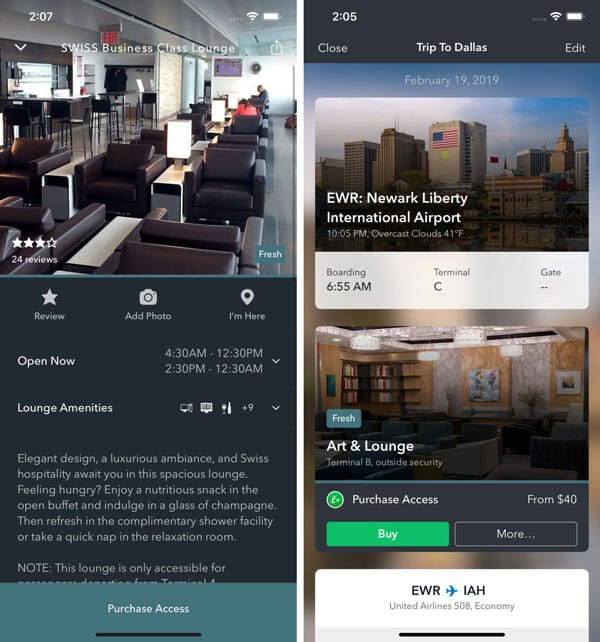 If you have a kid with you and you need to spend a couple of hours at the airport, you already know that the food court or the coffee shop is not a good option. That is why most of the airports have a lounge so that people can spend some time in exchange for money. With the help of LoungeBuddy, you can check if you can get access to a lounge, how much time you can spend at that place, how much it is going to cost you, and more others. You can find some filters so that you can find a lounge with the best amenities. The only problem with LoungeBuddy is you cannot download it on Android mobile. You should have iOS 11.0 or later version. Download
These are some of the best apps for long flight layovers. Hope they will help you get rid of boring stay.