Best CRM Apps for iPhone, iPad, iOS
CRM or Customer Relationship Management is one of the most important things for every type of business. This should be taken care of highly experienced people. Otherwise, your business will not get a good growth at all. It should have a good practice and right time to approach something. Finding the best thing for your customers is called CRM. In fact, you can find a unique thing about your business and customers using CRM. Therefore, today here you can find best CRM apps for iPhone that can be used anytime even when you are using mobile. As you should always take care of this particular thing, you can check these top CRM apps for iPad and all the other iOS devices.
Best CRM Apps for iPhone
Here are some of the best iOS CRM apps for your iPhone or iPad that you can use to make things simpler and quicker. At the same time, your business will certainly find some good sales if you can use these CRM apps correctly.
Microsoft Dynamics CRM (Free)

Microsoft Dynamic CRM is one of the best free CRM apps for iPhone and iPad, which can be used by any business. This is very small yet very useful CRM app available for iOS 7 and later versions. The user interface is simply awesome as it comes with fewer features. However, all the features are pretty good and very useful. This is possible to access your accounts, contacts and anything you want. On the other hand, the tracking system is pretty, which shows personalized views. The best part is it shows the in-text business process, which will help you to make out everything faster. Download
Base CRM and Sales Tracking (Free)

This is yet another free CRM app for iOS that is compatible with iPad as well as iPhone. At the same time, this is available in various languages which include English, Dutch, French, Polish, etc. You can get real-time notification for any lead or contact update. This is one of the best features of Base CRM and Sales Tracking app for iOS. Conversely, it comes with some email templates that helps users to make a personalized communication. Another good feature is you will get all the geolocation of your potential customers on a native map. The very next thing that attracts users is the user interface of this app, which is pretty good and very uncluttered that is obviously a plus point. Download

This is another awesome iOS CRM app available for iOS 6 and later version. As usual, CRM4Mobile is compatible with iPhone, iPad as well as iPod Touch. However, the interface is pretty good and up to the mark. At the same time, you can add various information about the potential customer for business. You can include different things like company name, type, location, contacts etc. Alike the previous app, you can get a map in this app as well, which will help you to find potential customers for your business. Download
Insightly CRM is one of the best CRM apps for iPhone. Features wise, Insightly CRM is very powerful CRM app. You can get native app along with features to store call, email, text messages and so on. Apart from that, you would be able to schedule tasks and assign events. Although, some other similar apps provide this but you can get direct link option in this app as well. On the other hand, you can set direct relationship between any record. Another awesome feature is it can scan and store all the details from business card. Download
SalesMesh (Free, In-app Purchase)
SalesMesh is being used by several professional and popular sales managers of various businesses from various fields. It is readily available for iOS 8.3 and later version. Being available in various languages, it has gained a lot of popularity from across the globe. It will let you get rid of tiresome data entry work as it can gather information from your contacts. On the other hand, it can log calls, email and appointments. Another notable feature of SalesMesh is it can interlink between records using @ sign. Talking about the premium features, you will get auto cloud backup, multiple device synchronization, auto scanning, auto information updating and more. Download
NetSuite (Free, In-app Purchase)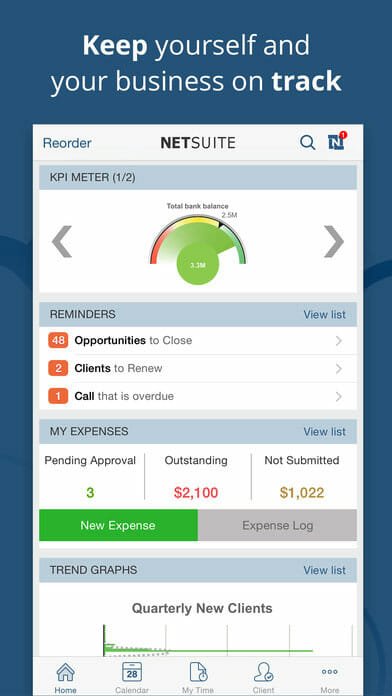 Alike SalesMesh, NetSuite also has some premium features, but this is not as good as SalesMesh. However, this is still very popular because the develop is NetSuite Inc. Some of the most useful features of NetSuite are activity logging, expense management, time management, activity management, action swiping, time zone synchronization, localization and more. Almost all the features are very essential and must have in a CRM app. You can also get push notification to get notified. On the other hand, it can track all outgoing calls, report snapshots and do more other things. NetSuie CRM app is available for iOS 8 or later version and you can download it to iPhone, iPad as well as iPod Touch. Download
Contacts Journal CRM (Paid – $9.99)
To use Contacts Journal CRM, you have to spend $9.99. Nevertheless, this is totally worth $9.99 as it comes with some awesome features that can certainly upgrade your user experience. It can obviously transform your user experience. Talking about the features, you can track customer or client relationship. On the other hand, this is also possible to track interactions with family and friends using Contacts Journal CRM. At the same time, you can find contacts by different filters like name, group, company or even address. Alike some other free CRM apps, you can get rid of boring data entry job as it includes importing data from saved contacts. The best part is you can download this CRM app for Apple Watch too. Download
This is one of the best mobile apps for CRM, which is available for iOS 8.0 and later versions. Alike Contacts Journal CRM, you can download Vipor for Apple Watch as well, which is a plus point indeed. Features wise, Vipor is very rich. You can track calls, email, tasks, appointments etc. using this CRM app. It can automatically create a list of upcoming tasks and activities that you have to do. On the other hand, you can synchronize all the things across multiple devices but they must be an Apple product. Download
There are more other free and paid CRM apps for iPhone, but these are the best when it comes to features and options. You can download any of these CRM apps to your iOS device and get helped.