Best Home Security Apps For iPhone And iPad
As nowadays everything is going digital, you should upgrade your home security as well. Instead of employing some security guard, you can install some smart devices that will protect your home when you are away. In this article, you can find some awesome home security apps for the iPhone and iPad. You can utilize them in different ways and situations.
To increase the security of your house, you need to install some smart devices. Otherwise, you may not be able to control anything via your iOS device. Therefore, you should find some handy gadgets in this article to improve security.
Best Home Security Apps For iPhone And iPad
1] Vivint Home Security
Vivint SmartHome is such a company, which can improve security by a considerable margin. They will convert your regular home into a smart home so that you can control every action on your iPhone or iPad. From install security cameras to smart lights, they do everything. Talking about the app, you need the Vivint Sky application. It lets you record live video clips, and perform other jobs with ease. This is meaningless to mention that they charge a few dollars. Their pricing starts from $9.17/month, and it goes up to $44.99/month. You can choose a plan depending upon the level of security you need for your home.
2] Xfinity
Xfinity is another home security firm, which provides almost the same features as Vivint SmartHome does. They offer various pieces of equipment, including three door/window sensors, a motion sensor, and so on. You can get a touchscreen controller, wireless keypad, etc. as well. Talking about price, Xfinity is not that expensive. For example, five door/window sensors cost $199.95 only. If you go to buy the same from the market, it will cost far more than that. However, not all types of equipment are cheap. Their smoke detector costs around $99.95. However, you can purchase a functional smoke detector for $50 from Amazon. Considering the quality, professionalism, service, support, etc., Xfinity is much better than some other companies. Regarding the app, you need iOS 11.0 or later version.
3] Frontpoint
Frontpoint is another home security firm, which provides incredible security devices to protect your home from unwanted people. No matter whether you want to improve the security of your home, office, or anything else, you can certainly get a quote before installation. Their package starts from $69 only, and it goes higher based on the coverage. The Frontpoint app is available for iOS. More specifically, you can download it on the iPhone, iPad, and Apple Watch. This is possible to manage every security aspect of your home using the application. From opening the front gate to switch off the light in your dining, you can do everything with the help of this application. The live video streaming quality is fantastic since they broadcast in HD. Download
4] Scout Alarm
Scout Alarm is another handy and accessible alarming system that you can install in your house. The best thing about this alarm system is you can buy a monthly subscription at an affordable price so that you can check if it is suitable for you or not. Their pricing starts from $9.99/month, and it works with the 4G LTE network. You can get an email notification, SMS alerts, etc. along with this plan. Talking about the app, you can find all the options like the previous app. In other words, you can remotely check what is happening in your house, lock/open gates, manage lights, and so on. Download
These are four best dedicated home security companies out there. However, if you do not want to spend a lot of money, check what your kid or pet is doing when you are in the kitchen, or so, you can try out these following apps.
5] Pet Monitor VIGI
As the name says, this application will help you monitor your pets when you are not in your home. Many people leave their pets (dog, cat, etc.) at home while going to office or market. If you are one of them, and you want to keep an eye on your loving pet, you should try out this application. It is compatible with the iPhone as well as iPad. You can talk to your pet via the two-way audio receiver. Live video broadcasting is also available so that you can always check what is happening in your home. The unique thing is that if you have multiple spare mobiles and you want to set them up simultaneously, you can do so and keep checking your pet from different angles. Before downloading, make sure you have iOS 8.0 or later version. Download
6] AtHome Camera Security App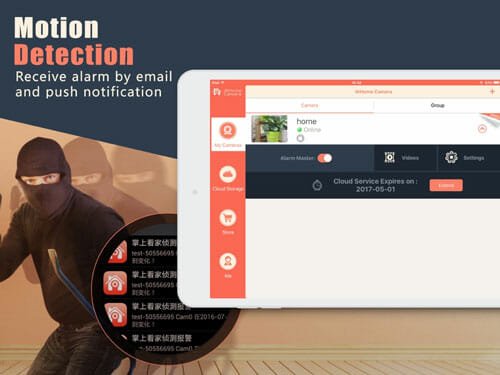 AtHome Camera Security is specially made for people who forget to lock their doors while going outside. It has motion detection and sound-tracking facilities so that you can get instant notification for any unwanted activity. Although it is made for checking out your kids or pets when you are in another room, you can keep using it even when you are not in your home. It works over 3G. 4G, Wi-Fi, or any other networks. It offers human detection as well as face recognition so that you can allow or prevent someone from entering your house. The video quality of Athome Camera Security app is pretty good as they broadcast in high definition. They also offer cloud storage to keep your streams, and the cloud storage is completely secure. You can download this app on iOS 7.0 or later version running iPhone as well as iPad. Download
If you are worried about your home security, this is recommended to try a dedicated security firm as they are very professional in their job. However, if you think a simple security camera can do the job, you can try the last two apps.