Best Methods And Tools To Read Text Loud On Windows 10
If you have a Word document or plain text document and you want to get a software that can read it aloud, you can check out the following list. Here is a list of the best software and browser extensions that you can use to read out the text on Windows computers. However, you can install those browser extensions on any platform – Mac, Linux, etc.
Best Methods And Tools To Read Text Loud On Windows 10
1] In-Built Tool Of Microsoft Edge
Microsoft Edge is a pretty good web browser for Windows 10 that comes with all the standard features and options for the users. The best thing about Microsoft Edge is that you can read out text without using any third-party extension or software. However, the problem with this in-built functionality is that you can get it for PDF files only. In other words, if you have DOCX or TXT file, you can read that loud with the help of the Microsoft Edge browser for Windows 10.
To get started with this functionality of Windows 10, follow these steps.
At first, open the Microsoft Edge browser on your computer, and open the PDF file with this browser. Following that, you can find a couple of options in the top menu bar. You need to select the "Read aloud" icon. Alternatively, you can press Ctrl+Shift+G buttons together, as well.
After that, it will start reading the text loudly on your computer. You can set the volume using your in-built volume keys.
2] ReadAloud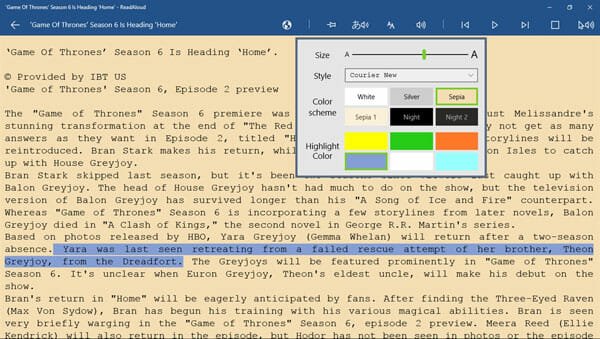 ReadAloud is available in the Microsoft Store, and you can download it for Windows 10 computers only. It comes with some of the essential features so that you can perform all the tasks and get the most out of this tool. Talking about features, you can get these-
It can read almost any text document, including PDF, DOCX, TXT, EPUB, etc.
It has an easy content sharing option via the clipboard monitor.
If you do not know the meaning of a word, you can check out the in-built dictionary.
Sentence highlighting
Auto scrolling
Pitch rate adjustment
Pronunciation editing panel to correct the pronunciation.
Multiple language support
The user interface of ReadAloud is pretty good, and you can all the documents through the in-built file manager. Regarding compatibility, you must have Windows 10 Version 10240.0 or later version. Download
3] Narrator For Windows 10
Narrator is an in-built tool of Windows 10 that lets you read aloud any text on the screen. This functionality helps physically disabled people to get every possible information on the screen without looking at it. However, you can try out this feature to read text aloud on your Windows 10 computer.
To get started, open up the Windows Settings panel by pressing Win+I buttons. Alternatively, you can search for 'settings' in the Taskbar search box and click the corresponding result. After opening the Windows 10 Settings panel, click the Ease of Access option. Click the 'Narrator' option on your left-hand side. After that, toggle the 'Turn on Narrator' button on your right-hand side to enable this feature.
You might need to follow some screen instructions to set it up properly according to your requirements.
This is possible to change the Narrator's voice. For that, you need to get the label called 'Personalize Narrator's voice' and select a voice from the respective drop-down menu. Similarly, you can adjust the pitch, speed, volume, etc.
4] WordTalk
WordTalk is a third-party Windows software that lets you read aloud texts effortlessly. You can read the entire document, paragraph, sentence, or even a single word with the help of WordTalk utility. The user interface of WordTalk is simple as it doesn't have a lot of options included in it. To start using this software, download and install it first. After opening the tool on your computer, you need to open the document. Therefore, you can get the option on your screen to start reading out loud. Like other tools, you can adjust the voice speed and volume. The best thing is that you can convert the text to speech and export that in WAV or MP3 format. Download
5] Panopreter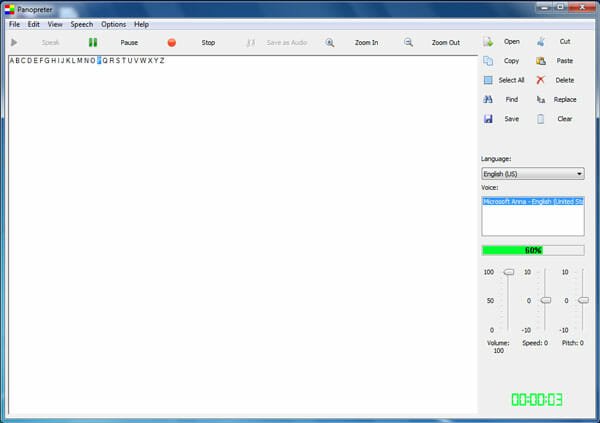 Panopreter is probably the simplest tool in this list that has all the options to read text out loud on your Windows 10 computer. No matter whether you have a 100-word document or a 10000-word file, you can use this software to read out text aloud. The only problem with this tool is that you cannot change the default narrator's voice. However, it does support multiple languages, and your document can have more than one language. Apart from that, you can adjust the volume, speed, pitch, etc. On the other hand, Find, Replace, Save, Clear options are available too so that you can perform basic jobs with the help of Panopreter. Download
6] Balabolka
Balabolka is a standard Text-to-Speech (TTS) software for Windows 10 that can read almost any files, including DOCX, EPUB< HTML, MOBI, ODT, PDB, TXT, XLSX, and so on. It can read text irrespective of the number of words. The unique thing about this tool is that you can apply various skins to change the appearance of Balabolka. Unlike Panopreter, you can change the default narrator's voice so that you can set something that suits your ears. The user interface is uncluttered, but you may need to spend some time to get all the options from the menu bar. Download
These are the best methods and tools to read out text loud on Windows 10. I hope you will find them useful.