Best Remote Desktop Software for Mac to Share Screen
If you are a Windows user, and you want to share the screen with anybody else, you might find a lot of free software. However, if you are a Mac user and you want to share your screen with friends or anybody else, you need to opt for these tools. Some of the tools are available for free, and some of them are paid tools. However, if you are a Mac user and you need to share your screen with anyone to do something on the go, you can check out these apps. When it comes to reliability, you should use these apps. Otherwise, you are plenty you can opt for.
Best Remote Desktop Software for Mac to Share Screen
1] Inbuilt Screen Sharing
If you want to share your screen with a friend, who also has a MacBook or any other Mac computer like iMac, Mac Pro or anything else, you can try out the inbuilt screen sharing option of macOS. This is simple, but it has a problem that is mentioned above. Being said that, you can connect only Mac computer with the help of this functionality. However, there is another "Screen Sharing" option that helps you connect to a Mac computer from any device, but you need to be connected to the same Wi-Fi network. If that is not your priority, you can head over to this option mentioned below. To get started, follow the following steps.
At first, open System Preferences. For that, you can do a Spotlight search. In this window, you can find an option called Sharing. In that next window, you should get another option named Screen Sharing. Make a tick in that corresponding checkbox.
Now, do another Spotlight search for Screen Sharing. In the result window, you need to enter either Hostname or Apple ID of that Mac computer that you wanted to connect to.
After getting approval from the destination computer, you would be able to connect with that.
2] TeamViewer
TeamViewer is one of the best solutions out there after the inbuilt screen sharing option of macOS. It doesn't matter what you want to do after connecting to a remote computer; you can certainly do that without any problem. TeamViewer comes with a lot of options those might help you work smoothly even when you are connected to a remote computer sitting miles away. Almost everything is possible to do with the help of the TeamViewer app. On the other hand, connecting to a remote computer via this app is pretty easy and not much time consuming as well. However, TeamViewer is not a free application. Nonetheless, you can try out the trial version without any issue. The best part of having TeamViewer is you can connect to any other platform including Windows, Android, iOS, Linux, Chrome OS and so on.
3] Chrome Remote Desktop
Chrome Remote Desktop is yet another awesome remote desktop software for Mac. More specifically, this is a Google Chrome extension that is available for Windows, macOS, Linux, Android as well as iOS. This is very easy to get started with Chrome Remote Desktop since this is a browser-based solution. While connecting, it will generate a PIN, and that is the only thing needed to connect to another computer. In other words, the workflow of Chrome Remote Desktop is much like TeamViewer. On Mac, it will also download a .dmg file while connecting. Following that, you need to go through the screen options to connect two devices. If you have an Android mobile or iPhone/iPad, you can use it too. There are some advantages of using this tool. However, the main setback is you must have Google Chrome on your computer.
4] Microsoft Remote Desktop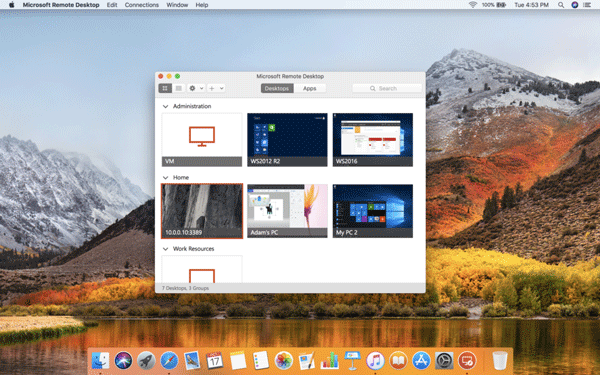 Microsoft Remote Desktop is a reputed and reliable solution when you need to connect to a remote Mac computer. Microsoft is one of the best software development companies out there, and they have developed this app. That is more than enough for a user to opt for this tool. The second reason is Microsoft Remote Desktop is very easy to use, and you do not need to spend a lot of time for setting it up. Talking about specific features, you will get functionalities in this tool:
Access remote resources published by your IT administrator
Connect remotely through a Remote Desktop Gateway
Secure connection to your data and applications
Streamlined management of your connections from the connection center
High-quality video and audio streaming
The user interface of this tool is pretty good as well, and you should not find any problem while using it on your computer.
5] AnyDesk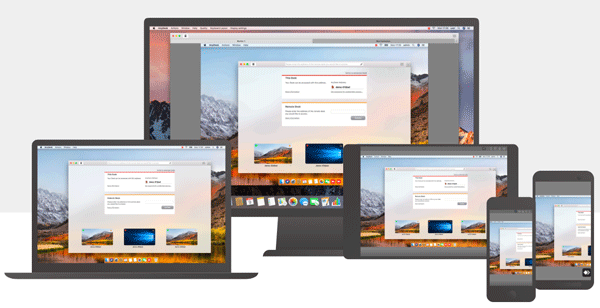 AnyDesk is much like TeamViewer regarding availability or compatibility since this software is available for multiple platforms including Windows, macOS, Linux, Android, iOS, Rasberry Pie and so on. AnyDesk is a simple solution that you can opt for to do all the basic tasks. Apart from that, you will get a File Manager that will let you explore files, folders, etc. without any issue. The UI of this tool is pretty good, neat and clean and hence, you would not get any problem while using it on your computer for the very first time. Talking about pricing, AnyDesk is not a free app. There are three different available plans. The LITE version costs around $79/year. The PROFESSIONAL edition costs around $229/year. There is an ENTERPRISE version available as well that is mainly for office use.
6] Remote Desktop Manager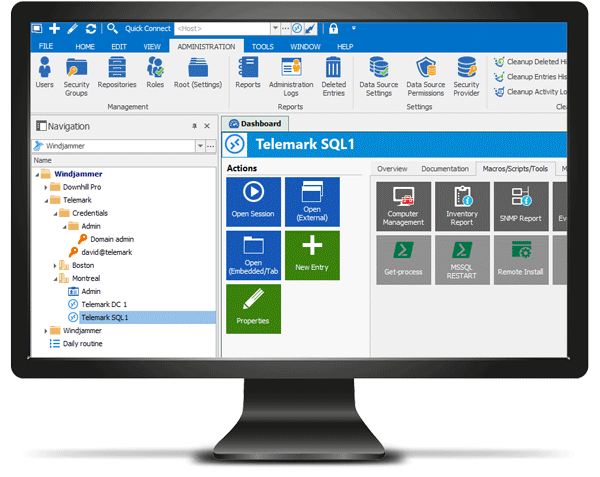 When you do not like anything mentioned above, you can opt for Remote Desktop Manager, which is a paid tool but you would not feel to waste your money while spending on this. However, it also has a FREE edition that comes with few options like Remote Connection Management, Password Management, etc. However, the PAID version users will get Role-Based Security System, two-Factor Authentication, Audit & Report, and more others. There is an option called PRIVATE VAULT that allows each user to have privileged accounts that only they can access. Like other standard tools, you will get mobile apps as well as browser extensions.
That's all! These are some of the best remote desktop software or screen sharing software for Mac.