RecMaster – An Easy yet Proficient Screen Recorder for Desktop
According to Cisco's VNI Forecast, 80% of the total global internet traffic (business and consumer combined) will come from video by 2022, reaching 282.3 EB per month. Such a staggering data! We have to admit that this is an age of video! Online courses, instructions, movies, music, and living broadcastings are scattering here and there. Netizens pass more time on video, and meanwhile the video marketers make their efforts to output more videos too for standing out from the rat race. In these processions, however, it may raise some screen recording problems such as:
I'm following an online course and want to save it for offline viewing, but I'm not allowed to do so. What should I do?
I came across an online webinar and want to take a recording of it for listening back?
I'm a new vlogger and plan to get my channel started with software guides, what screen recorder should I use?
I'm a gamer and want to show off some gameplay videos to my friends, and how do I record it on my Windows PC?
Well, a quality screen recorder is just the point to break through the convention of streaming content or bypass the entry barrier for your vlog journey. Since there's a plethora of screen recording software for computer, here we give one of the best and easiest around and its name is RecMaster.
RecMaster is a lightweight but feature-laden screen capture program. Its multiple recording modes, various settings for quality and effects, and the built-in editor make it a top choice for both casual and advanced users. Now I will tell you about the feature details of this good bet. (Kindly to remind that before you take action on capturing copyrighted content online, please check the terms of service and get the permission of the content owner.)
RecMaster Screen Recorder Features
Multi-mode recording to capture video & audio at will
On the remarkably straightforward main interface of RecMaster, five recording types are here to cater to gamers, YouTube beginners, and the general audiences as well. You can start the no-brainer recording with one click.
Record any gameplay moment? -> Choose Game Mode, please.
Record the whole screen? -> Just select the Full Screen.
Record a certain area? -> You deserve the Custom Area or Mobile Phone Mode if the recording is for mobile users.
Record the front camera only? -> Webcam is what you want.
Record audio coming from computer or/and microphone? -> Audio only is the right one.
Desktop sources come with image and sound. And RecMaster is able to grab the full screen or any region of screen as you prefer, enable or disable the system sound/microphone according to your actual needs.
Possible to record 1080p or 4K MP4 video @60fps
RecMaster gives options to define the capture format and quality. You are free to screencast something in mainstream MP4, or FLV/AVI instead. Three quality levels and several frame rate values (up to 60fps) can meet any quality needs from low to high. As one of the 2020 top game recording software, if you use a 4K monitor for gaming, you can produce a high-quality 4K MP4 video at 60fps to keep the greatest moment.

Add effects and annotation
Many vloggers get used to attaching a small facecam into their instructions, guides or gameplays. You can easily realize this picture-in-picture (PIP) effect by turning on webcam in advance. Also, you can use hotkeys Alt+4 to show or hided it during the recording. Besides PIP, RecMaster still assists you work out a unique and engaging guideline with customized mouse cursor movement/click, annotation and watermark effects.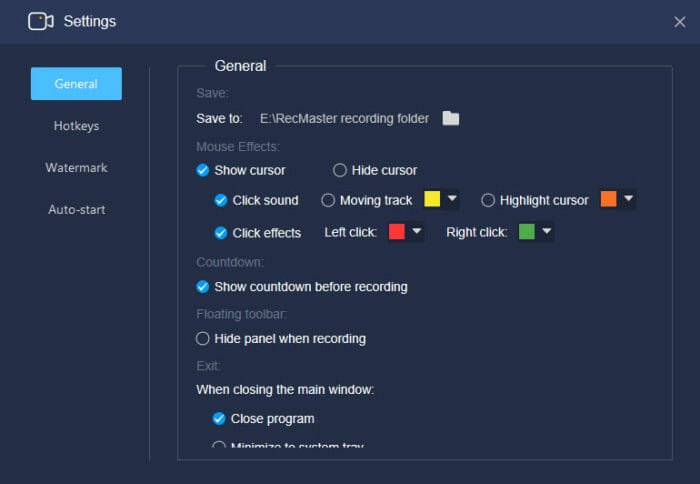 Support multi-monitor recording
If you are working with two or more monitors for gaming or so, RecMaster enables you to choose either or all to grab at the same time. This is a standout feature because most similar screen recorders don't have this function.
Scheduler and built-in editor are icing on the cake
To satisfy those who wish to shoot future live streaming and do easy edits, RecMaster is preloaded with a task scheduler and editor. Thus, you won't miss any game, sports or concert broadcasting even you are away from the computer. For long large video recordings, you are free to cut them into shorter smaller ones or delete the unwanted parts off.
How to Use RecMaster on Computer
The self-explanatory UI of RecMaster makes it a breeze to do screencasting with it on computer. Below is a full guide on how to record screen on Windows. Mac user guide shares the same workflow.
Launch the software on Windows computer or laptop once you have downloaded and installed it successfully.
Select a proper recording mode and set for the recording, including format, quality, frame rate, webcam, audio source and cursor effects. Below is a screenshot on custom area recording with facecam overlay.
Once the preparation is done, hit REC button to start the process. During the process, you are free to annotate using the draw tools, hide or enable webcam, pause and resume at any time. When the content goes to an end, hit stop button to stop the recording. At this time, your capture file will show in the recording list.
Edit and share (optional). You can access to edit and share/upload operation panel from the recording list. As shown in the editing screenshot, cut and merge works is as easy as ABC.
Final Words
There're a large amount of screen recording applications for Windows and macOS in the market. Some are so professional that novices have to invest a lot of money and take time to conquer the deep learning curve. Some are too basic and lack of capabilities to satisfy the demands of common recording requirements. In this case, RecMaster is one of the exceptions. On one hand, it keeps good balance between ease-of-use and recording features, and on the other hand, it's priced rationally at $29.95 for a 1-year license and $39.95 for a lifetime license.