Best Secure Email Services to Send Encrypted Email
Nowadays, you need to take care of everything if you work online. It doesn't matter whether you have internet banking or email account or a simple social media account. You need to check the security of those accounts frequently. Otherwise, you can be a victim of various attacks. Every day people send tons of email regarding office work, business, study, entertainment and so on. If you think only a Gmail account password can keep your email safe, you might be wrong. To be 100% sure, you need to send an encrypted email. For that, you can check out these secure email service to send encrypted email without any problem.
Best Secure Email Services to Send Encrypted Email
1] ProtonMail
Switzerland has one of the best strict security laws in the world and the ProtonMail is based in that country. Therefore, you can imagine how secure the email servers are when it comes to discarded meddling by diverse government agencies. Although ProtonMail is comparatively newer than other tools mentioned in this list, it has gained much popularity because of the provided security and modern user interface. ProtonMail has end-to-end encryption that is what makes it special. On the other hand, ProtonMail service is available for free. However, not all the features are unlocked in the free edition. For that, you need to purchase the premium subscription. Although it doesn't have Windows or Mac app, you can download it for Android and iOS. Apart from that, the Web version is also available. It doesn't collect the IP from where an email is sent and hence, you can send fully anonymous email with the help of this service.
2] TorGuard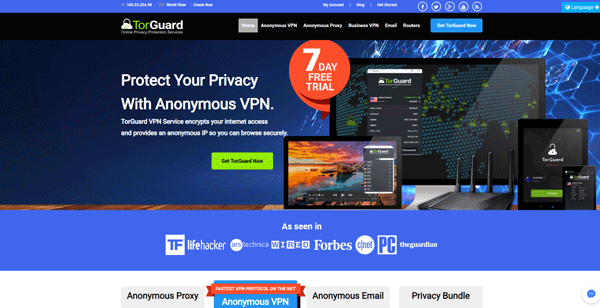 TorGuard is yet another awesome encrypted email service provider out there, which is being used by thousands of people from across the globe. It doesn't matter whether you want to send one encrypted email or one hundred, you can certainly use TorGuard for that purpose. This is the same company, which produces proxy and VPN. Talking about the security, you will get PGP encryption. That means you won't get end-to-end encryption and instead you will get server-side encryption in this tool. As per the official statement, they don't track you in any way. That means you will get 100% private room to send email and once you delete an email from your Inbox, it will be deleted permanently and there would be no look back. However, this is not a free service as you need to pay around $6.95/month for sending anonymous email. If you purchase the VPN service from TorGuard, you will get free anonymous email option along with that.
3] Kolab Now
If you are in need of a enterprise-level security, you can opt for Kolab Now, which is a paid secure email service provider, which targets small companies around the globe. It doesn't matter whether you have a company or you are an individual person, who needs secure email service provider, you can certainly use it for a longer time without any problem. Like ProtonMail, all the servers of Kolab Now is based in Switzerland and hence, you can expect a top-notch security out of them. Like other tools, it is also an open-source tool. The best thing about this tool is you will get end-to-end encryption and not server-side protection, which will let you be anonymous. It costs around $4.43 per month and they do support PayPal, Visa, Master Card, American Express, as well as Bitcoin. However, you can try out the trial edition so that you can know whether it is built for you or not.
4] Disroot
Although Disroot doesn't have any client like ProtonMail for Android and iOS, this is still very popular among them, who often send anonymous email with classified information. However, you can set it up in another client after enabling IMAP. On the other hand, you can keep using the Web version, which is easy to use and it doesn't have any clutter at all. Although it is an open-source email service provider, you will get strong GPG encryption, which is not easy to break by an attacker. From the past few years, Disroot has proved it reliable and hence, many people have opted for this secure email provider from another tools. Talking about the user interface of Disroot, this is neat and clean. If you have ever used Yahoo Mail, you can find some similarities with this tool in terms of user interface.
5] Counter Mail
When you need the top level security for sending very classified information, and you cannot take any risk regarding server or anything else, you should start using Counter Mail. It uses 4096-bit OpenPGP encryption. Not only that, but also you can get end-to-end encryption, which is more than enough for a user to be anonymous and protect their information from various agencies and attackers. The best thing about this tool is it supports USB key protection. That means only you with the USB drive can unlock your email account. It comes with the support for Windows, Mac, Linux etc. Apart from that, you can use it in any other email client as it comes with IMAP support. This is meaningless to mention that it is not a free email service provider as it costs around $6.33 per month.
6] Mailfence
Mailfence is yet another awesome secure email service provider that comes with OpenPGP public key encryption. Besides that, you will get end-to-end encryption to protect your email and account. The company has ensured that Mailfence cannot scan your email since it has a different security protocol and privacy policies. However, the free version of Mailfence doesn't comes with much options. You will get only 500 MB email, 500 MB documents, 1000 calendar events, 1 group etc. On the other hand, the PRO version comes with 20 GB email, 24 GB documents and more other advanced options. It costs around €7.50 per month. The main reason, why you should opt for this PRO version is it has the IMAP support and you can use it on Android as well as iOS devices.